Committed to teaching and learning
Mount Royal's eighth-annual Symposium on Scholarship of Teaching and Learning puts students first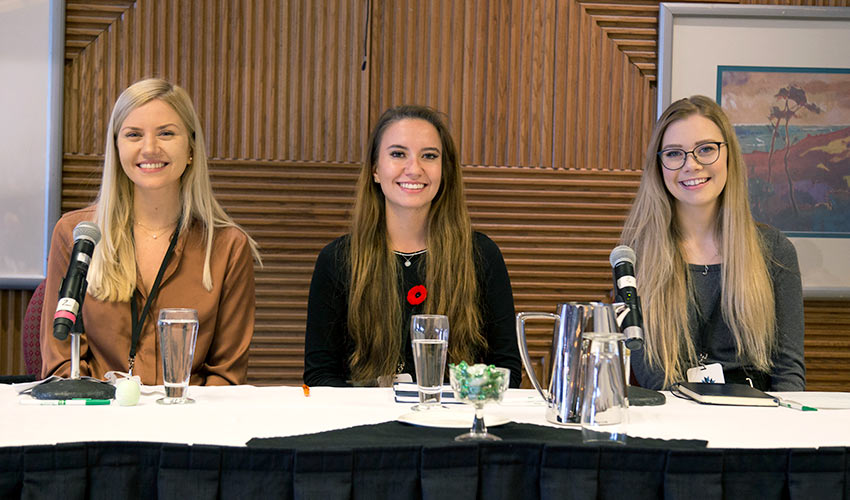 More than 140 professors and educators representing 45 local, national and international post-secondary institutions converged in Banff from Nov. 8 to 10 for the eighth-annual Symposium on Scholarship of Teaching and Learning. Attendees came from as far away as the U.S., South Africa and the U.K. to discover original research about the practice of teaching and learning specifically in the context of higher education. The symposium was presented by Mount Royal's Institute for Scholarship of Teaching and Learning (ISoTL), which has built a strong name for itself as foundational in this developing field.
Mount Royal's provost and vice-president, academic, Lesley Brown, PhD, greeted those present with introductory remarks. "I am proud to say that teaching and learning are an integral part of our university. For us at Mount Royal, it's synonymous with the student experience itself.
"The more we learn about how we teach, and embrace new teaching methods, the more effective we can be in instilling knowledge and awareness."
More than 70 different events, including workshops, sessions and keynote speakers, took place over the three days, covering a wide range of disciplines and topics ranging from how to make students' assessments of their peers more effective to how course engagement activities impact an organic chemistry course. Dozens of different classroom scenarios, lessons and approaches were discussed and dissected in an effort to disseminate knowledge of the very best teaching practices within the scholarship of teaching and learning (SoTL) sphere.
Michelle Yeo, PhD, is the director of ISoTL at MRU. Beginning in July 2019, Yeo will take on an additional role as the president of the International Society for the Scholarship of Teaching and Learning (ISSoTL).
"I think about teaching and learning as catalyzing growth. Both are human activities. We learn from the moment we're born, and we also naturally teach throughout our lives," Yeo said, adding that the symposium is about helping students learn how to learn. SoTL addresses what, at many institutions, can be a very visible gap between earning a PhD and distributing that knowledge to students.
"Sometimes people think that if you have an advanced degree and are teaching at post-secondary, you must already know a lot about teaching and learning, but many disciplines don't teach their graduates about how to help students learn," said Mount Royal English professor Karen Manarin, PhD, who was one of the symposium's organizers.
Professors heard from those in vastly different disciplines to potentially translate alternative methods of teaching back into their own classrooms. And with nearly one-third of the attendees coming from Mount Royal, those techniques will appear in dozens of the classrooms at MRU for the benefit of the development of both students and professors.
"Symposiums like this one offer the opportunity for faculty to keep learning. Every time I attend, I come back with ideas for the classroom. The symposium also offers the opportunity for faculty from different disciplines and institutions to develop collaborations about important issues in teaching and learning," Manarin said.
SoTL for teachers and students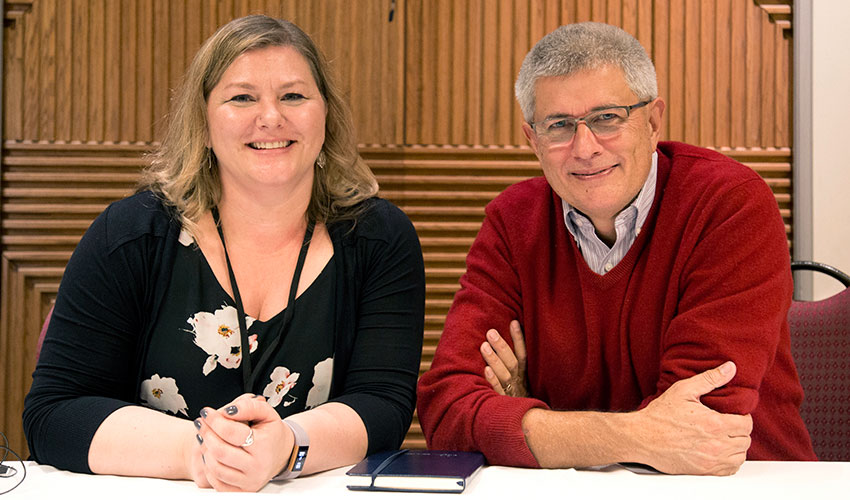 Mills Kelly is the current president of ISSoTL and a history professor at George Mason University in Virginia. He was part of the team that formed ISSoTL in 2004, and gave a keynote address titled Stay Out of the Silo! in which he warned against overspecialization. "We need to be uncomfortable with ways of knowing," he said.
Kelly understands that some may find the concept of the scholarship of teaching and learning abstract. In fact, when he first heard the term he thought it was "jargon."
But now he sees SoTL differently. "It's a collection of practices that are rooted in research about teaching and learning, collaboration, inclusion and analysis, and then making that public.
"We're sort of in that space in between nobody having ever heard of it and people knowing exactly what it is."
SoTL is a field in development, which is the way it should be, Kelly said, and that it's important to continue to take risks in teaching, to make mistakes, and to learn from them. In reality, the understanding that arises from SoTL results in highly effective teachers who don't simply profess their knowledge, but help students become the people they're meant be, he said.
"You have to realize that's one of (the students') main objectives. So then you have to start organizing your teaching around that question. Because we usually don't. We organize it around a body of knowledge, translating that body of knowledge, developing a set of skills, producing future professionals, and things like that."
How Kelly handles that approach is by talking to students about the various trajectories that can come from their studies, and how their knowledge can be applied in the world. Manarin does the same, saying, "When I was a new teacher, I was very concerned with how to deliver the knowledge I had in the courses I was teaching; now I am much more concerned with helping students develop the capacities and habits of mind necessary for learning not only in my courses, but also beyond them."
Mount Royal's international teaching and learning reputation
Teaching and learning is one of the pillars upon which Mount Royal has built its reputation. In fact, Mount Royal is unique in this concentrated focus. While the University's research culture is continuing to grow, instead of existing as a separate entity, research is integrated into classrooms as a function of teaching.
SoTL is practical and effective, even if not always obvious. The results of the 2017 Canadian University Survey Consortium survey reported that Mount Royal students have an unusually high perception of their professors, with 98 per cent answering that their instructors seem knowledgeable in their fields, 87 per cent saying professors are intellectually stimulating in their teaching and 95 per cent stating they are treated as individuals, not just numbers.
Kelly said the scholarship of teaching and learning has taken hold in Canada in ways it hasn't in other parts of the world. Alberta institutions are all known as places where SoTL is held in high regard, and Kelly had been seeing studies coming out of Mount Royal long before he even encountered the university.
When at international conferences, Yeo also says people know Mount Royal. "I think the reason we land on the map is because it's such a hospitable place for SoTL," she said. "As an undergraduate institution, we put teaching first. On doing scholarship on teaching and learning, it's a natural fit. I think SoTL really fits into the character of this institution."
Students as partners
A new initiative, but one with great momentum, is the Students as Partners movement in SoTL. That means students as more than research assistants, but as true equals in inquiry and discovery. Manarin said, "the Students as Partners movement (allows students to) engage with SoTL not only as study participants but as co-creators ― and sometimes co-authors ― of meaning."
Fourth-year education student and research assistant Sarah Webb, who spoke during the student plenary session, said she has always felt supported and respected by her team. She is researching concept mapping and flipped classrooms in nursing with Yeo and Professors Sarah Hewitt, PhD, and Joanne Bouma. Webb said she was once told, "You don't choose research, research chooses you," something she now believes. "I've learned about the hidden work of professors, and gained a greater understanding and respect for what they do."
Webb has had a number of research roles at MRU, and is focusing on using her experience to enter post-graduate studies. She said, "I am very aware that Mount Royal has plenty of opportunities for undergraduate research, and it certainly solidified my passion." She thanked Yeo for her mentorship and said, "I feel very prepared to work with professionals when I graduate from Mount Royal."
Alexis Webster, in her final year of her psychology degree, also spoke at the student plenary session. She is currently researching how physical spaces impact well-being with Mount Royal's Facilities Management department. She is also a research assistant with the athletic therapy program, looking into how exposure to injuries in the field affect students' confidence in their practice ― a research trajectory she didn't expect when she first started her work. Her data began to tell her a story, she said, and with the encouragement of Professor Mark Lafave, PhD, she has broadened her inquiry.
"I think students and professors can learn a lot from each other," she said. Webster had the opportunity to present her work in Vancouver, and appreciates how research has given her the chance to network within the academic world and build a name for herself as she prepares for post-graduate studies. She also appreciates how her professors have been behind her all the way. "It feels like we have our own advocates."
Fourth-year psychology student Hannah Storrs has travelled extensively to present co-research in several different fields, finding herself in Regina, Montreal, Vancouver and soon Australia. She has been published already, and is looking to publish more. Right now Storrs is working with Professor Erika Smith, PhD, on Smith's project delving in to the world of Facebook Confessions and how students are using the platform for help-seeking. She said she loves how you can see the progress of research, and the finished product shows how much work was put in.
"I personally can't be more grateful for the opportunities that I've had. It really sets me apart from other students," Storrs said, and that she feels very prepared to continue her studies after Mount Royal.
Mount Royal faculty and SOTL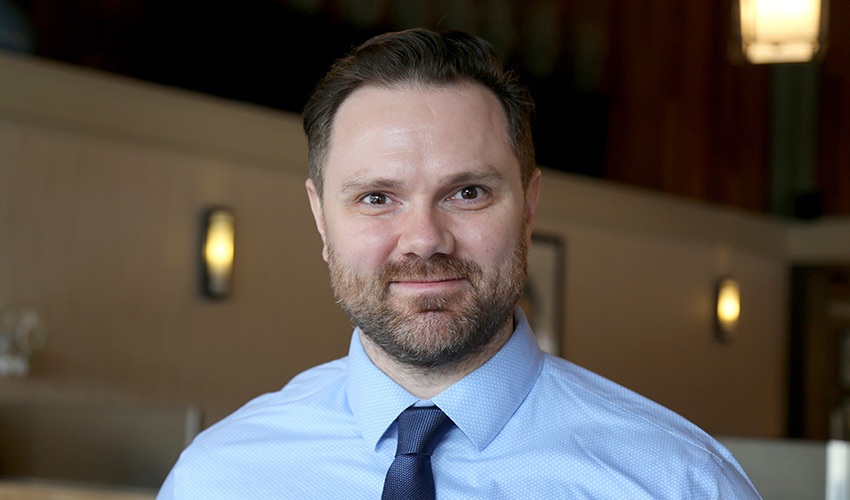 Mount Royal chemistry professor Brett McCollum, PhD, is a current board member the STLHE (Society for Teaching and Learning in Higher Education), the community that administers the 3M National Teaching Fellowship, and is establishing a highly-regarded reputation in the field. He presented a keynote address and held two sessions at the symposium.

"One of the key factors for SoTL scholars is focusing on the impact of their research," McCollum said. "Whether we're talking about our own classroom where we've investigated a problem and we've identified either a more successful approach to teaching, or whether we've learned something about how students learn so that we can facilitate the learning experience more effectively." He adds that for SoTL to be an effective research community, that knowledge must be disseminated to help others learn to improve their pedagogy. "We do that through conferences like this, we do that through journals, we even do it just emailing each other directly," he said.

Journalism professor Sally Haney, who received special thanks from Yeo for her dedication to the symposium and its success, said, "This conference is where incredibly passionate people share high-impact ideas and findings about teaching and learning in higher ed. The cool thing is people here are crisscrossing the disciplines. They come from arts, from science, from education and many other disciplines. Most here are obsessed with knowing more, being better, and collaborating. This is such a collaborative group."
Find out more about the 8th annual Symposium on Scholarship of Teaching and Learning.
Nov. 19, 2018 ― Michelle Bodnar
Media request contact information.
Have a story idea? Please fill out this form.