Gina Starblanket delves into shared spaces
Emerging scholar-in-residence discusses analyzing and understanding settler-colonialism and racism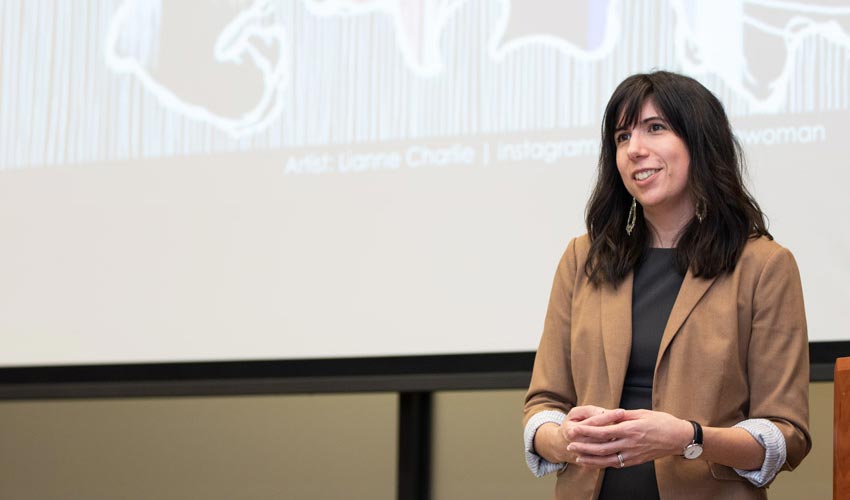 It was standing room only as more than 100 people recently packed Mount Royal University's Lincoln Park Room for a keynote address by emerging scholar-in-residence Gina Starblanket, PhD.
Starblanket wrapped up her week-long residence at Mount Royal University's Office of Academic Indigenization by presenting "Topographies of Settler Colonialism: Unpacking Indigenous and Non-Indigenous Relationships on the Prairies."
"What I'm making an argument for is a need for settler-colonialism and racism to be understood and analyzed relationally. This refers to the relationship between political cultures in shared spaces, the relationship between contemporary crises and foundational ones," said Starblanket, who is Cree/Saulteaux and a member of the Star Blanket Cree Nation in Treaty Four territory, Saskatchewan.
"Such inquiries allow us to question whether our understanding of - and response to - contemporary crises adequately account for and respond to the foundational ones. Or, do they in some context reproduce the foundational crises over and over again?"
An assistant professor in Indigenous politics in the Department of Political Science at the University of Calgary, Starblanket's work centres on Indigenous political theory and examines treaty implementation, education, gender, feminism, identity, de-colonization, resurgence and relationality. A community advocate, Starblanket just received funding for her Indigenous Women's Gathering on Gender and Resurgence from the Social Sciences and Humanities Research Council's Indigenous Research Capacity and Reconciliation - Connection Grants.
Starblanket's launching point for her talk was the result of a 2016 poll on Canadian public opinion towards Indigenous Peoples that was conducted by the National Centre for Truth and Reconciliation in partnership with other organizations and non-profits. It found that negative attitudes towards the Indigenous were highest in the Prairie provinces, which are also home to the highest proportion of Indigenous Peoples relative to the overall population.

"We know settler-colonialism is not universal, but shaped by particular political climates and geographies. A geographically specific analysis is better suited to respond both to the micro-social and political climates in distinct regions of Canada, but also, in particular, struggles of Indigenous People in those spaces."
"A geographically specific analysis is better suited to respond both to the micro-social and political climates in distinct regions of Canada, but also, in particular, struggles of Indigenous people in those spaces."

Gina Starblanket, PhD and Mount Royal's 2019 emerging scholar-in-residence
For example, images to promote the settlement and development of the Prairies to Europeans featured "highly gendered, whitewashed, capitalist ideologies" that promoted normative ideas of family, home and domestic life, such as, "control over one's private domain of land." And those "norms, values, expectations and aspirations that were held by settlers … have been inherited by many of their descendants," she said. What was missing from those promotional materials was any depiction of the Indigenous population, "what remains invisible."
The concept that land could be converted to private property in exchange for a fixed set of terms - a technique of elimination, along with reserves, decimation of Indigenous food sources, spread of disease, residential schools and others - is grounds for the ongoing political mobilization of Indigenous people, she said. The strong sense of self-sustainability on the Prairies, along with the belief that there has been little government assistance, tie into conflicts that continue to this day.
"I think (the historical sense of self-sustainability on the Prairies) has directly played into the hostility and resentment of what we perceive to be Indigenous calls for special rights, entitlement and dependency. It also contextualizes why many farmers have sought to take … justice into their own hands, which certainly amplifies the sense of settler entitlement, and in fact there is some perceived right to protect against Indigenous incursion into their lives and their land," Starblanket said.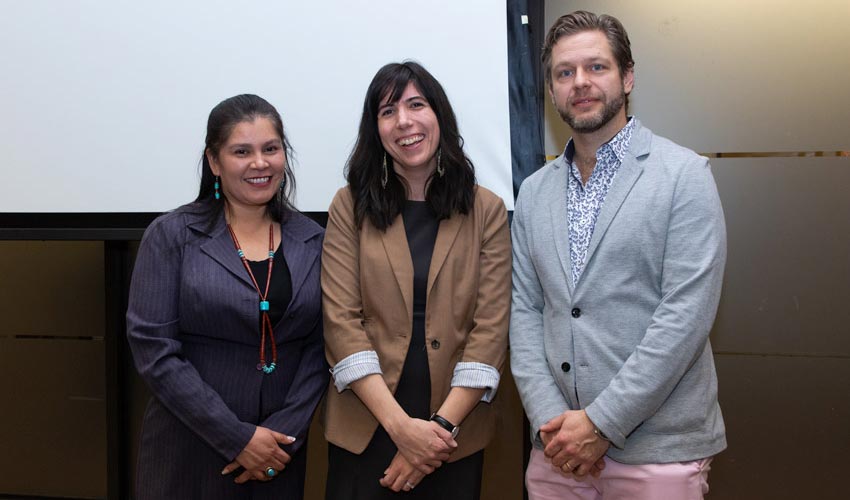 Starblanket's research has been published in Making Space for Indigenous Feminism, American Indian Culture and Research Journal and includes a chapter in Resurgence and Reconciliation: Indigenous-Settler Relations and Earth Teachings. She also contributes to publications such as The Globe & Mail and Rabble.ca. During her week-long residence, Starblanket visited 10 classes, engaging with about 150 students and 13 faculty members, said Renae Watchman, co-director of the Office of Academic Indigenization, which established the scholar-in-residence program last year.
"The feedback from faculty has been quite positive because what our emerging scholars and the rest of us do is provide perspectives into classes that normally don't have room, or make space for, Indigenous knowledge, Indigenous frameworks, Indigenous epistemologies," said Watchman, who is also an associate professor of English at Mount Royal.
Billy-Ray Belcourt was the inaugural emerging scholar-in-residence. Belcourt, from the Driftpile Cree Nation northwest of Edmonton, is a poet, 2016 Rhodes Scholar and a PhD candidate in English and film studies at the University of Alberta. He also won the 2018 Canadian Griffin Poetry Prize for This Wound is a World. Belcourt is the 2018/19 Writer-in-Residence at Mount Royal.
Mount Royal's Office of Academic Indigenization is working to to help evolve post-secondary education by creating space for Indigenous voices, perspectives and knowledges within Mount Royal.
Feb. 26, 2019 ― Ruth Myles
Media request contact information.
Have a story idea? Please fill out this form.