Fall Convocation is a wrap
Last graduating class of 2018 receives their parchments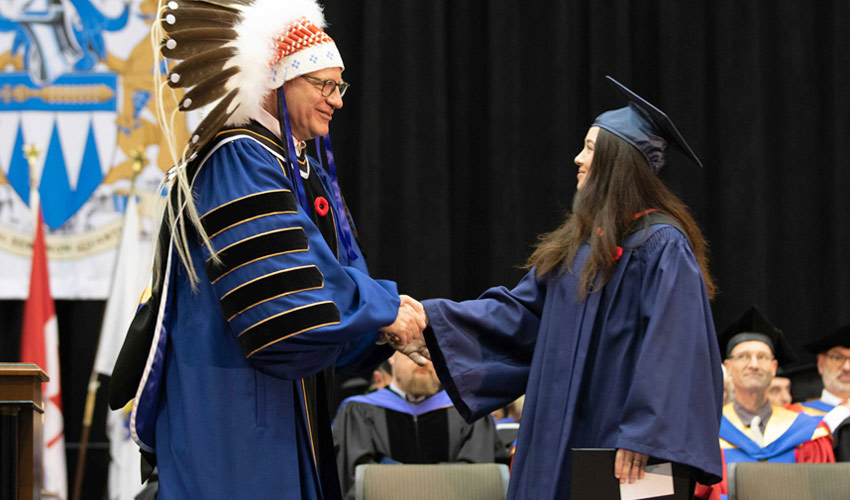 Mount Royal University added another chapter to the archives of its 118-year long history on Friday by celebrating 328 newly minted MRU alumni at the fifth and final convocation ceremony of 2018.
This year 202 former You Belong Here students crossed the stage and received their parchments to the delight of a boisterous crowd made up of friends, family members and supporters of the graduates. The afternoon began with opening remarks from 2016 honorary degree recipient, Clarence Wolfleg senior (Elder Miiksika'am), who celebrated Mount Royal's commitment to reconciliation and the indigenization of curricula. Fifteen self-declared Indigenous students each received a medicine bag from the Iniskim Centre, gifted by Wolfleg and 2017 honorary degree recipient Elder (Grandmother) Doreen Spence.
In his last convocation address as president of Mount Royal University, David Docherty celebrated his "favourite day of the year" by sharing some thoughtful words of advice with those in attendance.
"There are a number of lessons for us to take from our Mount Royal experience. The main one is that if we want to thrive as individuals and as a collective, we must constantly embrace change. It is in the transition of leaving what we've known that we create new and positive opportunities," Docherty said.
Docherty will depart for Brandon University in the spring of 2019.
Since 2011, Docherty has played a critical role at Mount Royal, supporting the addition of new degrees and majors, forging national partnerships with other Canadian universities and introducing a 10-year strategic plan.
Under Docherty's leadership, the Taylor Centre for the Performing Arts and the Riddell Library and Learning Centre were opened. During his stay on campus, Docherty has been a passionate advocate for mental health and well-being, diversity and inclusion, and indigenization.
Valedictorian address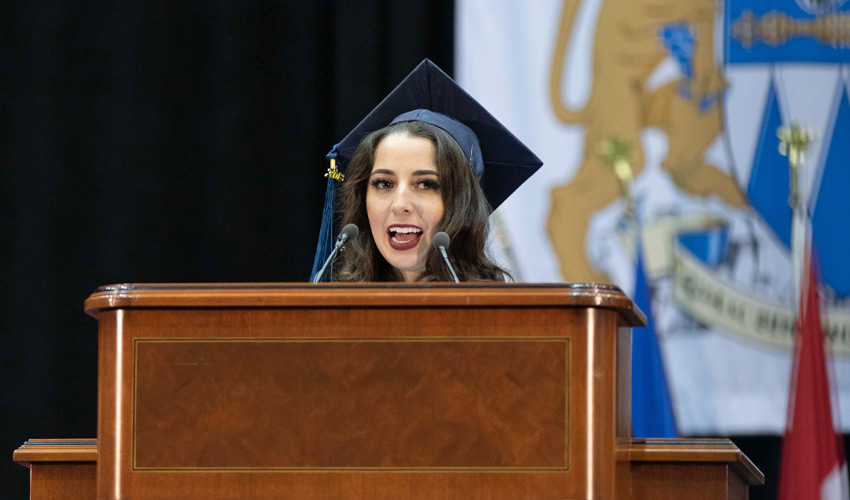 Representing the graduands turned graduates was the fall 2018 valedictorian Alexandra Daignault. Daignault enrolled at Mount Royal with a passion for writing and a desire for education and social change. Early on in her studies she took many postcolonial theory courses, which she says changed the course of her degree and her life.
Daignault leaves Mount Royal with a cumulative grade point average of 3.82 and a Bachelor of Arts - English (Honours) to go along with her double minor in Indigenous Studies and Innovation and Entrepreneurship. Daignault also received a Community Service Learning (CSL) citation.
In 2017, she was a JMH LaunchPad finalist, building a company that sells high-quality tea. The business, now named Sarjesa, gives a portion of its sales to the Awo Taan Healing Lodge.
While at Mount Royal, Daignault participated on many committees, volunteered at the Walking With Our Sisters art installation, presented at conferences and facilitated workshops throughout North America.
During her address, Daignault took the opportunity to share relatable memories with her graduation class while dedicating her speech to missing and murdered Indigenous women.
"Fellow students, we have sat together in classes, listened to questions, and admired how clear and critical thinking can hold the systems of the world accountable," Daignault said.
"We have learned that difficult conversations can be had in a way that fosters respectful solidarity, bringing people together in impactful dialogue. We have enjoyed time with critics, coconspirators and community."
Professors emeriti
Also recognized at this prestigious occasion were former professors Victoria Calvert and Margy MacMillan. The pair represented the ceremony's professor emeriti contingent.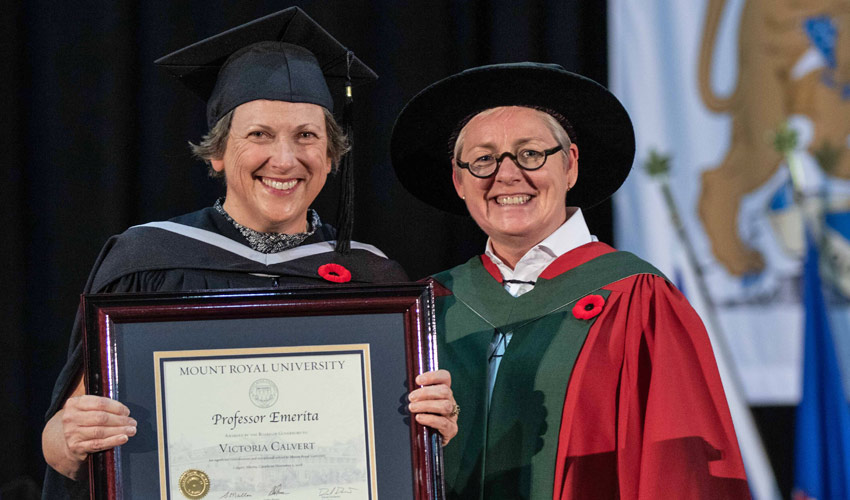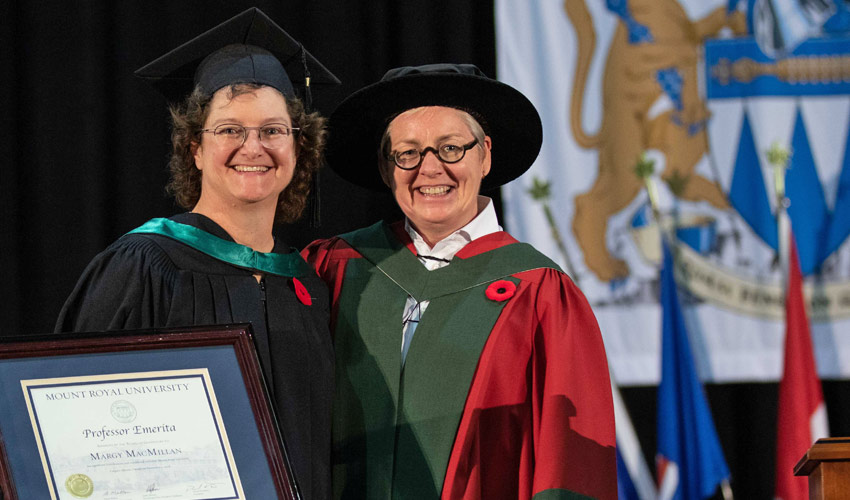 Calvert began her career at Mount Royal as a sessional instructor in 1988 and received tenure in 1997. In 2013, she obtained full professor status, retiring in 2018. Calvert received an Excellence in Teaching Award from the Students' Association of Mount Royal University in 1997 and a Distinguished Faculty Award in 2012. She is a strong proponent of taking education out into the community and helped develop the CSL certification. Her work in CSL has been internationally recognized. As a faculty member in the Bissett School of Business, Calvert's students provided more than 77,000 hours of community service.
MacMillan joined Mount Royal in 1990 before becoming a full professor in 2013 and retiring in 2017. In 2002, MacMillan received the Mount Royal Distinguished Faculty Teaching Award. Twice, her scholarly work was among the Top Twenty Library Instruction Articles conferred by the American Library Association's Library Instruction Round Table. MacMillan contributed in many ways to academic planning and governance, including service on the General Faculties Council, the Mount Royal Faculty Association and multiple Library committees.
Honorary degree recipient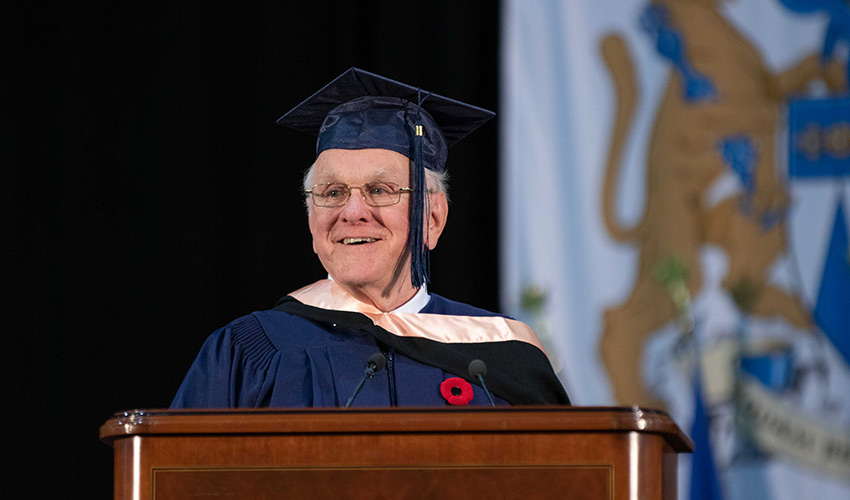 James Murray McCann was recognized as Mount Royal's fall 2018 honorary degree recipient.
Mount Royal's Board of Governors, upon the recommendation of the General Faculties Council, chose to bestow an honorary Bachelor of Nursing on McCann in honour of his longstanding affinity with Mount Royal University and exemplary leadership in Calgary, Alberta and across the country.
The McCann Foundation is instrumental in end-of-life care in Calgary. In 1993, McCann bought a large rectory that was transformed into the Rosedale Hospice. For more than 20 years, this peaceful home has been home to adults with cancer.
McCann quietly funds many initiatives. In particular, he is a passionate advocate of veterans. McCann is the driving force behind Calgary's Field of Crosses - a tribute to more than 3,000 southern Alberta veterans with a cross displayed for each on Memorial Drive. As well, he funds and supports Homes for Heroes, a provider of housing and services for veterans returning to civilian life.
While addressing the crowd McCann encouraged the graduating students to take a moment and appreciate the importance of their most recent achievement.
"Live in the present. Find your calling and passion, look everywhere and don't give up until you have what you are looking for," McCann said. "Your degree, no matter how hard-earned, gives you a foundation upon which you are to build the structure in which you will spend the rest of your life."
As the commemoration neared completion, Mount Royal's Provost Lesley Brown told the recent graduates that their convocation regalia - the gown, hood and mortarboard - is a time-honoured symbol of graduation. Until students receive their parchment, the tassel on their mortarboard is worn on the right side. At the conclusion of the ceremony, it is "tossed" to the left.
"It is my distinct pleasure to congratulate you on your remarkable achievements and ask that you now move your tassels from the right to the left," said Brown.
With that final exam completed, MRU welcomed a new cavalry of decorated students into its alumni family.
Nov. 2, 2018 ― Jonathan Anderson
Media request contact information.
Have a story idea? Please fill out this form.