Fan experience takes centre stage at sixth installment of Crowchild Classic
Memories and moments flood back as MRU ambassadors get set for the doubleheader with pride, determination and focus
Focus
Second-year nursing student Emily joined some of her classmates and took in her first Crowchild Classic in 2017. She plans to attend again this year, decked out in @MruCougars blue cheering with new and old friends. For Emily, a night out with pals at the Crowchild Classic provides a fantastic mental-health break, allowing her to recharge and focus on the winter semester.
#WeAreTheCougars #BleedBlue #BeatUofC #CrowchildClassic #YYC #PSE #Hockey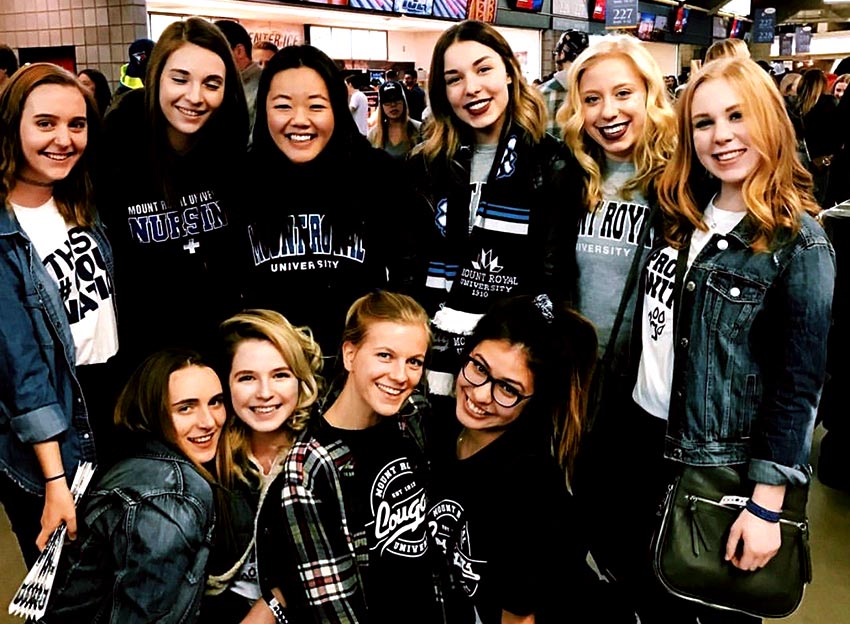 "The Crowchild Classic is a great opportunity to get away from studying for a night and go out with friends! Even if you aren't a hockey fan, it's an exciting and fun event to go cheer on the Cougars!" @ewacha
Determination
Mount Royal University sociology professor Caroline McDonald-Harker, PhD, never misses an opportunity to show off the #MRU community. For her, the Crowchild Classic is the most anticipated annual event where students, faculty and staff join together emblazoned in MRU spirit, passion and pride.
#WeAreTheCougars #BleedBlue #BeatUofC #CrowchildClassic #YYC #PSE #Hockey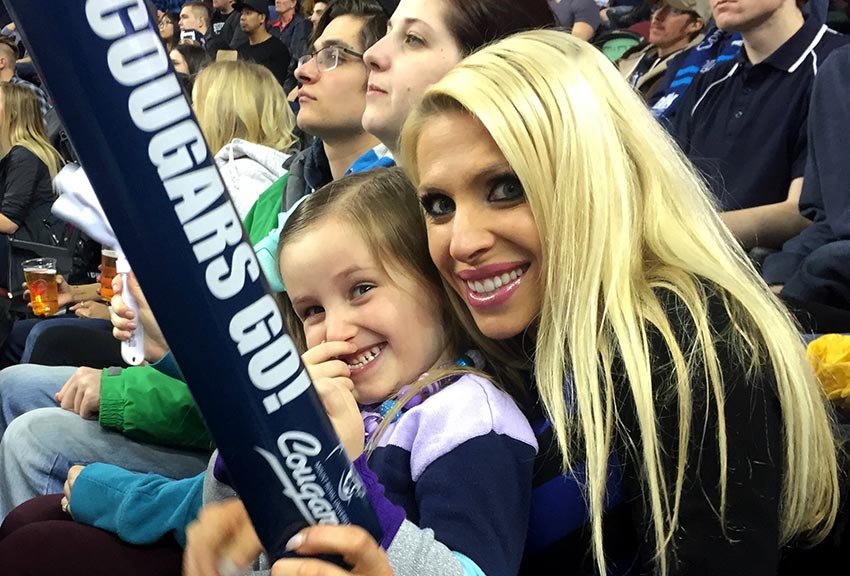 "The enthusiasm, passion and pride exhibited by students, faculty and staff alike is unparalleled. The Crowchild Classic is the pinnacle event! The MRU spirit, zeal and pride shown with determination at the Crowchild Classic is a force to be reckoned with." @carolinemcdohark
Focus
Alexandra made the most of her Crowchild Classic experience in 2017. The Health Science major showed her school spirit by competing in the intermission contest and ended up winning $5,000 towards her next semester's tuition! Alexandra was eager and determined to show her #MRU pride. She recalls that her #ootd was nothing but @MruCougars gear and blue! It helped her be selected for the tuition contest, a memory she will never forget.
#WeAreTheCougars #BleedBlue #BeatUofC #CrowchildClassic #YYC #PSE #Hockey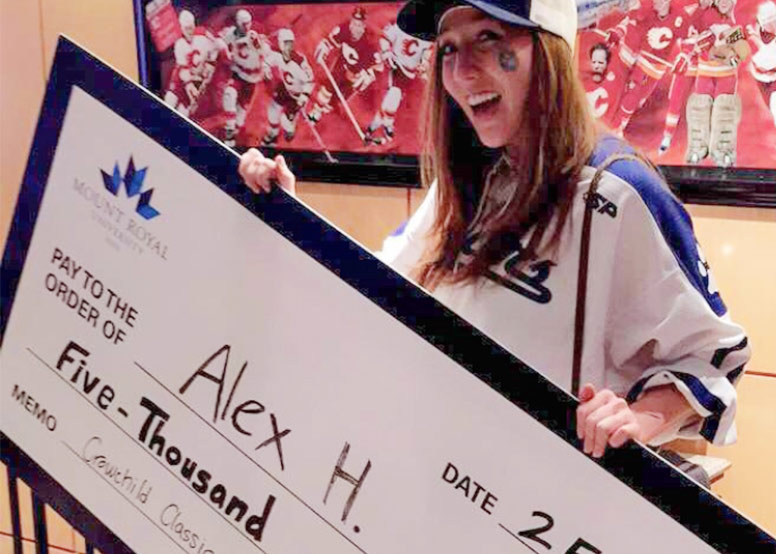 "It actually took a few moments for me to realize we had won. I thought all the buckets had to be scored and the other team was catching up, so I was pretty focused on that. It wasn't until the announcer started walking toward us and my teammate said congratulations - and then it became a bit of a surreal blur. I do remember being absolutely ecstatic and a little tongue-tied getting the cheque and talking with President David Docherty. One of the most fun nights of the year!" @alexhayvren
Pride
Kate Scidmore is a first-year @mrucougar taking the ice for the Mount Royal women's hockey side. The Physical Literacy major hails from Moose Jaw, Sask. and can't wait to represent her school in her school with pride and passion.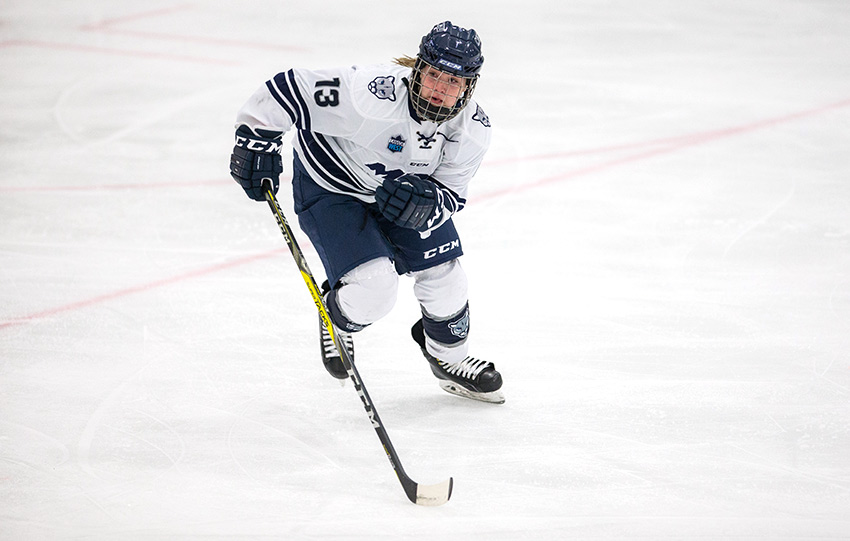 "Not every university gets to do something as big and exciting as the Crowchild Classic, so to have achieved my goals of playing @usportsca hockey and now to play in the Saddledome in front of my peers is an honour and something I will get to keep with me when I am done school. I have heard so many great things about it, from the girls on my team and classmates. The atmosphere in the building makes the players more excited to play and the crowd is very involved. Seeing the 'sea of blue' shows just how supportive and involved our school is towards our sports teams." @kscidmore
Pride
Former @mrucougar and now @mrualumni Cody Cartier knows firsthand how unbelievable the experience of the Crowchild Classic can be. For him, being involved in the crosstown smackdown - with its electric atmosphere - generates a sense of pride, whether you are a student, athlete or alumni.

#WeAreTheCougars #BleedBlue #BeatUofC #CrowchildClassic #YYC #PSE #Hockey #MRU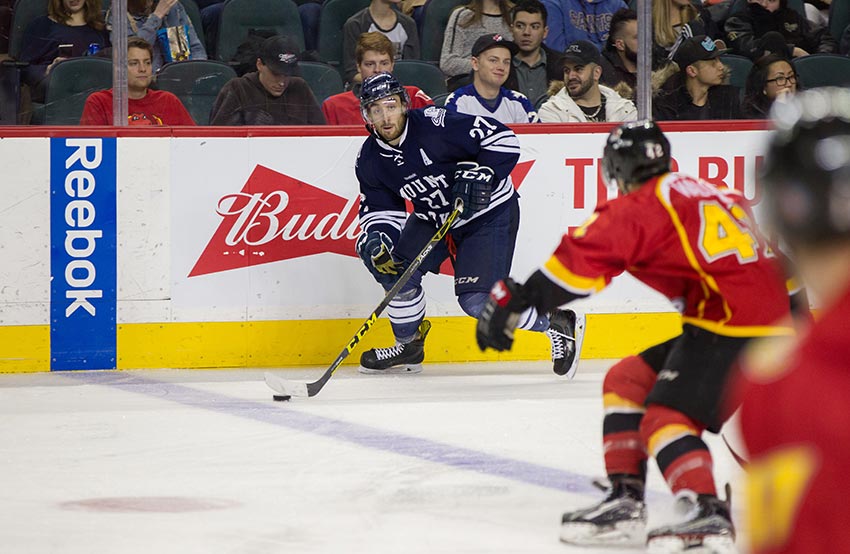 "As a team, we always said, 'Let's make every student proud to be a part of MRU.' There is no better feeling then when we scored a goal and all the MRU students would get up and cheer. Truly no event like it!" @usportsca
"These events flourish from alumni support. Seeing familiar faces back in the crowd is amazing. This is the type of event you could take your children to and create those traditions. As alumni, we need to continue to break the records and continue to be proud of our alma mater. I know I will always bleed blue." @codycartier