"Nothing about us without us"
Field school partners meaningfully with Indigenous communities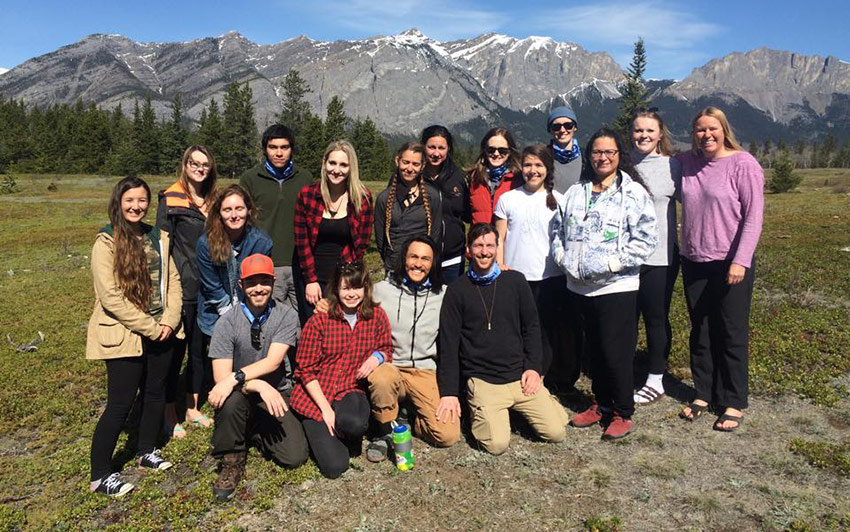 A field school in the mountains last spring is being lauded as the best model to date of delivering Indigenous-centred curriculum in partnership with Indigenous stakeholders. A new third-year General Education course, Environmental Reconciliation and Indigenous Studies, took 16 students to the Iyarhe (Stoney) Nakoda first nation in Morley, Alberta for a week-long immersive learning experience last May.

The course explored ways of reconciling relations and environmental issues between Indigenous peoples and settler Canadians and how culture influences a person's relationship to the land.

Developed and delivered in full partnership with the Iyarhe (Stoney) Nakoda, the course was co-taught by community member Thomas Snow and faculty member Sarah Brown. It was offered as a Community and Society (cluster 3) course to senior students enrolled in different degree programs.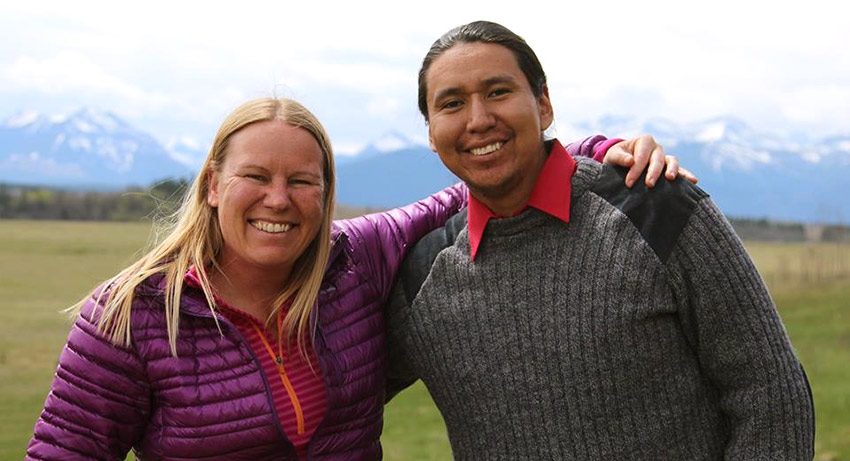 Professor Liam Haggarty, who advised on community engagement to develop the course, says "it's the best example of a course taught on a collaborative level that I've ever seen or been part of at Mount Royal." Building on the praxis "nothing about us without us," this course went beyond consultation to develop curriculum with Indigenous partners from the beginning.

Haggarty, who is co-director of the Office of Academic Indigenization, says success was the result of a year-long commitment between Brown and the community. "Sarah went to elders' meetings and was essentially vetting her course through that community. That takes an immense amount of effort, especially for someone who is not a member of the community. Very rarely do we give communities the power to change the way a course is designed."

Co-instructor Thomas Snow says this was a first for his community, as well. "I've been asked to be a guest speaker at MRU before, but this was the first time I was formally asked through an institution to be this involved in the development and delivery of a course."

Snow says after setting up and dedicating time to meet and talk with elders, he knew Brown's intentions were sincere, and that made all the difference. "This was not lip service to the idea of indigenization and decolonization. This was about students learning firsthand through Indigenous practice and teaching methodologies. Indigenous education systems and methods have been long overlooked and undermined, so we saw an opportunity to push back and open students' eyes and minds," he says.

"None of it would have been possible if not for the relationships and knowledge that exists within the Nakoda community and the respectful manner in which this partnership was approached," says Snow.

A number of community members were involved in delivering different sections of the course. Students spent many hours with community members, learning from elders, visiting people in their homes. They participated in healing circles, sweat lodges, a pipe ceremony and a 24-hour wilderness solo experience, which included fasting and sleeping outside under only a tarp.

"Students need to get out of the classroom," Snow points out. "You can't teach environmental reconciliation without being out on the land, and you can't teach Indigenous Studies without learning from Indigenous peoples."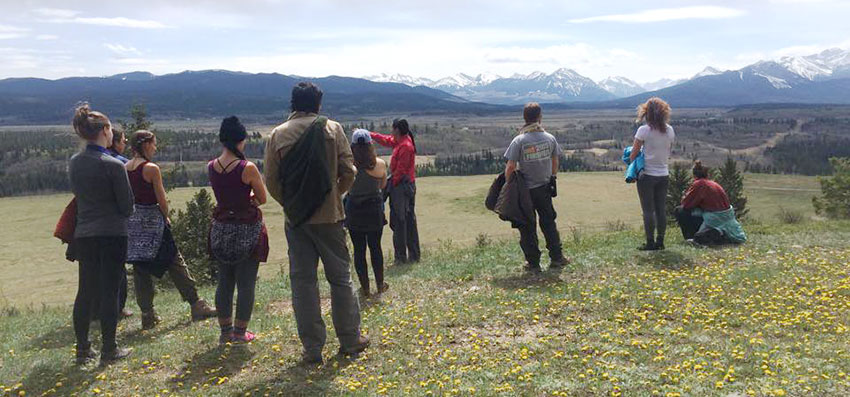 "I was pleasantly surprised at the openness of the students and their willingness to learn," Snow says. "They put themselves in a new space and opened their hearts and minds to where they could welcome new teachings and learn something that was completely unfamiliar to them. That takes courage and humility. I also really appreciate the respect that each of them showed our community and its members."

Brown, too, has high praise for the students. "If we hadn't had the calibre of students that we did, it wouldn't have worked as well. The students didn't know one another, but they have now formed a community, and many have kept their connections in the Nakoda community. It was a transformational experience for everyone involved."

Haggarty says that was evident on the first night with the opening healing circle.

Brown explains that "it can be challenging to communicate across worldviews because of all the historical issues resulting from colonization. We experienced generosity in the community time and time again, helping us learn what we needed to learn."

On the final night, students hosted a feast for the community, which was well attended by about 70 people.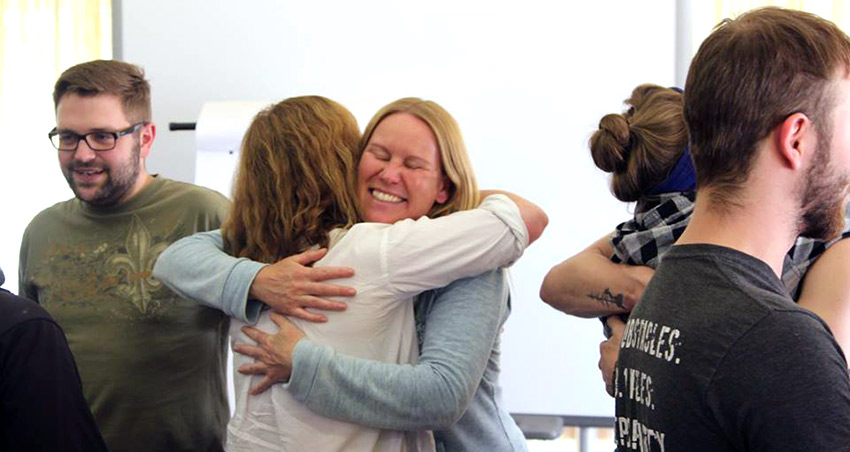 Brown adds that what was really important was deconstructing the colonial model of teaching to and about Indigenous Canadians. "From the broadest perspective what makes this challenging is trying to create a new model of collaboration and teaching, outside of the regular processes, trying to envision the system we want to have," she says. "We needed to have those deeper conversations with the community around 'does this work for you? Is this the same colonial model? Does it feel right to you?' We were working with an amazing community partner in Thomas. There was a lot of back-and-forth, a lot of conversation, and a willingness to navigate that terrain together."

Snow believes that way of working together is a model worth replicating. "This is an excellent example for other institutions to look to as a way to build lasting relationships, have meaningful dialogue, and talk about truth, reconciliation and decolonization. This shows the great potential that exists for change and the work that can happen in partnerships between institutions and Indigenous people and communities."

Haggarty adds, "Relationships are sustainable when you build them in that way. You don't get that without everyone's emotional investment."

Haggarty says there was significant support within the University for this field school to succeed, and there is interest in using this model to develop similar curricula across different programs. "I have 13 meetings coming up with different departments wanting to indigenize their curriculum," he says. "Our work around indigenization needs to be woven into other programs on campus. This will happen again."


Read more about indigenization efforts at Mount Royal University.


Oct. 26, 2017 — Melissa Rolfe
Media request contact information.
Have a story idea? Please fill out this form.