Program a catalyst for entry into graduate studies
MRU, University of Lethbridge team up to nurture science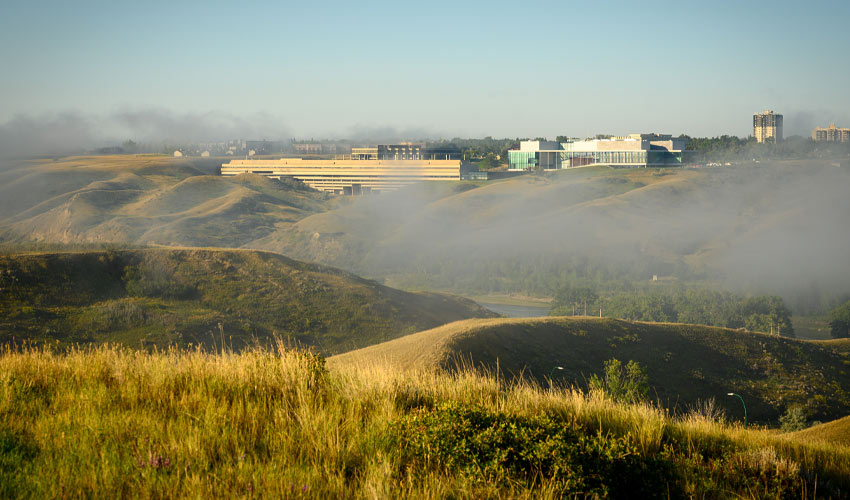 A recent pilot project between Mount Royal University and the University of Lethbridge has provided students from the Faculty of Science and Technology with valuable insight about how to successfully transition into a graduate program. The Future Innovators in Technology (FIT) program trained six senior MRU undergraduates for a research role at the U of L.
"It was a really great way to get my feet wet with research and to learn some new skills and techniques that can be applied in so many ways," says Justin Dubiel, a recent graduate from the Bachelor of Science program with a major in health science, "It was a tremendous experience."
The other Mount Royal participants were Dennis Campbell, Merry Ghebretatios, Damian La Rosa Montes, Anne Neumann and Ryley Penner. U of L faculty taking part were Ute Wieden-Kothe, PhD, Craig Coburn, PhD, and Dr. Igor Kovalchuk.
Dubiel and Ghebretatios assisted Dr. Kovalchuk with research on potential anti-cancer properties of cannabis extracts. Dr. Kovalchuk's laboratory focuses on genetic and epigenetic regulation of plant responses to stress, while also breeding medicinally important plants such as the poppy and cannabis. He gives his students the opportunity to learn the forefront of biotechnology fields such as cannabis breeding and personalized medical cannabis approaches.
"The experience gave the students a taste of what research-intensive labs are like and to make a decision whether a science career is for them," Dr. Kovalchuk says. "Both Justin and Merry had a great attitude and were eager to learn. I really enjoyed working with them."
After his experience in the collaborative initiative, Dubiel decided to pursue graduate school at the U of L.
"If I were returning to MRU, I would have been able to apply a ton of what I learned to my classes," Dubiel says.
Seventy-five per cent of Mount Royal graduates say they will pursue graduate school within five years, according to the 2018 Canadian University Survey Consortium.

Pathway programs such as FIT are an asset to support those motivated students.
Ghebretatios is in her fourth and final year of studies at MRU. A Bachelor of Science student, she is majoring in cellular and molecular biology. She also describes FIT as a very valuable experience.
"The lab contained a unique blend of both the academic and business sides to research. This allowed me to experience first-hand the dynamics between various employees and students working in the same lab doing several different tasks daily," says Ghebretatios, who wants to pursue a master's program at the U of L before applying for medical school.
"I was able to grow in my understanding of how research works in the real world in terms of troubleshooting when protocols fail and remaining flexible and patient when things go wrong."
Mount Royal University associate professor in chemistry and physics John Chik, PhD, was in touch with the FIT students over the course of the pilot program, which ran from May through August. He says that the FIT students have done a great service for future MRU students.
"The participating U of L faculty now know about the quality of Mount Royal students and their training," Chik says, adding that the faculty were very impressed with the work ethic of MRU students. "The proof of this is that these professors are willing to commit to these students by taking them on as graduate students."
Tuition and fees were paid by the School of Graduate Studies at the U of L. The participating students engaged in research and related training for up to seven hours per day and earned $2,200 per month, plus complimentary accommodation in the newly renovated University of Lethbridge residence.
Oct. 3, 2019 — Rob Petrollini
Media request contact information.
Have a story idea? Please fill out this form