Grade 9 girls Explore STEM
Calgary's post-secondary institutions welcome the world's next technical minds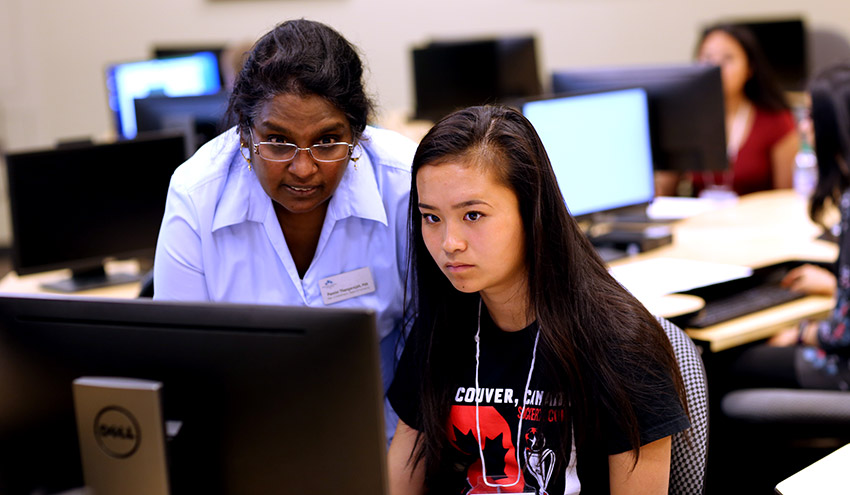 Nearly 1,000 Grade 9 girls, including students from area Indigenous schools, explored STEM at Mount Royal University, the University of Calgary and the Southern Alberta Institute of Technology (SAIT) on May 16 as Calgary post-secondaries banded together to showcase science, technology, engineering and mathematics (STEM).
The demand for individuals with an STEM background is increasing throughout the world. In Alberta, it is projected there will be labour shortages in nearly all STEM occupations.
Explore STEM is an event focused on introducing young women to career possibilities in STEM. Women are underrepresented in these fields and while women represent 56.4 per cent of university enrolment and 52.5 per cent of college enrolment numbers, only 23.4 per cent of workers in STEM occupations are female. Along with engineering and technology programs, computer science and IT programs experience very low female registration.
"In 1999 when we started this event, post-secondary institutions had way less female students. Now, there are often more female than male students, but fewer females pursue STEM careers," said Pamini Thangarajah, PhD and mathematics professor at Mount Royal University. "We need to increase their awareness, excitement and confidence they can do this."
Leading-edge institutions and corporations worked together at Explore STEM to increase girls' awareness of STEM and related career options that will hopefully inspire them and help shape their potential futures. Using state-of-the-art technology at Mount Royal University, SAIT and the University of Calgary, participants joined in hands-on sessions in areas such as multimedia, networking, cinema, television, Java programming, robotics, geomatics, web page design and so much more.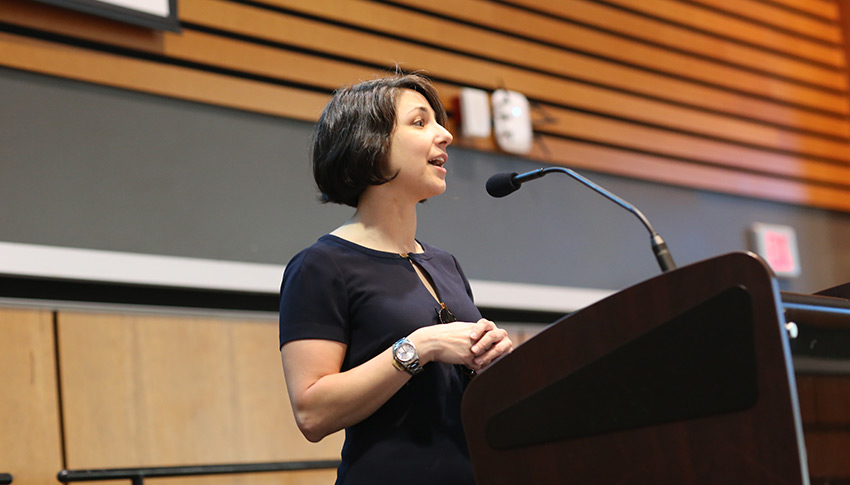 This year the event partnered with Science Odyssey, and was partly funded by a Natural Sciences and Engineering Research Council of Canada grant. A total of 233 students attended 14 different learning sessions at Mount Royal.
At Mount Royal University: Students learned to build their own animated story, 3D video game or music video in a virtual 3D world; explored satellite data from NASA; created an awesome graphic for social media; and designed a 3D model ring to wear. They also got to experience a flight simulator and looked at genes from a strawberry.
At SAIT: Students met experienced women in the trades and explored career options; learned to protect computers from cyberthreats; learned the basics of programming a mobile app; and learned the secrets of live broadcast while recording and editing their own commercial and radio play.
At University of Calgary: Students worked in teams to solve an engineering problem in a hands-on building activity; learned skills to construct an 'electronic gizmo'; used Kinetic Microsoft sensor technology to explore human movement and discovered how technology is used in fields like kinesiology; and learned about the technologies currently being used to clean up and address oil spills.
Michelle Peng, a student from Connect Charter School, didn't need convincing about the merits of STEM as she worked with NASA satellite data in a session titled Big Data Here We Come!
"I like all of it. I want to be a pediatrician and I've already done a bunch of coding," she said. "I really enjoy math, too. My parents are engineers so I guess I get it from them."
Explore STEM also included a blessing from Indigenous elder and environmental scientist Paulette Fox and keynote addresses from Mojan Mobasser, who is a health care systems engineer at Cisco, and Michelle Metherell, a client support services manager at Alberta Health Services.
Grade 9 was chosen as the target age, as it is a critical career decision-making year for girls who are about to enter high school, said Thangarajah. The conference experience helps reinforce the importance of selecting science and math precisely at the time when girls are making curriculum decisions that will impact their future career choices and options.
The past 18 Explore STEM conferences have involved more than 8,000 students. In 2017, over 75 per cent of participants in the conference indicated they would consider pursuing such a career. Some students have returned later as volunteers.
"Myself, I had difficulty going through the program. In Sri Lanka, especially if girls did well, the boys didn't like that," recalls Thangarajah. "That's why I feel that girls should be told, 'Don't give up. The struggle is there but you can handle it and go further.' I say that because my experience wasn't very nice, but I learned I could handle it."
Read more about Pamini Thangarajah in "We can do it!," a special STEM-based story from the spring 2015 edition of Summit magazine.
May 18, 2018 ― Peter Glenn
Media request contact information.
Have a story idea? Please fill out this form.