Iconic CBC show sets up on Mount Royal's campus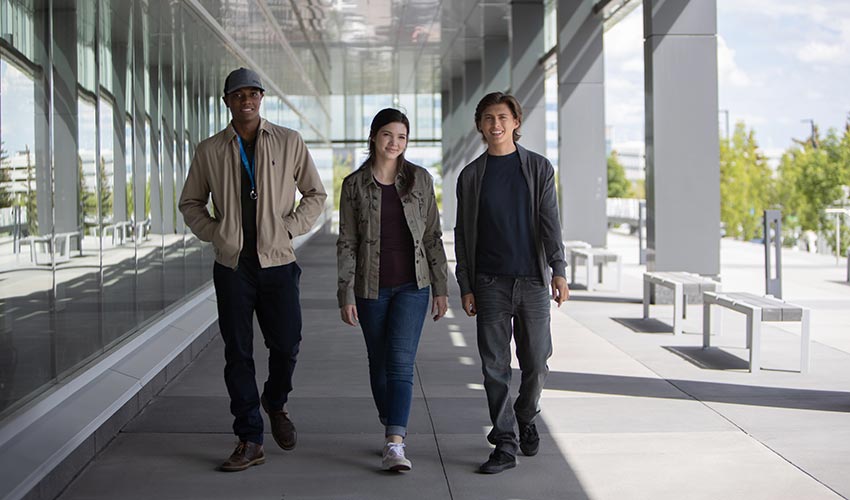 Heartland's Adam (Kataem O'Connor), Georgie (Alisha Newton) and Wyatt (Dempsey Bryk) check out the Mount Royal campus in Episode 6 of the upcoming season of the popular CBC series. Photo provided by Heartland.
---
Check out Mount Royal on Heartland
MRU appeared in episode 2 of season 13. View here.
Mount Royal played a new role when the cast and crew of CBC's beloved Heartland filmed here in June for the show's upcoming 13th season. The campus acted as a welcome centre for new students as the character of Georgie Fleming Morris (played by Alisha Newton) looks into her options for post-secondary education.
Set in the fictional town of Hudson, Alta., Heartland is the longest running one-hour drama in Canadian television history. Showrunner, executive producer and lead writer for Heartland Heather Conkie says the campus fit the bill perfectly for the storyline. "Georgie, like most of her classmates, begins to research universities," Conkie says. "She narrows her options down to one - Mount Royal."
Brent Mann, director of Event and Theatre Services at Mount Royal, says it was an easy decision for Mount Royal to take part in filming.
"I felt as though there was a natural fit for the Heartland program to film here, as our institution represents strong Canadian values, top-quality educational programming and has an incredible 110-year history in Calgary," Mann says. "Heartland mirrors our values."
Over two days, staff and students were treated to the sight of a major production at work, and several participated as extras. MRU's locations and amenities worked perfectly for Heartland's needs, Conkie says. "Practically, it offered everything we needed for the script: a beautiful, leafy green quad, many super cafes to choose from for a key scene and on top of that, a fantastic climbing wall.
"As the showrunner and one of the executive producers of Heartland, I speak on behalf of all of us when I say Mount Royal surpassed all our expectations.
On the show, the Heartland Ranch is located outside Hudson, about 45 minutes southwest of Calgary. Conkie explains that "(Georgie) wants to spread her wings, but at the same time she's a bit of a homebody. MRU allows Georgie to experience life in the city, but its beautiful green space makes her feel at home. The short distance allows her to commute, something she needs to be able to do since she still is pursuing the showjumping circuit and an Olympic dream."
This rings true to members of the Mount Royal campus community, as MRU is largely a commuter campus serving the immediate area. Mount Royal is also a community-minded post-secondary institution focusing on personalized learning opportunities, which gives it a welcoming feel suitable for those venturing away from home for the first time.
As the Hudson community once rallied around Georgie - a fearless and independent character who ran away from more than one foster family until finding her true home on the Heartland Ranch - the campus community also came together to pull off this large project in only three months.
"It was an incredible collaboration with a number of areas at MRU including Marketing and Communications, Security, Risk, Grounds, Event and Theatre Services, Parking, the Campus Store, Athletics and the Library," Mann says. And it seems to have paid off. As Georgie explores options for her post-secondary education, it's possible that Heartland may return. Georgie hasn't quite made up her mind about what she would like to take, which is very common for first-years at university.
"Georgie's interested in and excels at so many things," Conkie says. "She's athletic, smart, she loves animals and, most of all, challenges."
Georgie's step-grandmother Lisa runs a successful race horse breeding operation and Georgie is beginning to see a future for herself in that area.
"She could combine her love of horses and the show jumping world if she gained the knowledge and qualifications to run a similar operation to Lisa's, But, in Georgie's case, the goal would be to breed high-quality hunter/jumpers for the show circuit. With this idea forming in her mind, she can't help but be tempted by the opportunities of the business faculty."
The Mount Royal philosophy of a well-rounded education with plenty of options to choose from is perfect for Georgie, Conkie says.
"(Georgie is) a young woman who is ready to take on new experiences and ultimately make her mark in the world. And the Heartland writers are happy to take her down that path."
Season 13 of @HeartlandOnCBC is travelling back in time!https://t.co/oou1BqdYxW

— CBC Television (@CBCTelevision) July 30, 2019
A sneak peek of Heartland's 13th season
The Heartland Ranch, located in the rolling foothills of Alberta, has been in the Fleming family for six generations. The characters have gone through many changes over the past 12 seasons, and this season promises to deliver even more love and drama challenged by relatable real-life complications.
Thanks to Heartland for providing this preview of Season 13:

Amy (Amber Marshall) and Ty (Graham Wardle) are continuing to build their business, though the inevitable ups and downs of entrepreneurship will test the strength of their marriage. The added pressures of building a new home, raising their young daughter, Lyndy (Ruby and Emmanuella Spencer), and keeping an eye on Luke (Lucian-River Chauhan), a young boy they are fostering, will also challenge the couple.
Georgie (Alisha Newton) returns from an elite equestrian training camp in Europe only to realize that things in Hudson are not as they were when she left - or perhaps she's what has changed.
When a dangerous storm heads towards Hudson, Jack (Shaun Johnston) is forced to face some tragic memories from his past. He will also end up weighing some major decisions for his business and his future.
Lou (Michelle Morgan) and Mitch (Kevin McGarry) make things official in their relationship, but soon realize that their career aspirations may not be as in sync as they had hoped.
Tim (Chris Potter) sorts out what happens next after last season's failed marriage proposal and it might include a new business venture.
How to watch
Heartland Season 13 - featuring 10 one-hour episodes - premieres on Sunday, Sept. 22 on CBC and the free CBC Gem streaming service. Filming locations include Calgary, High River, Millarville and Longview.
To connect on social, go to @CBCHeartland for Facebook, @HeartlandonCBC for Twitter and @official_heartlandonCBC for Instagram.
Aug. 6, 2019 — Michelle Bodnar
Media request contact information.
Have a story idea? Please fill out this form.