Mount Royal highland dancer named world champion
Rebecca Thow says physical literacy studies helped her bring home the win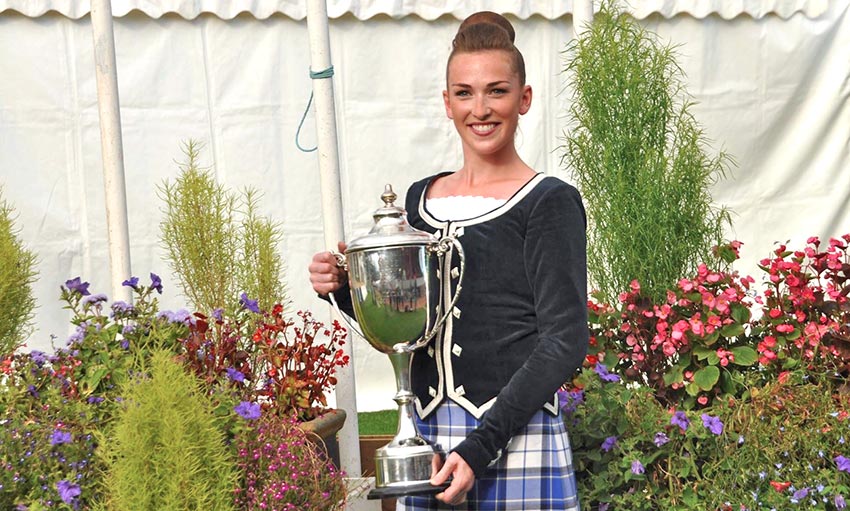 What began as a six-month stint at a ski resort has turned into seven years, an education in physical literacy and a world championship.
In her final year of the Bachelor of Health and Physical Education program at Mount Royal University, Rebecca Thow clinched the Adult World Championship title in highland dance this past August at the competition held near Glasgow, Scotland.
The 24-year-old of Scottish origin has been dancing since the age of two, and though this win equates to a crescendo in any highland dance career, it is certainly not a finale for Thow.
"I had been working so hard over the years to achieve this, I sort of feel like 'now what?'"
Thow says. "All I can say is I'm not done yet." Thow originally arrived in Canada from her hometown of Belhevie on a six-month visa to work at Lake Louise as a ski instructor. She was 19 at the time, but never looked back on her decision.
"Although dance was a factor in that I could come here and still pursue something I love, I really came for the mountains."
The nonchalant nature in which Thow considers her dance career is ironically perhaps what has led to her overwhelming success. Although she has notched dozens of titles throughout the years, she never lost sight of things in life that are equally as important.
On her secret to success this year, Thow says she rested more.
Throughout her studies at MRU, Thow credits her growing knowledge of physical competencies from her studies in the physical literacy program as providing her with the information she needed to change her training and lifestyle habits for the better.
One of Thow's biggest inspirations is Márta Károlyi, the national team coordinator for the U.S. gymnastics team. The importance the Hungarian coach places on rest and self-care struck a chord with Thow in her preparation for this year's championships.
"I bought into the whole package, I really took care of myself," she says. "After a number of stress fractures, broken feet, you name it - I put an emphasis on prevention in my training."
Following her impending graduation next spring, Thow has a few ideas of where she might find herself next. She has expressed interest in returning to Scotland to pursue a graduate degree in physiotherapy.
As for where dancing may play a role, Thow sees herself competing in Australia and may one day open her own studio.
"One lesson I'd pass on to competitive athletes of any nature is that I didn't just run at a dream as hard as I could - I had the patience and discipline to train both my body and my mind."

Find out more about Mount Royal's physical literacy program.

Nov. 22, 2017 — Nicole Herback
Media request contact information.
Have a story idea? Please fill out this form.