Honouring Mount Royal's fallen
Distinguished guests gather at the inaugural installation of MRU's Field of Crosses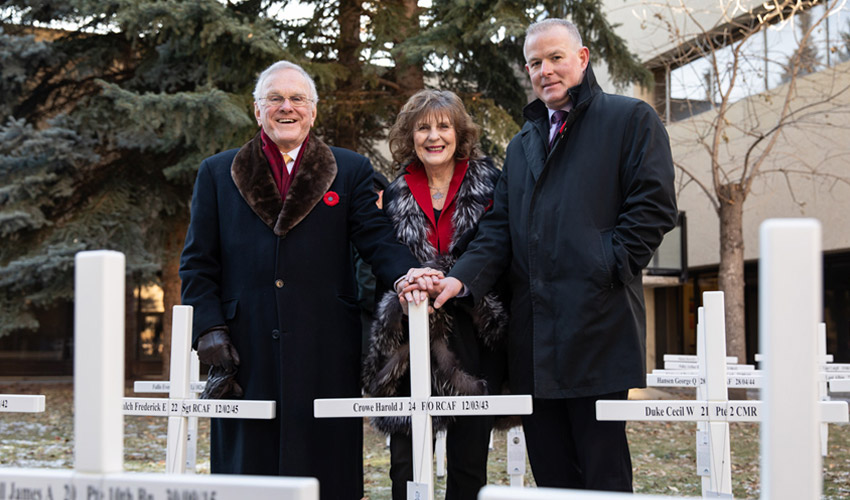 Field of Crosses founder Murray McCann, Lieutenant Governor of Alberta, the Honourable Lois Mitchell and vice-president of University Advancement Paul Rossmann stand amid the crosses in the Dr. John H. Garden Memorial Park at Mount Royal University.
---
The Lieutenant Governor of Alberta, Her Honour, the Honourable Lois Mitchell, joined Field of Crosses founder and MRU honorary degree recipient Murray McCann for a special ceremony on Oct. 29 to unveil the Mount Royal University Field of Crosses, a satellite installation of the annual commemoration that erects over 3,600 memorial markers along Memorial Drive each year.
The creation of the satellite Field of Crosses was made possible through the McCann Family Foundation and the Field of Crosses Memorial Project.
The event took place in the Dr. John H. Garden Memorial Park on the University campus. The memorial garden is a calm and serene setting accented by beautiful landscaping and a babbling waterfall feeding a small pond. A fitting place to commemorate lost members of the Mount Royal community.
"The Field of Crosses memorial is honoured that Mount Royal University would choose to memorialize their own heroes and welcome them back to campus in the form of a memorial cross," said McCann.
"Hopefully they will be an inspiration to all who pass by to stop for a moment and remember the huge price paid, recognizing that no greater love hath man than he lay down his life for his friends."
MRU's Field of Crosses honours the 29 students who made the ultimate sacrifice in service to their country. These cherished members of the MRU family are also honoured through the school's Military Memorial Bursary program.
"My uncle was a member of the Canadian Military ― he served on behalf of the Canadian Forces on peace missions for the United Nations," said Sean Milan, a 2017 recipient of the Private Hans Raskensen Military Memorial Bursary.
"To receive this is a comforting sign that even in his death ― and the death of the fallen soldier this award was named for ― their memory lives on."
Paul Rossmann, vice-president of University Advancement, thanked McCann, as well as contributors to the bursary program, community partners, faculty and staff.
"We are grateful that you have entrusted us to install this partnership of the Memorial Drive Field of Crosses. Your generosity has made possible the creation of meaningful memorials for those brave members of the Mount Royal community who were unable to fulfill their potential," he said.
"We honour their sacrifice and thank you for your commitment to their memory."
Make a donation to the Military Memorial Bursary program today.
Oct. 29, 2019
Media request contact information.
Have a story idea? Please fill out this form.