Calgary philanthropists David and Leslie Bissett make another important contribution to Mount Royal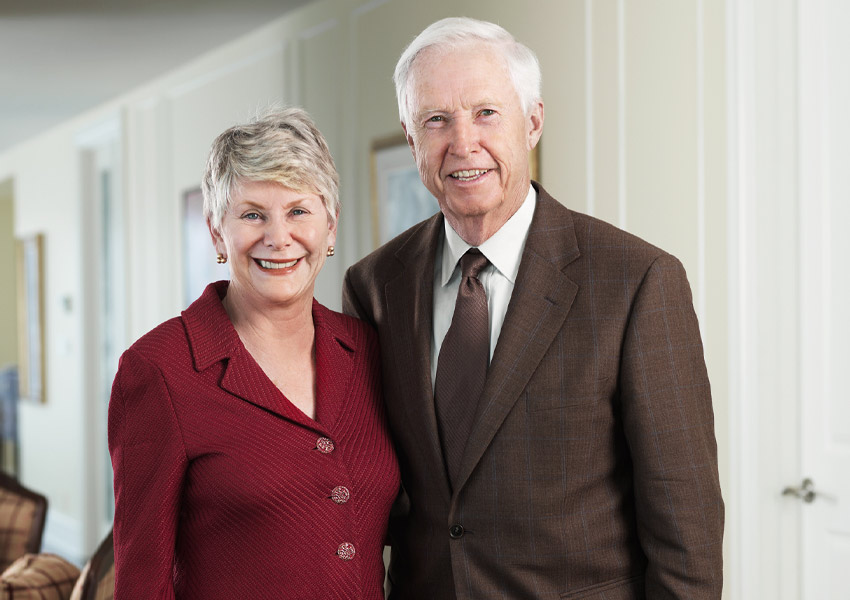 Renowned philanthropists David and Leslie Bissett have been donating to Mount Royal for more than 20 years.
---
It can be hard enough for students with a strong support system to navigate their way through the post-secondary system, what with non-stop deadlines, packed schedules and difficult course content to learn. But since many of Mount Royal's students come from Calgary or nearby, most have family and friends to lean on when times get tough.
Indigenous students, especially Indigenous students with children, face an even more difficult road when trying to earn a degree. Indigenous learners often come from rural areas far from Calgary, and report greater levels of loneliness and isolation than non-Indigenous students do. In addition, there are many obstacles limiting access to safe, affordable and year-round housing. For Indigenous learners, existing stereotypes and biases often translate to a reluctance on the part of landlords to rent living space off campus. On campus, it's just not feasible for these sorts of students to have to leave their home on campus for a third of every year (in between the fall and winter semesters).
The only program of its kind in Canada, Mount Royal's Indigenous Housing Program (IHP) was created specifically for members of Canada's Indigenous population, both singles and those who are raising families. The IHP, which is run through the Iniskim Centre, helps these students succeed at their studies by providing a solid support network and access to housing, campus amenities and cultural connections.
Debbie Crazyboy of the Piikani First Nation is an education student who will graduate this June and lives in a family unit with her three daughters. She says stable housing has been pivotal to her success, as she is able to get to classes easily and study at the library whenever she is able. Plus, her costs have been literally cut in half.
"I got into housing three years ago and it came at a time I really needed it," Crazyboy says. "I was so grateful for this opportunity. It was a very selective process. Almost 30 students applied for the same house, so I was very humbled to find out that my family had been chosen. Everything went up for us; it was a real pivotal point in my life. My self-esteem and self-advocacy increased and I definitely became more confident in my studies."
The first priority is housing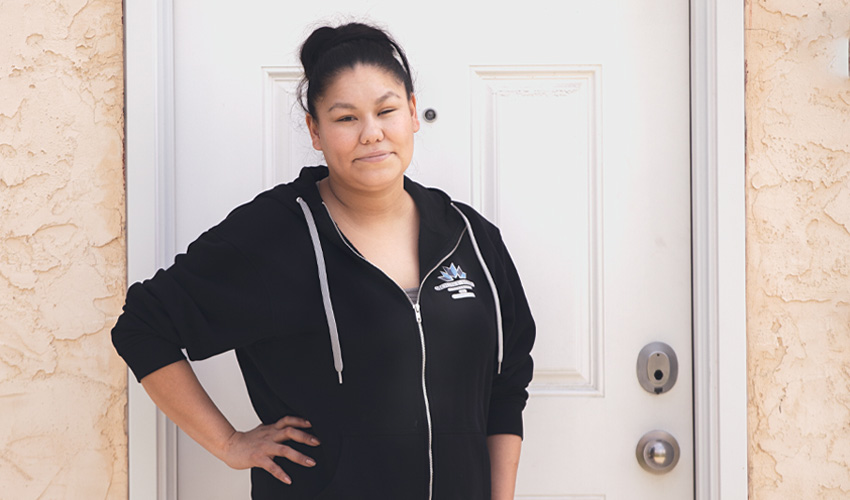 Bachelor of Education student Debbie Crazyboy lives in a family unit with her three daughters. The Indigenous Housing Program has been pivotal to her success.

---
Excellent news was recently announced that will build and bolster the IHP for many years to come. A generous donation of $300,000 from well-known Calgary philanthropists David and Leslie Bissett will double the capacity of the family IHP, from four to eight families. The generous gift will allow for necessary upgrades so there are utilitarian kitchens, bathrooms with bathtubs, washers, dryers and basement storage in every unit. The gift will also provide bursaries to make housing more affordable for students in the program.
John Fischer, director of the Iniskim Centre, says they couldn't be more grateful to the Bissetts for their generous support. "Every family in the program has succeeded and the IHP creates belonging and links students to academic support services. Children grow up on campus knowing that one day, they will go to university. Nursing and education students have found living on campus during practicum and field schools especially supportive."
Rain Desjarlais, who graduated from Mount Royal's Bachelor of Nursing program, credits the IHP with providing a safe and affordable home for her and her children so she could focus on school and her family's future.
She says, "I am the first in my family to pursue a post-secondary education and I have limited social support in Calgary as a single mother. Without the wealth of campus support and the sense of community the program offers I don't think I would have been as successful."
As the namesake of the Bissett School of Business, which came about due to a truly transformative gift to then-Mount Royal College in 2002, the name "Bissett" is ubiquitous on the Mount Royal campus and is synonymous with innovation, entrepreneurship and community-mindedness.
Mount Royal Vice-President of University Advancement Paul Rossmann says, "The Bissetts are champions for education, and have been extremely generous to Mount Royal. We are so grateful. They continually help break down barriers that stand in the way of access to higher education. The recent gift from David and Leslie will allow Indigenous students, especially those with families, to complete their education and enter the workforce with the skills, knowledge and confidence Mount Royal graduates are so well known for."
Bissett has been donating to Mount Royal for more than 20 years. In addition to his continued support of the Bissett School of Business, he has provided for numerous scholarships, bursaries, endowments, building expansions and appointments.
This time, Bissett says that the IHP appealed to him for several reasons. He liked that there is a family support structure so students can maintain their focus on their studies. Those accepted into the IHP receive access to a coordinator who connects them to campus resources and other community members who provide advice and guidance.
"The project also coincides nicely with other things we are doing in the school system here in Calgary," Bissett says. He and his wife Leslie are involved with United Way's All in for Youth, where success coaches assist students in completing high school on time. In Calgary in 2012, 25 per cent of students were not completing high school within three years due to hurdles such as poverty, mental health issues, language barriers and lack of positive supports, according to United Way's website. That number is now down to 20 per cent.
"What All In for Youth is trying to do is identify kids who are capable of graduating from high school and moving on to advanced training. Coaches work with kids who have difficulties in the context of economics and trauma, and we help them get through with bursaries," Bissett says.
"That's been pretty successful, and it's not dissimilar to what we're doing here at Mount Royal. We're enabling people who may have otherwise had difficulties to obtain a more advanced education. So that's kind of nice."
Fischer explains that along with families, Mount Royal's Iniskim Centre supports 28 single Indigenous students in Residence, with hopes to grow the program to help 36 Indigenous students.
Proportional representation
While Indigenous Peoples are the fastest growing population in Canada, they are under-represented in post-secondary institutions. According to Mount Royal's 2014/2015 Annual Report, the University's Indigenous enrolment measured 4.4 per cent of its overall population for that academic year. A 2014 survey prepared for the Canadian University Survey Consortium found Indigenous enrolment for all universities to be at 3 per cent, and for comparable universities to be at 7 per cent, a number Mount Royal will meet soon.
In the current academic year, only five years later, self-identified Indigenous students now represent 6.1 per cent of Mount Royal's total student population. In some programs, such as social work, the percentage of Indigenous students is as high as 20 per cent. Notably, Indigenous students now have a higher retention rate between first and second year as compared with their non-Indigenous counterparts.
As to his trailblazing spirit, Bissett says, "Obviously, I did extraordinarily well in this community," and he feels he can use his influence - and, frankly, cash - effectively in places where it is needed. "You really have to make some decisions about allocating your resources either before or after death, and why not do it sooner?"
"To me, it's perfectly practical, and it's a very satisfying occupation to be able to do some good things in the community."
Learn more about the Indigenous Housing Program at Mount Royal.
May 24, 2019 — Michelle Bodnar
Media request contact information.
Have a story idea? Please fill out this form.