Mount Royal University helps to create awareness around appropriate sexual assault responses with #IBelieveYou campaign
| | |
| --- | --- |
| | |
| | President David Docherty delivered remarks on behalf of Alberta's post-secondaries at a launch event for the #IBelieveYou campaign. ~Photo by Bryan Weismiller |
As a person on the receiving end of disclosure of sexual violence - whether you're a friend, family member, professor or acquaintance - all it takes are three simple words to encourage a culture where sexual assault survivors feel safe to come forward.
"I believe you."
On Aug. 31, Mount Royal University, along with post-secondary institutions across Alberta began its collaborative efforts with #IBelieveYou, a month-long awareness campaign around appropriate and supportive responses to sexual assault, to help educate and empower a proactive community of front-line sexual assault responders, on and off campuses.
"Universities are small communities. And, as community members, each of us shares the responsibility to create and maintain a positive, healthy environment - the kind of environment where people feel safe coming forward," said Mount Royal University President David Docherty.
Funded by the Government of Alberta, the initiative - brought to life by the Association of Alberta Sexual Assault Services (AASAS) and Cause & Effect Marketing - is a multi-layered campaign focused on providing the public with the best tools to respond to survivors of sexual abuse.
| | |
| --- | --- |
| #Ibelieveyou social media resources | |
"Our government stands with survivors of sexual assault," said the Honourable Irfan Sabir, Minister of Human Services. "If you have been affected by sexual violence, I believe you. I encourage all Albertans to join this important campaign. Spread the message to others by saying I believe you. Together, we will help heal and stop sexual assault - we will create safe communities for all."
Working with participatory campuses across the province to facilitate information booths and events, as well as engaging the public on various digital and social platforms, #IBelieveYou will work to support survivors and stop the cycle of abuse.
Mount Royal has a number of partnerships and grassroots initiatives on campus.
"(For example) faculty members like Gaye Warthe, PhD; Pat Kostorous,PhD; and Cathy Carter-Snell, PhD, are immersed in these initiatives, such as the Stephanson Cooke Inter-professional Learning event, which has focused for the last two years on relationship violence, and the Stepping Up Dating Violence Prevention Research Project," said Docherty.

Several initiatives are already in place and in development on campus to address the serious and complex issues surrounding dating, domestic and sexual violence. These include the Stepping Up website, a virtual resource centre with information for on-and off-campus resources, how to respond to disclosures of violence and much more. Additional training and awareness plans are in development, as well as a specially-trained response team to respond to incidents of sexual violence on campus.

For survivors, working up the courage to talk about their sexual assault is an extremely difficult act.
| | |
| --- | --- |
| | |
| | Gaye Warthe, Chair of the Child Studies and Social Work program, speaks with a news reporter during an #IBelieveYou event at the Inglewood Community Association. ~Photo by Bryan Weismiller |
"Currently, and for much too long, sexual assault remains a severely under-reported crime, as 97 per cent of survivors never report their attack. It is a complex issue that affects the wellbeing of our community," said Debra Tomlinson, CEO of AASAS.
Unfortunately, those who do come forward in the traumatic aftermath of a sexual assault are often met with negative responses, which means they won't tell another soul, or get the help and support they need.
"As professionals who have worked with sexual assault survivors and prevention for over two decades, we have learned that when survivors get a positive response after they disclose about their sexual assault, they're more likely to seek justice and get the support they need," Tomlinson adds.
"We look at this as a movement that we hope impacts and informs as many people as possible, which is why we are using social media so heavily. We want to change the numbers - it's time," said Tomlinson.
Those who have active Twitter accounts and want to join the cause can pledge their Twitter handles by visiting the #IBelieveYou website and sharing the campaign's message of change for with their followers for the month of September.
The campaign has set a goal of reaching 497 pledges by Sept. 30. #IBelieveYou highlights the need for conversation around sexual violence, as well as the positive impact students and young people can have on survivors coming forward by showing compassion and believing.
"The conversations like those that will spark from initiatives like today's campaign launch are important to have," said Docherty.
"As a demographic, we know that students and all young people in our community are susceptible to increased rates of incidence. So it's especially important to get these conversations started with our young people that will soon become leaders in their communities."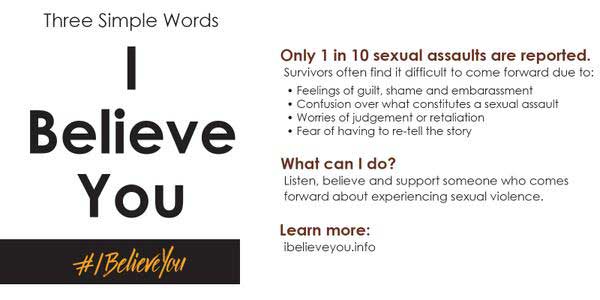 Aug. 31, 2015 - Laura Camelo Garcia