Mount Royal bolsters its support of international recruits
Regulated Canadian immigration consultant stands ready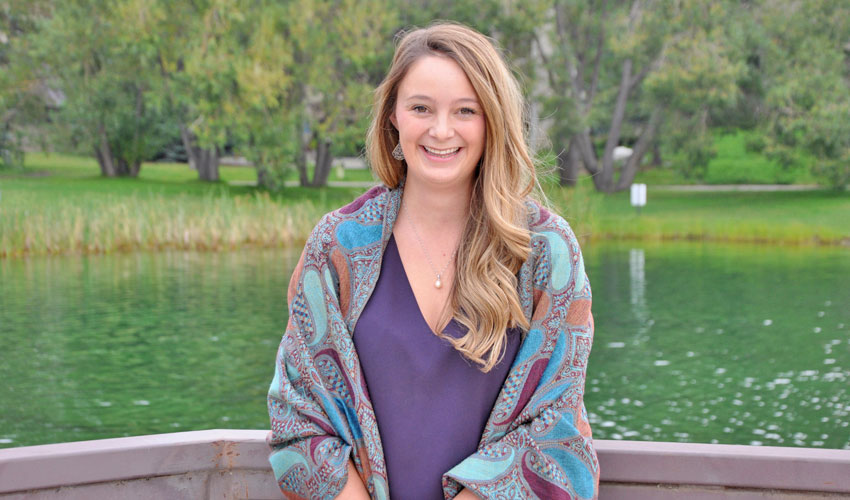 International Education Week takes place on campus from Oct. 29 to Nov. 2.

Go to mru.ca/IEWeek for complete information. The schedule of events can be found here.
Mount Royal University's Strategic Plan to 2025 identifies improving international enrolment as a priority. Having students on campus from other countries increases Mount Royal's depth of diversity and allows for learning from one another. As the University works to continue to increase its international population, the office of International Education has added its first regulated Canadian immigration consultant to the team. Her name is Kathleen Cobb, and her role is crucial to supporting students who are new to Canada.
"Navigating the immigration system is a major source of stress for international students," Cobb says. "International students work hard to study in Canada and I believe they deserve knowledgeable and equitable immigration support from their post-secondary institutions."
Cobb experienced the bureaucracy of international education while studying in Spain, encountering various issues while applying for a study permit. She was grateful for the guidance received while studying outside of Canada.
"I know how valuable it is to have someone in your corner when you are struggling with bureaucratic systems with which you are unfamiliar," she says. "I want to provide that support for international students at Mount Royal."
Helping to navigate Canada's immigration system
As a certified regulated Canadian immigration consultant Cobb is qualified to advise students and staff at MRU on all aspects of the immigration system. This includes refugee status, student or worker applications and permanent residency questions. The majority of Cobb's time is spent specifically working with international students, which includes addressing questions about study permits, work eligibility, travel documents (visitor visas and electronic travel authorizations) and post-graduation work permits.
"I am able to help with completing applications, navigating complex immigration situations, contacting Immigration, Refugees and Citizenship Canada on their behalf, and more," Cobb says.
And with a growing international student body, it is critical to enhance the international student experience.
"Errors and omissions on applications can be life changing. International students realize this and often find themselves lost navigating the system," Cobb says. "Having someone on campus who can speak to the ever-changing immigration regulations is incredibly important."
Second-year nursing student Atma Lima is one individual who has benefited greatly from working with Cobb. Lima, who came to study at Mount Royal from the city of Belo Horizonte in Brazil, says that Cobb provides assistance during extremely stressful moments.
"I needed a letter from MRU in order to reapply for my study visa," says Lima. After a few unsuccessful attempts to obtain the document, Lima found Cobb.
"I went to Kathleen's office completely overwhelmed and not knowing what to do. She was extremely polite, understanding and kind."
Cobb made a call to Immigration and Citizenship to confirm exactly what documentation was needed and offered assistance in completing the paperwork to extend Lima's study visa.
"The day after meeting with Kathleen, I received a follow-up email from her saying that she had called immigration. She also offered to help write my explanation letter to immigration, which I happily accepted," Lima says. "Knowing that Kathleen is at MRU to provide assistance makes me feel supported and also welcomed."
"It shows that the University cares and wants you there."
Oct. 17, 2018 — Rob Petrollini
Media request contact information.
Have a story idea? Please fill out this form.