Nursing professor's work improves treatment of sexual assault victims
Cathy Carter-Snell is influencing change at the national level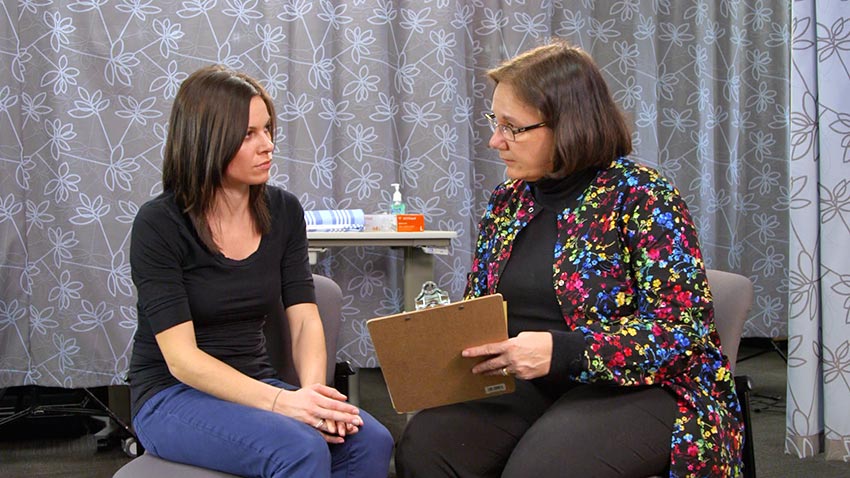 From hospitals in Prince Edward Island, to disaster services agencies and the military, nursing professor Cathy Carter-Snell is breaking down misconceptions about sexual assault and improving the way victims are treated.
Carter-Snell, an associate professor in the School of Nursing and Midwifery, is receiving accolades for a national training program she developed in trauma-informed care. It teaches healthcare, justice and social services practitioners how to help sexual assault victims without victimizing them further. She was recognized in 2017 as one of 150 Difference Makers in Mental Health in Canada for her work and its effectiveness in reducing the mental health consequences of assault.
Percentage victims who report a sexual assault to police

10%

Percentage of victims who truthfully report sexual assaults

96 - 98%

Percentage of men who are sexual predators (repeat offenders)

5 - 8%

Percentage of assaults committed by strangers

10%

Percentage of assaults committed by intimate partners

10 - 15%

Percentage of assaults committed by someone the victim met recently or a friend of a friend

70 - 80%

Percentage of assaults in which the victim is intoxicated

50 - 70%

Percentage of victims whose peers bring them in to report an assault

70%

Percentage of women who had at least one experience of unwanted touching by age 16

50%

Number of women who've been sexually assaulted

1 in 3
Carter-Snell teaches mainly in Nursing and Midwifery, but also runs an interdisciplinary general education violence course through the Department of Child Studies and Social Work. She is an active researcher and community advocate, sitting on a number of associations and boards that focus on improving care for all victims of sexual assault. She has taught at MRU since 1995.
Carter-Snell's research focus is preventing sexual violence and reducing the mental health effects of it. "If we can do that, the physical health effects follow," she says. About 50 to 60 per cent of people who've been sexually assaulted are likely to develop post-traumatic stress disorder, she explains, compared with 10 to 15 per cent of people in the military who've been in combat.
"And yet nobody wants to talk about that. We see the same rates with intimate-partner violence as well."
Carter-Snell was asked to develop a program to improve sexual assault care for victims in emergency departments in Prince Edward Island, where smaller communities lack the resources to support dedicated sexual assault nurse-examiners. She developed a four-hour multidisciplinary course to promote collaborative trauma-informed care, now known as Enhanced Emergency Sexual Assault Services (EESAS). EESAS is now required in PEI for all of its healthcare professionals and is recommended for all others who deal with sexual assault victims.
She was then approached by the Association of Alberta Sexual Assault Services to help rural communities seeking to improve the care they provide to victims. The EESAS training was provided and evaluated in five communities as part of a collaborative program for everyone who deals with victims, whether in the hospital or the community.
The EESAS program consists of eight modules, most of which are focused on providing trauma-informed care, breaking down myths and preventing further consequences to victims, by focusing on the victim's health and mental well-being. Evidence collection and injury identification are also included but the focus is primarily on victim support and enhancing recovery. The course is delivered online, in webinars or in person.
The Canadian military approached Carter-Snell to offer the online EESAS course to military personnel before deployment, and Saskatchewan has now taken an interest. At any given time, she has a few hundred people from across the country enrolled via the Internet.
Stephen Price, Dean of the Faculty of Health, Community and Education, says students and colleagues benefit from Carter-Snell's work. "The work she does has provided leadership in our faculty beyond the classes she teaches."
Carter-Snell supervised two students who organized last fall's Stephenson-Cooke Violence Awareness Symposium. "This leadership resulted in an event that provided a place for students across our programs to experience inter-professional collaborations while having conversations about trauma-informed practice," says Price.
As a former emergency and intensive care nurse, and certified sexual assault nurse examiner (SANE), Carter-Snell also developed and teaches an online sexual assault nurse-examiner course through Continuing Education.
Nurse-examiners work in hospitals and clinics as the victim's main care provider after a recent sexual assault. They explain all of the options available to a victim, such as medical treatment, counselling and whether to bring in the police, and they conduct the medical examination and evidence collection if requested by the victim.
Supporting victims and providing choices in their care is a key aspect of trauma-informed services. "The control has to go back to the patient," she explains. "That's part of the recovery. Control has been taken away, so trauma-informed practice requires that we give them choices again."
In all of Carter-Snell's training, participants are urged to change the language they use with - and about - victims. A study by the Canadian Justice Institute found that false allegations of sexual assault, at two to four per cent, were the same as false claims about any other Criminal Code offence, meaning that 96 to 98 per cent of people tell the truth.
"And yet, when we report a physical assault we don't say 'an alleged physical assault' or 'an alleged car accident', but we do say 'an alleged sexual assault'. So right there we're telling the victim that we don't believe them. And it shows up in the medical records."
According to Carter-Snell, language further dissuades victims from seeking help when they are asked to give their "version" or "side of the story" versus being asked to provide the history of events and being told, 'I'm sorry this happened to you. What can I do to help?'
Debunking myths and helping the underserved
Carter-Snell's research is helping to debunk myths about how sexual assault victims are expected to appear and behave after an assault. People assume that victims will be highly distressed, but one of Carter-Snell's studies found that nearly 70 per cent of victims "were calm and co-operative. They got tearful when they were telling the history of the events, but were extremely co-operative and capable of decision-making.
"And police officers need to know that if I as a nurse-examiner say there are no injuries, that doesn't mean there wasn't a sexual assault. That's fairly typical, actually."
As a witness in a court proceeding, Carter-Snell was once accused of being on the side of the victim by assuming the assault occurred. "I said, 'If you come into Emergency and say you have chest pain, I'm going to assume you have chest pain. If you say you've been sexually assaulted I'm going to assume that and I'm going to initiate the protocols.'"
Valuable time is lost if people doubt the victim, and mental health effects can worsen with time as well. "Positive social support or reactions is one of single biggest factors in preventing PTSD."
As a researcher interested in prevention and early intervention, Carter-Snell is turning to issues that have been understudied and victims who have been underserved, such as male victims of sexual assault. "Male survivors don't tend to come forward until 15 to 20 years after the abuse started. By that time it's affected their lives significantly. They're 'the working wounded' -- men who have a difficulty keeping finding or keeping a job or having a family because of substance abuse, depression, PTSD or anxiety disorders."
Male clients at addiction centres are only asked about prior trauma 10 per cent of the time, she says. Instead, the focus of care has been on dealing with the addiction not the underlying causes. But, she says, "Organizations, including hospital emergency departments, are starting to get better at spotting the signs of previous trauma." Carter-Snell sits on the board of the Canadian Centre for Male Survivors (CC4MS).
Her recent research has also examined the provision of sexual assault services immediately following a disaster. She has completed a soon-to-be-published cross-border study with a nurse from New Orleans, where it took up to two years to restore sexual assault centres after Hurricane Katrina. Their study looked at Canadian and American sexual assault centres, and disaster response and emergency management agencies.
"What we found was that nobody really thought about sexual assault. There are international guidelines but people seemed to think those were for third-world countries.
"We know that rates of sexual assault are significantly higher during disasters, but we found that nobody was collecting data on it. There was an assumption that people would report to the police. But only 10 per cent of people who are sexually assaulted in normal times will report to the police, certainly not in a disaster, when the focus is more on food and shelter." Victims may wait months or years to come forward, if at all, she says.
Carter-Snell saw this first hand during the 2013 Calgary flood, when she worked in an evacuation centre. "We'd have 300 strangers two feet apart on cots in an arena in the dark." Private rooms were not necessarily any safer, she says, "because no one's looking behind the doors. Husbands and wives were roomed together even when there was a protection order in place meant to keep them apart. Teenagers and young adults were all by themselves and vulnerable to human traffickers."
Her recent study also found that when sexual assault examiners are sent to evacuation centres, they are sent to provide general nursing care, not sexual assault services. "The next stage for us is working with some of these agencies to include sexual violence prevention measures."
Staying hopeful
Carter-Snell says the current '#metoo' movement is bringing attention to how victims are often doubted and discounted, but changing deeply held biases is an uphill battle. "We have so little understanding of the issues of women who've been assaulted, and we're still fighting against that.
"I had a police officer once who said he wasn't going to lay charges because he didn't think the victim said no strongly enough. But there's nothing in the Criminal Code about degrees of 'no.' In fact the Criminal Code says you have to say 'yes.' But those beliefs are out there so that's why I developed the multidisciplinary training."
Her training is helping to change the experience of sexual assault victims across the country, hospital by hospital, case by case.
"I've been doing this work since 1998. I'm feeling hopeful, but I still get very frustrated when I hear something like a judge asking a victim 'why didn't you keep your knees together.' But judges, police and social workers are all human too, so if they don't have training in that area then they're going to perpetuate the myths themselves."
Amid all the sobering statistics and troubling examples of bias against sexual assault victims, Carter-Snell has a compelling reason to continue her work. "If you can take somebody at their worst moment and make them feel better about themselves in some way, then that's worth it. That's why I keep doing it."
Mount Royal's School of Nursing and Midwifery is among the top Canadian institutions for the field.
Feb. 27, 2018 ― Melissa Rolfe
Media request contact information.
Have a story idea? Please fill out this form.