Improving accessibility at MRU
Research project assessing how to meet different learning styles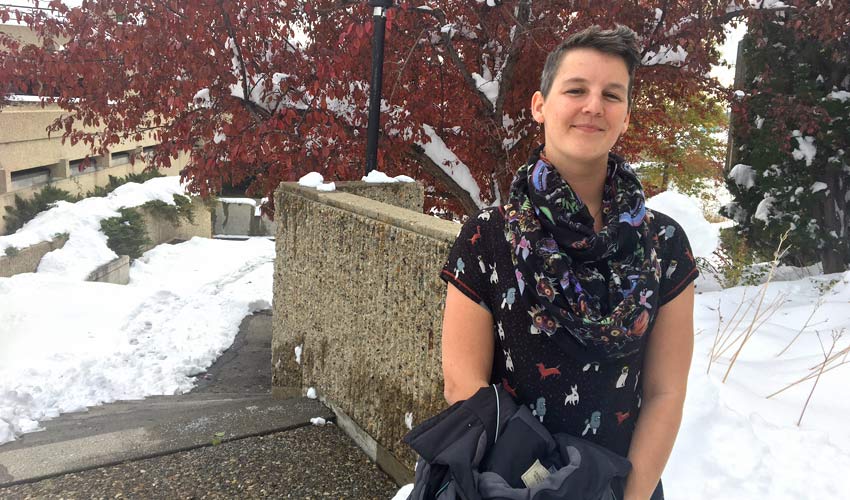 Coping with dyslexia has been a lifelong challenge for Mount Royal University public relations student Kenzie Webber, but one she's overcoming.
The mature student, who at 36 years old is in the fourth year of her degree program (with a minor in English), has already found success as a graphic designer, a path she chose in part because it did not involve much formal writing. But she returned to MRU to add to her communications skills, with hopes of running her own company full time.
For Webber, Accessibility Services at Mount Royal has made all the difference, allowing her to maintain a 3.9 GPA and a spot on the President's Honour Roll despite challenges with reading and short-term memory.
As part of her accommodations, Webber has access to her instructors' Power Point slides before class so she knows what the day's lectures will cover. She is also allowed to use technology like a laptop in the classroom to take notes without having to worry about getting stuck on the spelling of a word and falling behind. She receives time extensions on her exams and meets with a strategist every few weeks to go over how she's progressing with her studies.
"My experience with Accessibility Services at Mount Royal has been 100 per cent positive," Webber says. "It's calming to know that people understand that not everyone learns the same way and being able to have that support system.
"Everyone has different needs. It's like eyeglasses. Most people need glasses, but every prescription is different."
A place for every student
You Belong Here. How can Mount Royal University make that tagline apply to all students, including those like Webber who are coping with disabilities?
That question, and a call from Student Affairs and Campus Life to focus on evaluation, inspired Accessibility Services' Janalee Morris, Janet Arnold and Tracie Czerkawski to start a research project that has resulted in even more crucial questions.
"It's legislated and we are required to provide services to students with disabilities," Morris says, "But because of that nobody has really had a huge impetus for looking at, 'Are we doing good things for students? Are we actually doing what we say we're doing?' "
Accessibility Services had been collecting statistics on students who come to them since 2009 and were able to include data from that year up to 2016, which included every contact with students over that time. Combined with results from the National Survey of Student Engagement (NSSE) and the Canadian University Survey Consortium (CUSC) surveys done on campus, the result was 250,000 data points.
Brad Congram, an analyst with MRU's Institutional Analysis and Planning office, has been crunching the numbers and working with the group to find what is relevant in all that information.
"We had all this data but the three of us didn't really have the skill set to be able to analyze it properly. So Brad happily came in and he's been running the statistics for us to see what is significant," Morris says.
Preliminary results
Because there is little in current literature about success and students with disabilities, Morris, Arnold and Czerkawski added focus groups to the process. When the group began to look at the results, the first thing they noticed was how students with disabilities define success. Most students in the general population, for example, put grades first.
Morris says "our students did say that, but they had a much more holistic idea of what success was for them. For some people it was just showing up to class and being able to get out of bed in the morning.
"For some people it was not dropping their classes that was considered being really successful. But also things like balance in their lives and being able to manage their disability were also big components of how they measured success."
They also found that peer interactions including group work, in-class participation and peer study groups could be a barrier for students.
Others said they don't feel they belong on campus as much as other students do. They talked about the idea of normal, what is normal, the stigma around disability, and the lack of role models on campus and elsewhere. Working with Accessibility Services has a positive impact, but does not solve everything.
Some results were puzzling. For example, students who identified as having a disability in the CUSC or NSSE surveys but didn't use Accessibility Services had higher graduation rates than students without disabilities. Graduation rates for students who use the services were about the same as those of the general student population.
Some of those students who self-identified as having a disability could have other factors leading to their success, says Morris.
"Maybe they have developed high resiliency. Or maybe they have a mental health issue but are being treated, so they still identify as having a disability but their disability is totally remediated by treatment or medication. It may also be a physical disability that does not affect their academics. So, the definition of disability is under question."
Students who use Accessibility Services must provide documentation from a certified professional and it must be connected to their disability, a note from a doctor for a physical disability, for example, an ophthalmologist for a vision problem or a psychiatrist or psychologist for a mental health issue.
Accessibility Services is hoping to share its results with other similar institutions.
"It would also be great if other institutions in the province and Canada could conduct similar research to be able to correlate our results with theirs," Czerkawski says.
A different way of teaching
Making higher learning more accessible to people with disabilities often comes down to the classroom. Accessibility Services access advisor Janet Arnold, who is also a faculty member in the psychology department, hopes one result of the research will be better understanding on the part of faculty about how to teach using universal design.

"One of the things I do with my class is I use lecture, video, reading and discussion in and out of groups," Arnold says. "Sometimes students may not feel comfortable speaking in class so they are not penalized for it. There's no participation points. Some students who have anxiety are not going to participate. Making them put up their hand in class creates more barriers."

Arnold also uses universal design for exams, so if a midterm, for example, is an hour-long test, students have an hour and a half. Even with that, tests themselves can be problematic.

"Some students don't do well in tests, so I have tests, I have individual projects, things on Blackboard, quizzes. Their assessment isn't just exams and papers. There's a variety. If more faculty can build that into how they teach, it will meet the needs of a variety of different students."

At the heart is the nature of who is teaching in a university setting.

"A lot of faculty have PhDs, they have masters' degrees. They do well in an academic setting and the academic setting is built for how they learn and how they share their knowledge.

"For a lot of students who experience disabilities, the academic setting is not built for them, so they are not going to learn the way a lot of professors like to learn. They sit in class and they absorb the information and that's the best way for them to learn. So for faculty to expect them to learn the same way they do by hand-writing their notes is really unrealistic and unfair to some of those students where it's not the best environment for them."
Mount Royal's commitment to its students has made it a frontrunner in researching teaching and learning.
Oct. 16, 2018 ― Peter Glenn
Media request contact information.
Have a story idea? Please fill out this form.