Indigenous graduation ceremony symbolic and significant
Personalized ceremony bids farewell to 100 graduates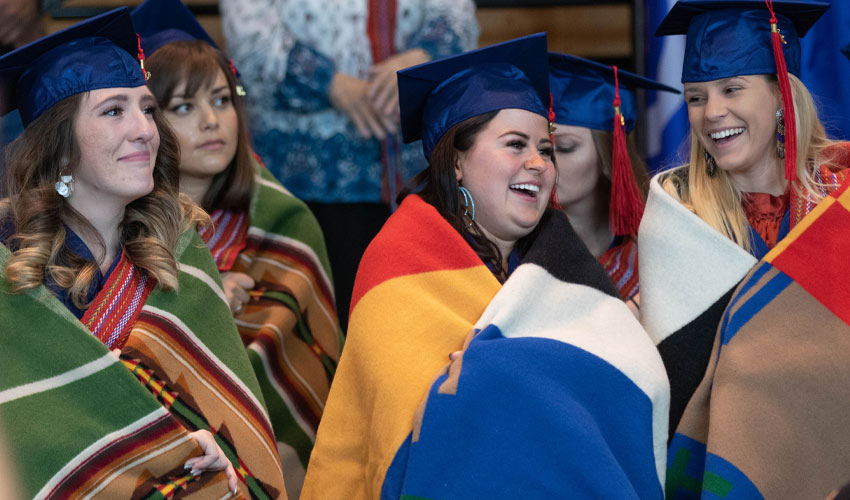 Obtaining an undergraduate degree marks the end of a significant period of commitment, discipline and courage, all of which results in great personal growth and opportunities for the future.
On June 10, Mount Royal University's Iniskim Centre held a special ceremony honouring the University's Indigenous students who obtained a degree or diploma in the fall 2018 and winter 2019 semesters. One hundred self-identified students achieved this milestone. An additional 23 students from the Indigenous University Bridging Program (IUBP) also graduated. The IUBP is designed to meet the needs of Indigenous students who are preparing to pursue a post-secondary education, and each has been accepted into their degree or diploma programs for 2019/2020.
The Indigenous Graduation Banquet was attended by 370 faculty members, family, friends and supporters of the graduates. In addition, several elders of the Treaty 7 communities also attended, none of whom were strangers to the Mount Royal University campus.
"The elders have been connected to MRU and deeply involved in the student experience, including classroom teaching and programming and events," says John Fischer, director of the Iniskim Centre, which is the largest Indigenous student support centre at a post-secondary in Calgary.
The Indigenous student population at MRU has doubled over the last five years to 800 self-identified First Nation, Métis, Inuit and Non-Status students in the 2018/2019 academic year. The 100 self-identified Indigenous students represent 5.8 per cent of Mount Royal's total graduating class. In the current academic year of 2018/2019, self-identified Indigenous students comprise 6.1 per cent of Mount Royal's total student population.
Mount Royal President Tim Rahilly addressed the graduates after a blessing by Elders Clarence Wolf Leg (Siksika) and Edmee Comstock (Métis), which followed a grand entry made up of graduates carrying in the host nations' flags and accompanied by acclaimed drum group the Sorrel Riders. Each student was introduced personally, with the IUBP students receiving certificates of recognition and gifts.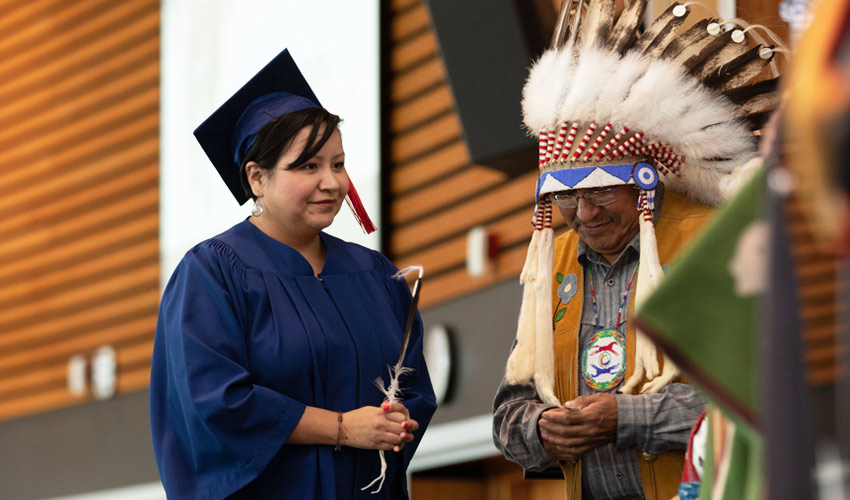 Degree and diploma graduates were transferred an eagle feather or a Métis sash and then blanketed by Rahilly and Steve Fitterer, vice-president, Student Affairs and Campus Life. The earning of an eagle feather is one of the highest cultural honours that can be bestowed upon a First Nation person and the pinning of a sash on a Métis person is of the highest honour to symbolize nationhood and cultural distinction. All gifts were blessed before their bestowment.
Steve Kootenay-Jobin (Iyarhe Nakoda), Mount Royal's Indigenous housing and events co-ordinator, says that the culture that is embedded in the Indigenous Graduation Banquet is reflective of each of the students' particular post-secondary identities and follows traditional protocol in the honouring of Indigenous Peoples after a substantial achievement.
"It reflects that we can be educated in western standards, but that our cultures, identities and languages are of equal importance and should not be forgotten," he says. "It reinforces the idea that we can, and need to, walk in both worlds."
Kootenay-Jobin credits the numerous programs and supports of the Iniskim Centre that work to address unique and specific barriers commonly faced by Indigenous students such as: the Indigenous Housing Program; the BMO Indigenous Peer Mentorship Program; the Student Success Program; the Medicine Trail Program and the IUBP, all of which assist greatly with students navigating the post-secondary system and learning about supports while connecting to a community on campus.
"This is important as many Indigenous students are first-generation university students," he said. "Students not only see themselves reflected on campus, but learn they are not alone in their education journey."
A traditional meal was presented, during which guests were treated to performances by Métis jiggers as well as a powwow demonstration. Chief Aaron Young of the Chiniki Nation addressed the graduates and families speaking of the importance of education, and Chiniki Nation members gifted the graduates with a song. Students then took the opportunity to speak about their MRU experiences. The ceremony ended with a retreat and then a round dance.
Honoured guests included Elders comprised of:
Clarence Wolf Leg - Siksika Nation

Edmee Comstock - Metis Nation

Roy Bear Chief - Siksika Nation

Doreen Spence - Saddlelake Cree Nation

Alice Kaquitts - Stoney Nakoda Nation

Tina Fox - Stoney Nakoda Nation

Bruce Starlight - Tsuut'ina Nation

Betty Crazyboy - Piikani Nation

Sorrel Rider Singers
We are making progress, but there is still much work to do. Read our Indigenous Strategic Plan 2018 Community Report.
June 21, 2019 ― Michelle Bodnar
Media request contact information.
Have a story idea? Please fill out this form.