New instrument at MRU helps wildfire and arson investigators determine cause and blame for blazes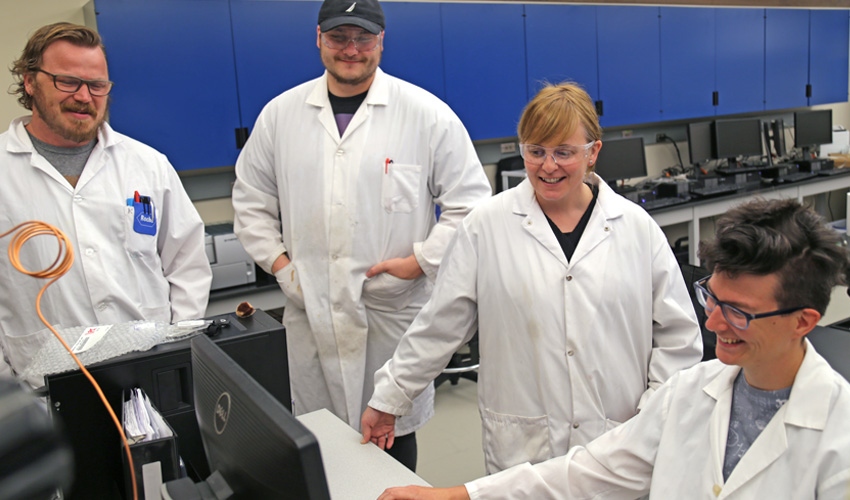 A new instrument at Mount Royal University, the first-of-its-kind in Calgary, is helping investigations into wildfires, arsons, oil spills, chemical releases and other environmental forensics.
"You've heard of crime scene investigations. This is the same idea but in an environmental context," says Gwen O'Sullivan, PhD, an environmental science professor at Mount Royal and environmental forensic researcher. "We're determining who's liable or responsible for cleaning up contamination or if wildfires are human caused."
In technical terms, the $550,000 instrument is a two-dimensional gas chromatography time of flight mass spectrometer or GCxGC TOF-MS combined with other Mount Royal equipment. It finely separates complex mixtures to detect compounds at very low levels to provide three-dimensional analysis and detail can identify what ignited a fire or caused contamination.
"Fire scenes provide a unique challenge as fire is a complicated chemical and physical process. There are many possible ignitable liquids that could be used to intentionally set a fire. Using the GCxGC TOF-MS it may be possible to identify if and what kind of accelerant was used to ignite the fire," O'Sullivan says.
In the case of an oil spill, the instrument can assist in establishing what spilled where, who spilled it and how the oil is breaking down and reacting to aid cleanup. It can also measure food composition and changes during food processing, verifying whether the "pure honey" on a store shelf is what it claims.
Chemistry Matters, a company co-owned by MRU adjunct professor and arson investigator Court Sandau, is already using the system.
Sandau says, "The power of the GCxGC separation is unparalleled with any other instrumentation on the market. With better sensitivity and great visualizations, the instrument and technique are very useful during litigation."
The instrument is being used by undergraduate students, to support faculty mentored student research and to inform programming.
Students Nadin Boegelsack, Kevin Hayes and Alex Urinso are using the instrument to develop new methods to analyze wildfire samples, improve the characterization of wildfire origin, and determine whether the fire was deliberately set.
"Arson is one of the easiest crimes to commit and yet one of the hardest to prosecute, so we are hoping to provide stronger evidence for court cases," said Boegelsack, who is an Instructional Assistant at Mount Royal and in the PhD program in Environmental Engineering at the University of Saskatchewan. "It will be very exciting to see what we can do with the system. There is definitely no shortage of research ideas or applications."
Discover the Department of Earth and Environmental Sciences.
July 25, 2018 ― Peter Glenn
Media request contact information.
Have a story idea? Please fill out this form.