MRU Welcomes Hedmark University Field School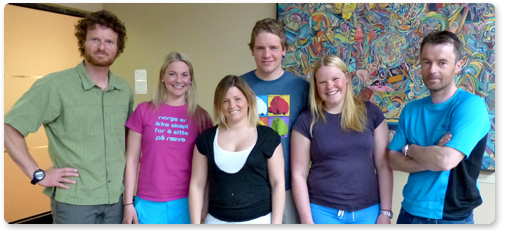 On Monday, May 13, 2013, eight students from MRU partner institution, Hedmark University in Norway were welcomed with a traditional Canadian breakfast. The students met with MRU students, faculty and staff and made a presentation on Norwegian culture before venturing out to the mountains for three weeks.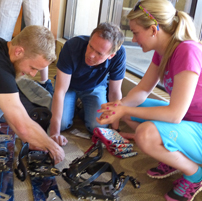 MRU ecotourism student shares his skis and snowboard with Hedmark students.
With pancakes and maple syrup in hand, Hedmark student, Maren Lindahl, said that although she was still facing a bit of jet lag and overcoming the language barrier , she was excited to explore Calgary and the Rocky Mountains in the next three weeks.
To experience Canadian culture and get an insight into the Canadian lifestyle, Hedmark University students were billeted with MRU Ecotourism (ETOL) students.
Chesley Stone, second year ETOL student, and her boyfriend are hosting Maren throughout the three weeks. "I heard about the opportunity to host a student from Norway from Ian (ETOL Associate Professor) and thought it would be a great way to experience another culture."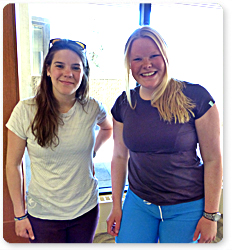 Hedmark University student Maren Lindahl stays with MRU Ecotourism student, Chelsey Stone.
According to Maren, Chelsey and her partner had already been great hostesses. "Staying with Chelsey is a great way to get to experience Canadian culture firsthand. On our first night they even made us poutine."
Experiencing the Canadian Outdoors
Chesley and her boyfriend accompanied the group to go canoeing on the Columbia River this week.
"We will be doing a variety of things throughout the next few weeks. We will be skiing in Amiskwi and hiking around Lake Louise and Banff area", said Maren. "I am so excited for the skiing part!"
Students will be participating in various excursions and courses offered through Ian Sherrington and the Department of Eco-Tourism and Outdoor Leadership (ETOL).
MRU Field School to Norway May 2012
Last May, Ian Sherrington and eight MRU students travelled to Norway to immerse themselves in Norwegian culture and explore Friluftsliv, the Scandinavian philosophy of outdoor life. The group participated in various excursions had the opportunity to work together during collaborative sessions at Hedmark University.
Additionally, on April 17, 2013 the Rector from Hedmark University, Lise Iversen Kulbrandstad, on a government-sponsored delegation to Canada visited MRU and met with representatives from the Office of International Education and the Faculty of Health and Community Studies to discuss further partnership opportunities.
-Andrea Morrow, May 2013