Mount Royal's Languages Institute provided URS Flint Energy with a two-day customized training program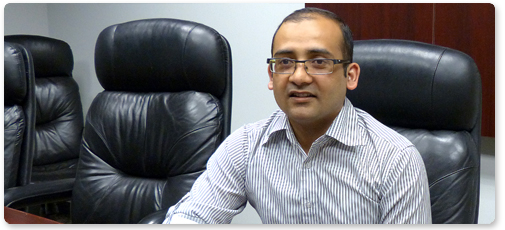 Kiran Kharel left Nepal to explore new opportunities in Canada. "I came to Canada in September 2011. I chose Calgary because there are a lot of opportunities for immigrants here and the weather is not too bad."
Three years later, Kiran is working as a Contract Analyst for URS Flint Energy and enjoying his time in the Canadian corporate world. "URS Flint Energy is an oil and gas facility provider. In my department, we review contracts and communicate with internal and external customers. So my role is more related to the contract management."
After celebrating his first year as an employee, Kiran decided that he would like to work on some professional development. "The company provides the employee the opportunity to explore career growth, to find out courses which are applicable for your job, courses that are both beneficial for the employee and the organization."
After experiencing some of the challenges of communicating with other colleagues and clients, Kiran identified that improving his business English would be great for his professional development and allow him to communicate more effectively.
"I chose Mount Royal because it has a very long history. I had already attended an extension contract management certificate and it was really good for me. While I was there, I explored some other courses."
It was then that Kiran became interested in the Business English courses that the Languages Institute offered. "Originally we were planning on going to the courses at Mount Royal, but then my manager proposed to organize a customized business English course."
Kiran and his manager began working with Customized Training Coordinator, Leigh-Ann Duke, who helped setup the course.
"There were 16 participants from a variety of different language backgrounds, including Spanish, Mandarin, Nepalese, Hindi and Urdu. After an initial face-to-face meeting to discuss Flint's needs, we decided to set up a two day Business English workshop that would refine and enhance the verbal and written communication skills of the employees," says Leigh-Ann.
All participants filled out an assessment form prior to the course, stating their learning objectives and training interests. Based on their requests and needs, Mount Royal designed the workshop. In the two day workshop, the group, learned how to improve their e-mails, reports and proposals.
"We [also] learned about how to communicate with customers and even with your friend working in the same group.
One of most interesting things we all learned about was the tone of your language. It's really important in business communication."
MRU English Language Instructor, Deborah Ricketts, prepared and delivered the workshop and says the group was excellent to work with. "They were engaged the whole way through. They had a lot of good questions."
Having a business background herself, Deborah was able to adapt the content and material to ensure all employees were engaged and enhancing their English.
"Everything we did, they practiced," says Deborah. "We looked at style and the breakdown of oral communication with employees and how they could improve."
With the opportunity to practice their skills, Kiran and the 16 employees from URS Flint Energy held mini -meetings, did mini-presentations and were given lots of handouts that they could take away and use as references back in the office.
"She's an excellent instructor. One of the best I have ever met in language and culture and teaching. She provided us with all of the material that we were looking for."
"This course is very, very good for professionals who have English as a second language. The people who come from outside of Canada may not have enough understanding about the Canadian professional culture."
Kiran and his co-workers at URS Flint hope to continue to advance their English language skills with additional customized business English courses from Mount Royal's Languages Institute.
- Andrea Morrow, May 2013