Retired General John de Chastelain becomes namesake of Mount Royal's Peace Studies Initiative
New Peace and Conflict Studies minor also officially launched Sept. 21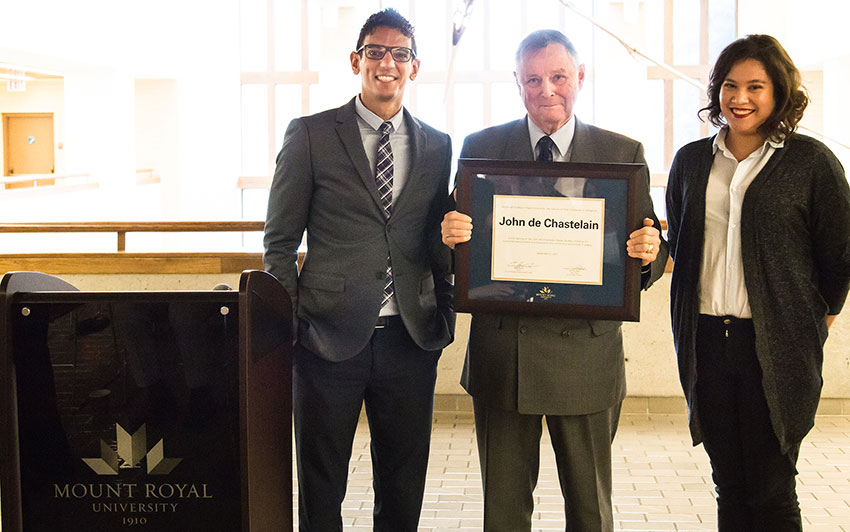 Mount Royal University's Peace Studies Initiative has a new name honouring a University alumnus and one of Canada's great leaders in war ― and peace.

The Mount Royal University's John de Chastelain Peace Studies Initiative will continue to build, develop and disseminate interdisciplinary knowledge on peace and conflict, and it would be hard to find a Canadian with experiences more closely tied to those aims than the retired general.

"It is an honour to have my name associated with the program. Both in my military career and as a civilian I have been involved in conflict resolution efforts over the years, and I have long had an association with Mount Royal since my days as a student in the mid-1950s," de Chastelain said.

"I have since maintained a close interest in (Mount Royal's) development, and for a number of years I have funded a scholarship in public policy at the University. So to be associated with this new program, one that I fully endorse, is both an honour and a privilege."

On World Peace Day Sept. 21, MRU also officially announced the Peace and Conflict Studies minor, an important step for the Faculty of Arts and its commitment to advancing the knowledge and understanding of maintaining and championing the principles of peace.

The recipient of the 2018 Calgary Peace Prize was also announced at the event. Justice Rosalie Silberman Abella, the first Jewish woman to sit on the bench of the Supreme Court of Canada, is known for spearheading the Canadian concept of employment equity. She will receive the 2018 Calgary Peace Prize award on April 4, 2018. The prize recognizes outstanding individuals from the global community who work towards making the world a more just, safer and less violent place. Previous winners include Douglas Roche, the Truth and Reconciliation Commissioners of Canada, retired Lt.-Gen. Romeo Dallaire, Dr. Samantha Nutt and Emmanuel Jal.

The Peace Initiative, which moved to Mount Royal from the University of Calgary in 2016, concentrates on people's lived experience of war and violence in all their forms, something that sets it apart from many other international relations or strategic studies programs. It also works to shine a light on related research by Mount Royal faculty and students and bring in high profile speakers to share work with faculty, students and the community. It all dovetails well with de Chastelain's experience.

"He's a very accomplished individual. He's worked in a number of different capacities, which is part of what's exciting about him and about the Peace Studies Initiative being named after him," says the Initiative's director and Mount Royal sociology professor, Mark Ayyash, PhD.

"Obviously there is his history with the Canadian military, but also as a diplomat both for Canada, and on an international level his work on decommissioning weapons in Northern Ireland. We thought he was a nice fit with our philosophy."

Born in Bucharest, Romania, in 1937, de Chastelain was educated in Edinburgh before moving with his parents to Canada.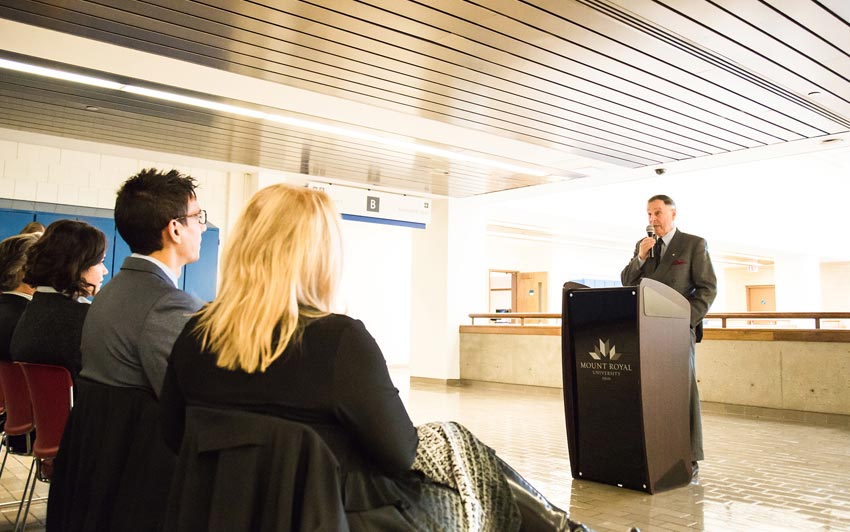 After studying at Mount Royal from 1955 to 1956, in 1960 he graduated from Royal Military College with a degree in history and a commission in the Canadian Army. Then began a long and distinguished career that in 1989 saw him promoted to general and appointed Chief of the Defence Staff. During his tenure, the Canadian military was involved in the Oka crisis, as well as overseas engagements in the first Gulf War and in Somalia.

Later, de Chastelain became extensively involved with the peace process in Northern Ireland and was named to the Order of Canada in 1993 on top of numerous other awards for his public service. He and his wife live in Ottawa and have two children and five grandchildren.

"Canada has long been at the forefront of conflict resolution efforts and the people of Canada have been supportive of government initiatives to assist in establishing international peace since the days of Lester Pearson," he said. "Mount Royal University's adoption of Peace Studies as a (minor) program sees it join other universities in Canada in promoting the study of conflict resolution, and preparing Canadians for this important role."

Ayyash, meanwhile, says offering a Peace and Conflict Studies minor is an important step forward for Mount Royal.

"As far as I know it's the only one in Alberta," he said. "I receive messages from people in the peace community, which I'm very involved with. They're all very excited by the fact that we have a minor, so hopefully that will give our students exposure to this field and help put our faculty on the map as doing something unique. We're still in the beginning stages of this minor so we're still very small but hopefully it will grow and develop as the years go by."


Learn more about the John de Chastelain Peace Studies Initiative.


Sept. 21, 2017 ― Peter Glenn
Media request contact information.
Have a story idea? Please fill out this form.