2018 Honorary Bachelor of Arts - Policy Studies recipient committed to the Conservatory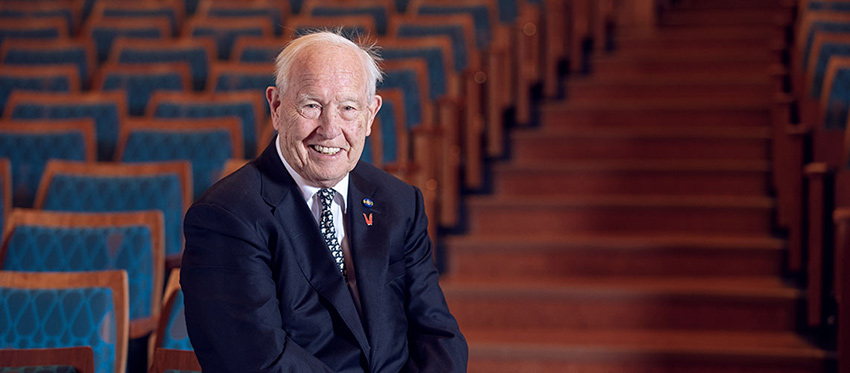 John Lacey, PhD, originally came to the Stampede City eager to try his hand at the oil and gas industry. In a somewhat roundabout way, his professional occupation in petroleum led him to a love for Mount Royal pianos.
As a British transplant, Lacey says he carved out a nice career for himself with British Petroleum. Eventually he took his expertise and experience in energy exploration, production, transportation and marketing and created his own consultancy working with governments and private sector clients in Russia, the United Kingdom, Australia and Thailand, among many others.
Well-versed in the world of engineering, it's the sweet sounds of a symphony that are his tune of choice these days.
He was bestowed an Honorary Bachelor of Arts with a major in Policy Studies during the May 31 afternoon Convocation ceremonies. Lacey made his name on campus as the chair of the Mount Royal Conservatory advisory committee.
A lover of the arts despite what he describes as his "limited" musical talent, Lacey could not turn down the invitation.
"I literally can't read a note of music. I was fired from the kindergarten orchestra, properly," Lacey laughs.
But for the music man with no musical talent, it's easy to find something special about the Mount Royal campus and the opportunities available to those who embrace them.
"Mount Royal is an interesting university because it is so fresh, so young and actually so good that I tell people about it.
"(The University is) meeting the needs of the young people as they develop. There are so many areas that they teach here that an old red-brick university would not. It's really refreshing to see this because the needs (society has) change all the time. I'm glad we have Mount Royal here."
Since agreeing to serve as chair of an additional inaugural strategic planning committee at the Conservatory, Lacey and his committee members have helped create a clearly articulated framework for planning, budgeting and programming. Conservatory students and the Mount Royal community alike have benefited from his visionary approach. Lacey has brought several of the Calgary Philharmonic Orchestra's (CPO) Virtuoso Masterclass artists to the Conservatory, enabling Mount Royal students to dramatically benefit through direct engagement with world-class musicians.
Originally it was his wife, who attended piano lessons on campus in the '50s, that got him interested in the arts.
"My wife was the one that was really immersed in music. She loved it! Through her I have come to love it and become a very big supporter through the Philharmonic Orchestra."
In 2008, Lacey helped launch The Naomi and John Lacey Virtuoso Programme with the mandate to bring the world's greatest artists to perform with the CPO.
Now firmly established on the Mount Royal campus, Lacey is helping to further embed the Conservatory as an important pillar in the fabric of Calgary's arts scene.
"Mount Royal has changed a great deal, moving from a college to a university. The emphasis on the Conservatory was not as big as it once was. I think my colleagues are all working as hard as we can to make sure the Conservatory becomes more and more important."
"It's very simple. I look upon the Conservatory as being the jewel in the crown of Mount Royal. In my mind, with the help of the Bella, it will get there."
Jennifer Pettit, PhD and dean of the Faculty of Arts, says, "Mount Royal University is experiencing great benefit from Dr. Lacey's current volunteer role with the Conservatory and its advisory committees. His love of music and the arts, which he shares with his family and friends, makes him a tireless advocate for Mount Royal and our Conservatory."
For Pettit, the leadership and passionate energy Lacey brings to the Calgary community can't be denied. "There is no mistaking Dr. Lacey's remarkable professional history and his work-related achievements. Equally impressive is Dr. Lacey's work as a volunteer and active member of our Calgary community."
Academic awards and distinctions are nothing new to Lacey. Along with being named honorary consul-general for the Kingdom of Thailand, he was also elected to the Russian Academy of Natural Sciences and has received the Watts Medal in Geology, the Institute of Petroleum Prize, the Geological Society Prize and the CPO's Golden Baton Award. He holds a Bachelor of Petroleum Technology (Royal School of Mines), a Bachelor of Reservoir Engineering (Imperial College of London), a Diploma of Imperial College (DIC), a Bachelor of Science ― Oil Technology (University of London) and PhD of Geology and Engineering (University of London).
Discover more about the Mount Royal Conservatory.

May 30, 2018 ― Jonathan Anderson
Media request contact information.
Have a story idea? Please fill out this form.