Journalism students to blanket city on election night
Coverage will be comprehensive and timely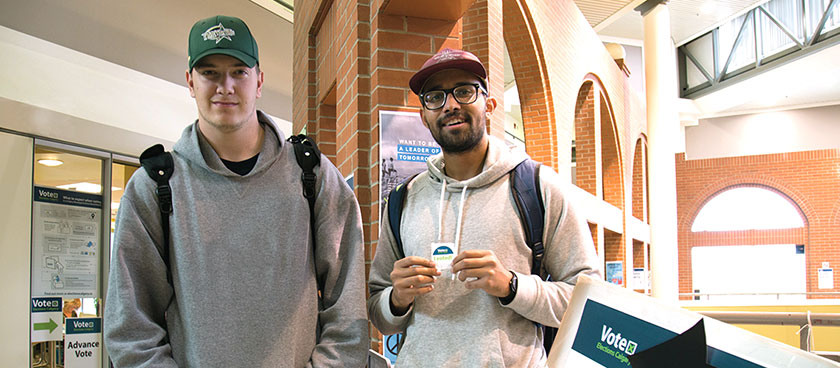 Call it a full-court press.

With about 40 reporters, editors and web deskers on the job Monday night, Mount Royal University journalism students, faculty and staff will make up one of the largest municipal election night coverage teams in the city, contributing to the vital role media plays in a campaign.

Leading up to the vote, and with advance polls recording record turnout, journalism students have already been covering council and mayoral candidate debates through a co-operative arrangement with Postmedia. Stories have run in the Calgary Herald, Calgary Sun and the Calgary Journal (the newspaper and website run out of the journalism program.)

"We love it when the electoral schedule gives our students an opportunity like this to do ongoing coverage," says Brad Clark, chair of the Departments of Journalism and Broadcast Media Studies in Mount Royal's School of Communications Studies.

"Their work is really getting lots of attention, too, because local media have seen so much contraction. So our students have the opportunity to really immerse themselves in important stories and feel the satisfaction of serving the public interest in such a clear way," he says. "And ultimately it's a lot of fun to be where the action is day after day. Our students have been all over the campaign trail, interviewing candidates in all the races, and staying on top of the issues that are emerging. It's such a fantastic chance for them to put into practice what they've learned in the classroom in a really concentrated way."

That immersive campaign trail experience comes to a head on Monday night as the Mount Royal team fans out across the city to capture the results and reactions from candidates and their supporters and fire updates back to the Calgary Journal newsroom.

"I've always found that newsrooms are the best place to be on election night," says Archie McLean, professor of journalism at Mount Royal and who is helping organize the coverage.

"I'm looking forward to sharing some of that with the students. I think it's a great experience for them to cover it and just to see the excitement, the dynamism of an election night. There's lots of stories everywhere you look and people are suddenly paying attention," says McLean, who prior to coming to Mount Royal two years ago was the managing editor for CBC North in Yellowknife, and spent nearly a decade as a reporter and editor at the Edmonton Journal.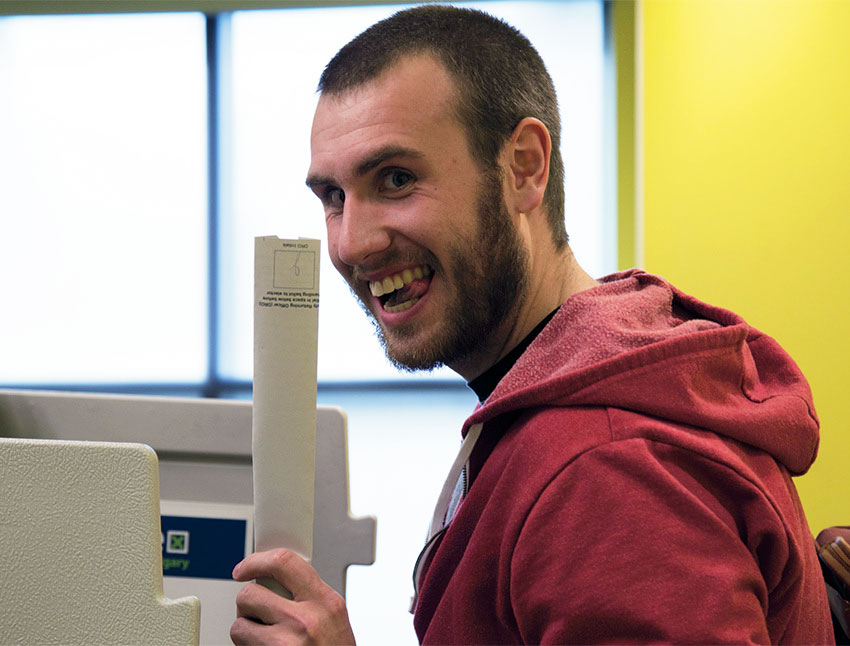 Throughout the night the team plans to deliver coverage through the Calgary Journal's website calgaryjournal.ca, Facebook and Facebook Live, Twitter, Instagram, streaming, and with a live show from broadcast program students on CMRU.ca.

At least one reporter will head out to each ward, with a team covering the mayor's race, watching for results and interviewing winning candidates. The turnaround is tight, and election nights are always fraught with tension for the hopefuls and their supporters, but also for the media covering the event.

Polls close at 8 p.m., so a reporter needs to have a good sense of where the result is heading, and have a clear line of communication with all the possible winners for a quick quote and photos, and hopefully some colour from the scene, but also be ready to pivot with an unexpected finish.

Mainly using Twitter, student reporters will file updates, quotes, photos and short videos throughout the evening. Editors and writers back in the newsroom will use those feeds to build web stories and social media posts. Meanwhile, Mount Royal's broadcast students will have a live election night show on CMRU.ca.

The direction of coverage will be driven by fourth-year student leaders taking a capstone course titled 4705 Online Editorial Board. Jolene Rudisuela is the election editor and has been keeping track of coverage, assigning reporters to forums and debates and editing content.

On election night, she'll be "talking to reporters out in the field, keeping track of who is at which campaign headquarters and making sure that our election coverage as a whole is what it needs to be," she says.

"I think the main challenge is figuring out how to deal with all the information we are getting and packaging it in a way that will effectively inform our audience both on our website and social media.

"With mayoral, councillor and trustee candidates across the city, there are a lot of different races to keep track of. However, as the largest newsroom in the city, we are better equipped than most to deal with the amount of information that will be coming in."

More than ever in this era of "fake news" and a fractured media environment, good journalism is a pillar of democracy that comes into play acutely when citizens exercise their franchise and vote. This municipal election has tapped into a range of issues, among them property taxes, public transit, affordable housing, traffic, crime and a new arena.

"All of this is really good for building students' skills as reporters and journalists. They'll be doing things in a lot of cases that they've never done before so they'll be pushing their comfort levels a little bit," McLean says.

"We'll have people hosting a Facebook Live show who may not have a lot of experience with live hosting. We'll have students using Twitter who are just learning the ins and outs of social media. We're going to be writing news stories all night and constantly updating as new information comes in. These are all really important skills for the students to learn and it's a really good time to learn it, especially with the attention suddenly on (the media). It's moving beyond the dress rehearsal. Election night is the performance."


Learn more about the School of Communication Studies.


Oct. 12, 2017 — Peter Glenn
Media request contact information.
Have a story idea? Please fill out this form.