Policy studies student Jusleen Shergill lands prestigious GAC internship
Experiential learning opportunities a major strength of the program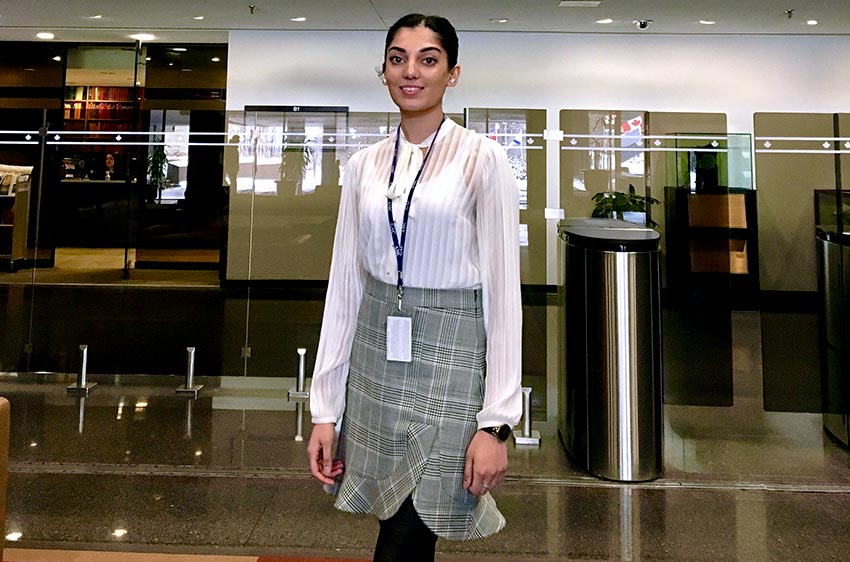 Mount Royal University policy studies student Jusleen Shergill is getting down to work for the next eight months as she completes a prestigious internship with Global Affairs Canada (GAC). Already she's learned some valuable lessons about how to land a position and what's really required to thrive working for the federal government.
GAC manages Canada's diplomatic and consular relations, promotes the country's international trade partnerships and leads Canada's international development and humanitarian assistance programs, as well as providing consular assistance. Formerly it was the department of Foreign Affairs and International Trade.
The department is currently represented by Minister of Foreign Affairs Chrystia Freeland, Minister of International Development and La Francaphoni Marie-Claude Bibeau and Minister of International Trade Francois-Phillipe Champagne.
Shergill is working in the International Trade section under Trade Commissioner Service (TCS), which assists with advice relating to exports and is aimed at supporting Canadian companies and companies with economic benefit to Canada.
"We assist these clients in reaching their international trade goals and we do so through 161 offices across the globe; practically every market you can imagine," she says.
Shergill's work is focused on anti-corruption, and while she couldn't get into specifics, she said it has "implications for Canada's reputation in international trade and also the rules and regulations that bind international business dealings to the law."
Landing the internship was a whirlwind. When Shergill was presented with the application, she had only a couple of days to complete and return the lengthy form. A series of interviews followed with different areas under the Global Affairs umbrella. Shergill was one of only 11 students from across Canada to earn a spot.
"My recommendation to other students would be to not limit themselves to thinking the criteria listed on any application is something that absolutely has to be fulfilled to be considered," she says.
"People think they are limited by experience requirements in an academic sense, but some of the qualities they were looking for are persons who can persevere, intercultural competencies and an awareness of the international scene.
"In my initial application, I hit most of criteria they were looking for, but because of the scope and it being open to entire country, I thought I wouldn't be considered for it. I learned you can really surprise yourself if you just put your name in the hat."
Shergill, who began the internship Jan. 8, has since learned that a second language is a huge advantage when applying for internships and later jobs with the federal government.
"Being bilingual is an essential component to working in the public service and having a third language or more is even better," she says.
"It doesn't have to be French per se, but working in the civil service (French is) a huge component. To reach beyond the entry level, it's very important. The conversations are completely bilingual. You're expected to have a very developed level of French in your skill set. Otherwise it leaves you out of the conversation and you really don't grow and develop."
Duane Bratt, chair of Mount Royal's Department of Economics, Justice and Policy Studies, says landing the internship is a laudable achievement.
"It is quite an honour and opportunity for Jusleen to gain an internship at Global Affairs Canada. GAC internships are highly competitive, plus they require bilingualism and an ability to move to Ottawa," he says. "So the Department is very pleased that Jusleen made the cut. She is working in the international trade division and this has become a major focus of Canadian foreign policy. Canada recently signed the Trans Pacific Partnership 11 agreement and is in the midst of renegotiating NAFTA. Jusleen will learn plenty about the making of international trade while conducting her internship."
Bratt says internships are an important component of the Policy Studies major.
"The internship (a mandatory semester-long experiential learning requirement) is a major strength of our Policy Studies BA program," he explains. "It helps draw new students into the program and alumni acknowledge that they received great benefits from working in a policy environment."
On top of the courses in her degree program, Shergill has taken a number of international business courses at MRU and "I think that the combination of the knowledge I gained in those areas and those within my own degree are definitely an asset."
Shergill, who will spend four months at the Global Affairs Canada headquarters in Ottawa before another four-month period working in a regional office in Vancouver, Toronto or Calgary, says that while things are changing, she has definitely noticed a large disparity between the number of men and women working in the civil service, especially in senior roles.
"I truly believe that women are an essential component to a country's dynamics and decision making process," she says, "and encourage women to throw their hat into the bid for opportunities like this because the outcome is tremendously rewarding."
Learn more about experiential learning in the Policy Studies program.
Feb. 20, 2018 ― Peter Glenn
Media request contact information.
Have a story idea? Please fill out this form.