Justice Rosalie Abella awarded Calgary Peace Prize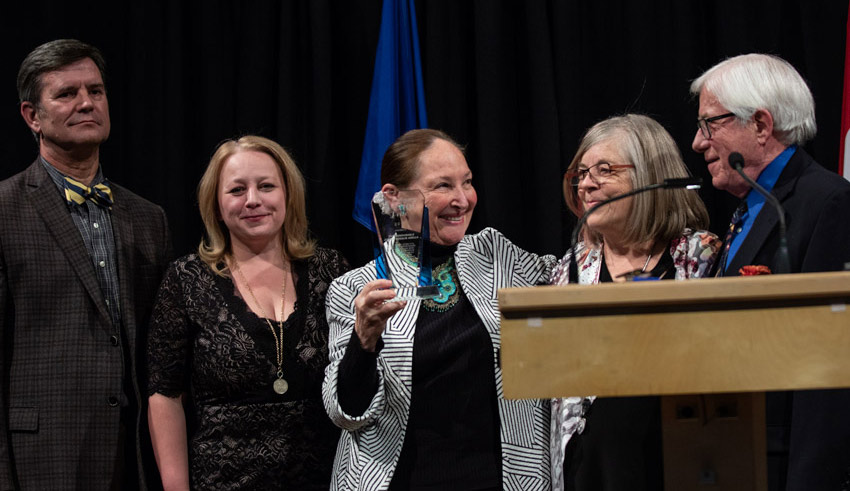 The first Jewish woman to sit on the bench of the Supreme Court of Canada, and known for spearheading the Canadian concept of employment equity, is the recipient of the 2018 Calgary Peace Prize, presented by the Mount Royal University Peace Studies Initiative.
Justice Rosalie Silberman Abella, who was appointed to the Supreme Court in 2004, received the award at a ceremony at the Jack Singer Lobby, Arts Commons on April 4. After thanking the Peace Prize Committee for the honour, she gave a powerful speech asking why a world that has so successfully co-operated with trade through such bodies as the World Trade Organization, has failed when it comes to ensuring human rights.
"It's wonderful to be here and I'm very honoured all of you took the time to share this moving event for me," said Abella after receiving the award. "It's moving because it's the Peace Prize and peace is what my whole life has been a search for."
Abella stressed that the rule of law is not enough, it is "rule of justice" that people want and need to ensure their safety and happiness. And while "subsequent justice" like that achieved through the Nuremberg Trials is often necessary, she said, "we have not learned the most important lesson of all, which is to try to prevent abuses in the first place."
Afterwards, Abella and Indigenous lawyer and award-winning advocate Katherine Hensel participated in a discussion, moderated by Peace Prize Committee member Bill Phipps, on topics ranging from equality in the workplace and the challenges faced by women, to Indigenous rights and laws, and the state of privacy in the digital age.
Born in a Displaced Persons Camp in Stuttgart, Germany, on July 1, 1946, Abella is the daughter of Jacob and Fanny Silberman. Her family came to Canada as refugees in 1950, and Abella attended the University of Toronto where she earned a Bachelor of Arts in 1967 and a law degree in 1970. She had previously graduated from the Royal Conservatory of Music in classical piano. Abella was called to the Ontario Bar in 1972 and practised civil and criminal litigation until 1976 when she was appointed to the Ontario Family Court at the age of 29, the youngest and first pregnant person appointed to the judiciary in Canada. She was appointed to the Ontario Court of Appeal in 1992.
Abella was the sole commissioner of the 1984 federal Royal Commission on Equality in Employment, coining the term and concept of employment equity. The theories of equality and discrimination she developed in her report were adopted by the Supreme Court of Canada in its first decision dealing with equality rights under the Canadian Charter of Rights and Freedoms in 1989. That same report has been adopted by the governments of New Zealand, Northern Ireland and South Africa.
"Justice Abella is an extraordinary woman and a very worthy recipient of the Peace Prize," said Jennifer Pettit, PhD, Dean of the Faculty of Arts at Mount Royal. "Having been born into a displaced persons camp, Justice Abella has first-hand experience of the many forms violence may take. Her work as a lawyer and judge, particularly in the area of employment equity and human rights law, has done much toward making Canada a more just and equitable society. It is an honour for Mount Royal to be able to present her with the Peace Prize and the entire Calgary community is fortunate to be able to learn from leaders and role models such as Justice Abella."
The concept of employment equity in Canada is intended to protect and pro-actively assist women, people with disabilities, Indigenous peoples and visible minorities in the workplace.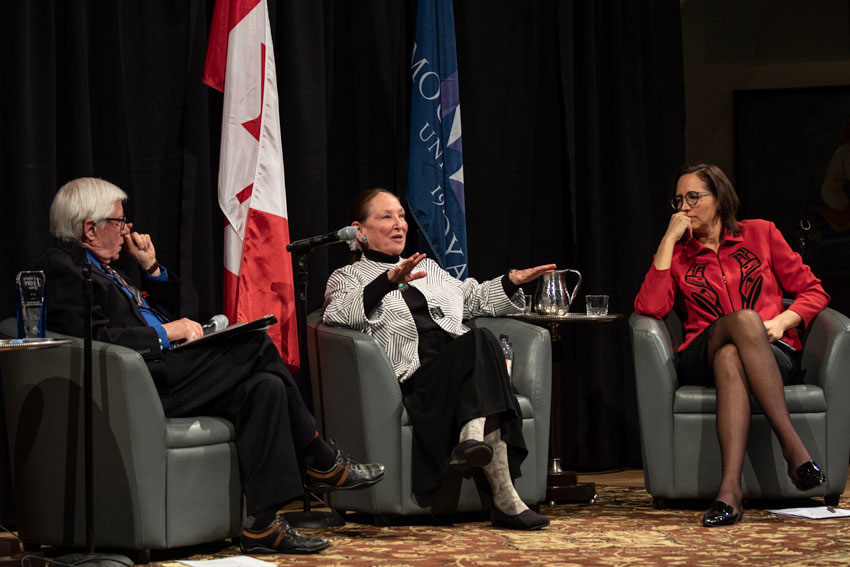 According to the federal government, employment equity encourages the establishment of working conditions that are free of barriers, corrects the conditions of disadvantage in employment and promotes the principle that employment equity requires special measures and the accommodation of differences in those four designated groups.
The Calgary Peace Prize is awarded by the Mount Royal University Peace Studies Initiative that builds, develops and disseminates interdisciplinary knowledge on peace and violence, emphasizing people's lived experience of war and violence in different forms. Along with encouraging research by faculty and undergraduate students, high profile speakers share their work with faculty, students and the community. In 2016, the Initiative moved to Mount Royal from the University of Calgary.
"The goal of the Calgary Peace Prize is to recognize and honour individuals from Canada or around the world who have done extraordinary work, whether it was through grassroots efforts or institutional efforts or a combination of those two, towards building a more peaceful and just society in Canada and across the world," said Mark Ayyash, PhD, Mount Royal sociology professor and director of the Initiative. "We view it as a chance to honour those individuals and as a chance to highlight and talk about issues that are still pertinent for us today."
Previous winners of the prize, selected by a committee, include the Honourable Douglas Roche, the Truth and Reconciliation Commissioners of Canada, Retired Lt.-Gen. Romeo Dallaire, Dr. Samantha Nutt and Emmanuel Jal.
"The Peace Prize is important to the Faculty of Arts and to all of Mount Royal University because it recognizes and honours those who have made significant advancements in creating a more just and equitable society," said Pettit. "It is important to note that the Peace Prize and the Peace Studies Initiative is not only about war-related violence. Rather, the prize and the Initiative seeks to expand our understanding of a wide variety of forces and dynamics that lead to the creation and propagation of violence and it also highlights ways forward for peace and reconciliation. The Peace Prize ceremony is a valuable opportunity for Mount Royal faculty and students and community members to hear from leaders about peace and equity and the Faculty of Arts is proud to back such an important undertaking."
Ayyash adds that the Peace Studies Initiative encompasses a whole range of issues, including the environment, social justice, equity and human rights. As part of the Calgary Peace Prize day on April 4, students were invited to a free and open lecture on campus by Hensel.
In September 2017, MRU officially renamed the Initiative after De Chastelain and announced the Peace and Conflict Studies minor, now available as an area of study in the Faculty of Arts. The minor advances the knowledge and understanding of peace.
A leader in judicial education, Abella has written or co-edited four books and more than 90 articles. Senior Fellow of Massey College and a Fellow of the Royal Society of Canada are two of her long list of honours, the Distinguished Alumnus Award of the University of Toronto Faculty of Law and the Distinguished Service Award of the Canadian Bar Association (Ontario) are among her many awards. She has served as a judge for the Giller Literary Prize and chair of the Rhodes Selection committee for Ontario. She has received 37 honorary degrees. 
April 9, 2018 ― Peter Glenn
Media request contact information.
Have a story idea? Please fill out this form.