Mount Royal students were treated to a personal one-on-one conversation with Kate Bornstein and Sam Feder on March 10. ~Photo by Kelly Trinh
Trans-activist Kate Bornstein visits campusThis year's Distinguished Arts Speaker is the remarkable Kate Bornstein, who tackles the issue of gender identity head-on in both her personal and writing lives with vibrant humour and salty sarcasm. Sponsored by the Faculty of Arts, Mount Royal's Diversity and Human Rights department, the Students Association of Mount Royal University (SAMRU), the Fairy Tales Presentation Society of Calgary, the Arts Distinguished Speaker series recognizes one person annually who is considered an advocate for advancing the importance of the arts and/or social sciences.
| | |
| --- | --- |
| | |
| Bornstein celebrates the Calgary premiere of the Sam Feder documentary Kate Bornstein is a Queer and Pleasant Danger in front of the Plaza Theatre March 9. ~ Photo by Kelly Trinh | |
Bornstein, who refers to herself as "Auntie", is a returning (and refreshing) guest on the E! reality show I Am Cait, starring Caitlyn Jenner, and is also the star of Kate Bornstein is a Queer and Pleasant Danger, a Sam Feder documentary featuring scenes from her rowdy public appearances and startlingly open and honest personal reflections. An inspirational, witty and candid member of the transgender community, she has been described as many things, including "trans-dyke", "reluctant polyamorist", "sadomasochist", "recovering Scientologist" and "pioneering gender outlaw."

Arriving at Mount Royal after a successful theatrical tour of England, Bornstein has also been the subject of much hate and vitriol, and says there are a lot of reasons why people think she's a bad person. In a video blog she says she has received flak from many because she is a transsexual, a lesbian, she has tattoos all over her, she's pierced in body parts she wasn't born with, she's a cutter (she's learned to work that into her sadomasochism), she's been cursed by Pope Benedict, she's a lapsed Jew, and last but not least, she was even a Scientologist for 12 years.

Mount Royal students had two opportunities to connect with Bornstein. On Wednesday, March 9 was the Alberta premiere of A Queer & Pleasant Danger at the Plaza Theatre, which saw an attendance of about 250 people. On Thursday, March 10, Bornstein joined Mount Royal students for an open campus conversation. Bornstein's book My New Gender Workbook serves as a foundational text in Professor Kim Williams' Women's and Gender Studies 3345: Sex, Gender & the Body course. Students from the class attended both the documentary screening and her appearance at Mount Royal.
Williams describes Bornstein as a preeminent gender theorist, formidable queer activist and a well-respected novelist, playwright and performance artist.
"Students have found the text, along with Bornstein's own website and social media presence, invaluable. That the documentary of her memoir was released in time to be included into the winter 2016 iteration of the course presented a unique opportunity to bring this internationally-renowned gender theorist to Calgary," says Williams.
Campus conversation brings gender discussions to the forefront
Bornstein has mastered the ambiguities around gender identity, and is a force to be reckoned with for her community. She provides meaningful advice, support and comfort for many who struggle with gender and sexuality.

During the campus conversation, students asked questions such as, "as a trans person, how should I refer to myself? What are the identities you apply to yourself? How should universities deal with dominant narratives that may not be applicable to the community? How do you live outside the binary? Am I supporting patriarchy by not breaking it? How can I support those in the community? What about disabilities and sexuality?"
Bornstein answered each with generosity and thoughtfulness. After a recent battle with cancer, chemo and radiation, she said that the close, up front and personal, face-to-face interaction with death provided her a chance to think, to contextualize and prioritize.
"I'm more and more convinced that the way look at sex and gender, the more we use our imaginations and see what we can do with this stuff, the less oppressive these become and the more we are able to come to peace with ourselves," Bornstein says.
"If we can do that with sex and gender, it stands to reason that we can do that with a lot more stuff," such as race, religion, age, class and mental health.
"The definitive truth of gender is this: gender is relative. It is a magnificent playground. You get to be your heart's desire, you get to change that desire the very next day. Gender is something you learn to express your innermost joy with."
Bornstein's new book reveals updated thoughts and opinions on sex and gender that she says present another look at her theories on the subjects. Called If You Meet the Budda on the Road, Kill Him, it's about having come so far in that last 40 years or so in dealing with gender variance and gender experimentation, that many think their gender theory is the only correct one. Some groups are going on the attack, and many are not getting along with each other.
"The way we express our genders only has political implications to the people who are interpreting our expression," she says. "What I'm trying to do now as an "elder" in the community is trying to find a context for some peaceful negotiation."
Williams noted that the the recent passing of legislation making Gay Straight Alliances (GSAs) mandatory for any school whose students request one has put Alberta at the forefront of these trans and gender identity issues. But there is still a lot of work to do.
"The flip side of that is that LGBTQ youth are still really at risk in Canada. There remain a lot of concerns around health care, around criminal justice, around mental illness, especially. There are risks of homelessness, incredible poverty and employment issues. Just as we celebrate a lot of things around our province, it's also important to acknowledge that there are still places for these kinds of conversations," Williams says.
To finish her talk, Bornstein asked anyone who may have any kind of privilege working for them to use it well.
And for those experiencing difficulties?
"Do whatever it takes to make your life more worth living. Period. End Stop. There's only one rule to follow to make that work. Don't be mean," she says.
"The more we are not mean to other people the more we learn to not be mean to ourselves."
Other Bornstein literary works include Gender Outlaw: On Men, Women, and the Rest of Us, the first edition of her gender workbook, entitled My Gender Workbook: How to Become a Real Man, a Real Woman, the Real You, or Something Else Entirely, Hello, Cruel World: 101 Alternatives to Suicide for Teens, Freaks, and Other Outlaws, Gender Outlaws: The Next Generation.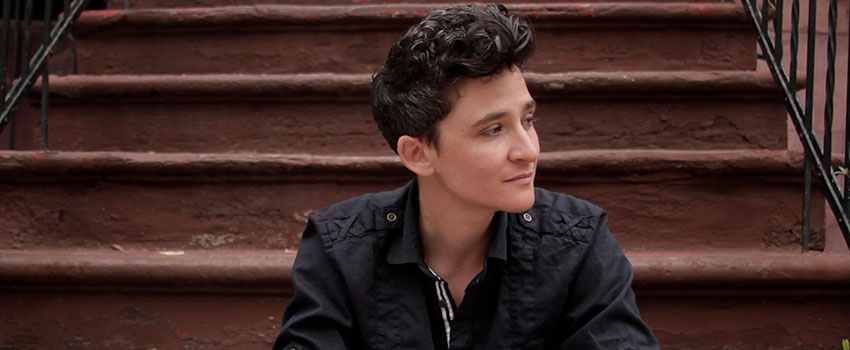 Based in New York, Sam Feder is the filmmaker behind Kate Bornstein is a Queer & Pleasant Danger.


March 11, 2016 - Michelle Bodnar