Lightning Talks illuminate research at Mount Royal
Research in a variety of forms was in the spotlight during Research and Scholarship Days at Mount Royal University. Researchers took part in Lightning Talks, a rapid-fire series of presentations popular among the community.

"These presentations demonstrate the depth and the breadth of research at Mount Royal," said Michael Quinn, PhD, associate vice-president of the Office of Research, Scholarship and Community Engagement at MRU, adding that Mount Royal places particular emphasis on research and scholarship that includes undergraduate student participation.
David Clemis, PhD (Faculty of Arts)
The Drunkard, Opened, Dissected and Anatomized: Historical Perspectives on Intoxication and Addiction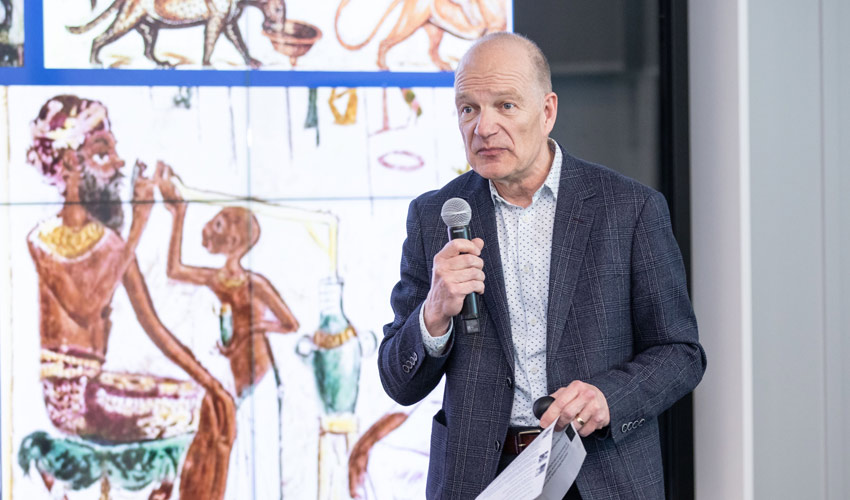 Clemis's research focuses on the historical evolution of understandings of intoxication and addiction in Western law, medicine and popular culture. His talk moved through ancient and medieval understandings of addiction to "the medical revolution" of the 17th century, which prompted the long-standing debates over the nature of addiction and the cognitive capacity and agency of drunken people. Key here, said Clemis, is the question of whether addiction is better understood as a moral failing, a medical condition, or a socialized form of behaviour - or varying combinations of these factors.
"Lamentably, this is a subject of considerable urgency at the present time, but it always has been," Clemis said. "Intoxication and chronic substance abuse, especially of alcohol, is probably as old as civilization itself and possibly even longer. The negative effects of alcohol and the harmfulness of intoxication and addiction in terms of social, cultural, moral, spiritual and physiological terms is really well known to us all."
The alcohol molecule, he said, hasn't changed over the course of human history. Our capacity to metabolize alcohol has changed only marginally, "but what we have seen is an enormous variety of cultural responses to alcohol and use of alcohol, from ritual uses in the ancient world, the belief in divine possession through consumption of alcohol, to sentimental and comic depictions and the idea of man turned into a beast by drink."
Using historical medical records among other sources, Clemis focuses on the early modern period that includes the 16th, 17th and 18th centuries, a time he says of enormous cultural transformations including the scientific revolution, the Enlightenment, the Renaissance, and a transformation of conception of human social relations and the idea of the self.
That period was also marked by a significant change in how people consumed alcohol as many residents of growing cities switched over a single generation from lower-alcohol beer and wine to potent gin, whiskey and rum.
"It turns London into a social train wreck and creates, for a historian, a fascinating crisis, although it must have been a nightmare to live through."
Overall, Clemis noted, there is a transformation of the notion that chronic drinking is a sin or a moral vice to it being a medical condition or a degenerate condition caused by alcohol.
Shannon Kell, PhD (Faculty of Health, Community and Education), Alexis Webster, Facilities Management team, and Healthy Campus Team
MRU Learning Spaces + Student Well-Being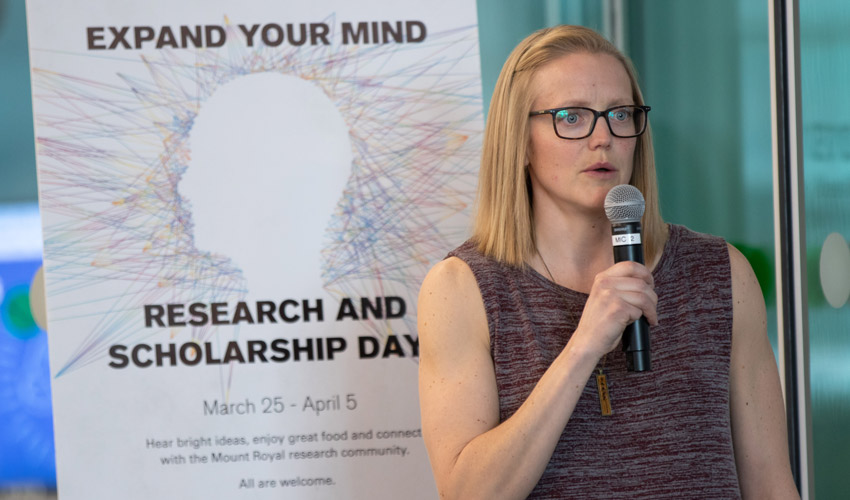 Kell and Webster outlined research into what students think of MRU's learning spaces and how campus spaces promote and support student well-being. They included highlights from two campus-wide student surveys from the fall 2018 and winter 2019 semesters. Informed by other Canadian campus research and in collaboration with the Healthy Campus Team, Facilities Management, the Iniskim Centre and the research team asked students questions about their preferences and how their learning and well-being are impacted by various spaces on campus. The results, they said, will inform decision making and instigate changes to our physical spaces.

"Students expressed that classrooms and hallways are accessible, that the MRU environment is clean and welcoming," said Webster. "Students also said they really like quiet spaces and expressed that MRU needs more individual quiet study spaces, which was surprising to us because we thought students were a little more social."
Students, said Kell, don't go outside much (think winter, bugs, uncomfortable outdoor seating and spotty Wi-Fi), but were receptive to the idea of bringing nature indoors with more indoor plants.
Peter Ryan, PhD (Faculty of Business and Communication Studies)
Alberta Elections Online: Digital Retail Politics and Grassroots Growth, 2006 to 2016
Ryan discussed how the use of social media tools during Alberta elections has grown from a few hundred users to hundreds of thousands in under 10 years, from 2006 to 2016. Politicians now have to sell an image and platform online using digital retail politics strategies that align with their in-person authentic self to gain and maintain electoral support. Ryan said that while social media interaction and the number of followers a given candidate has can't necessarily predict an election, "a drop in followers is definitely a sign of a change in momentum."
Monica Pauls (Faculty of Health, Community and Education)
For All the Right Reasons: Exploring Social Responsibility Through Field School Participation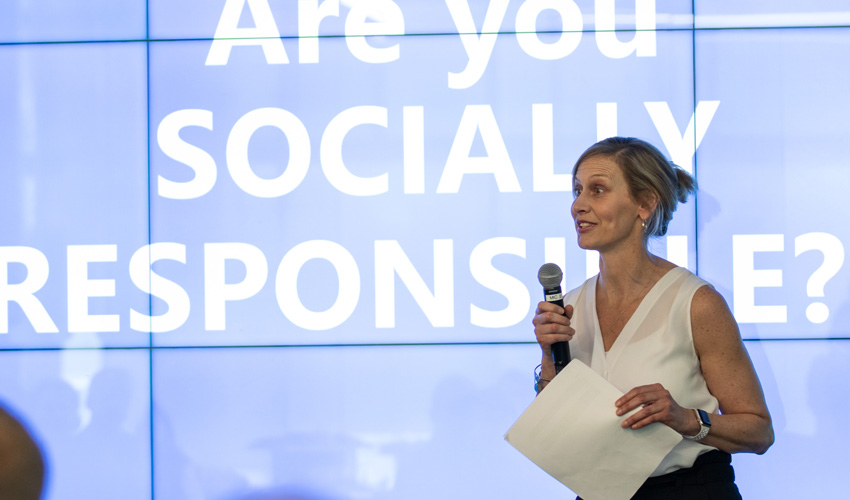 Pauls said a key aspect of post-secondary education is the development of a student's personal and social responsibility, which can be facilitated through, but not limited to, experiential education, community development projects and international field schools. Field schools, in particular, are thought to contribute significantly to growth in students through hands-on experience and relationship-based practice. Motivations, relationships and experiences in the field, however, can greatly impact student outcomes. The purpose of this study, Pauls said, was to gain a greater understanding of the relationship between field school participation and students' sense of social responsibility. Using a case study approach, data was collected through Mount Royal India Field School, which occurred in the spring of 2018. The findings from this study, she explained, are helpful to better understand the impact of study abroad opportunities that are being offered at a post-secondary level.
Felix Nwaishi, PhD (Faculty of Science and Technology)
Using a Distracting Device to Engage Students in Experiential Learning Through Virtual Reality
Nwaishi explained that experiential learning through field work is a major component of teaching in life and physical sciences, such as ecology. Given that ecology is a study of environmental processes, which tend to be most active during the summer months when the University is closed, the fieldwork component of undergraduate ecology courses are often limited. Delivery of experiential learning through virtual reality presents promising potential to address this gap. Nwaishi spoke of an innovative teaching approach that is being developed by MRU environmental science faculty members. The approach is to advance experiential learning concepts that will fully immerse the students in a natural environment through virtual reality, while standing in a classroom using their smartphones, which could have been a source of distraction to their learning experience in a traditional classroom.
Mario Trono, PhD (Faculty of Arts)
Shooting Locations, The Revenant and Ecocinema
Trono connected Alejandro González Iñárritu's Alberta-shot frontier drama The Revenant, filmed at nearby Fortress Mountain, to environmental efforts and water research undertaken by the United Nations in the area. Trono's research (supported this semester by a SSHRC Explore Grant) brings together film studies to environmental studies. The Kananaskis region played host to this production and the film's star Leonardo DiCaprio came under fire at the time for publicly declaring that normal chinook conditions were dramatic evidence of global warming, enraging the oil and gas sector here in Alberta. Seen the right way, this film can be taken as an extraordinary visual tribute to water in all its natural states. Discussing the film in relation to environmentalism allows eco-film studies to enter into advocacy, catching the public eye with eco-examinations of well-known movies.
Barbara McNichol, PhD (Faculty of Science and Technology), Donna Senese, PhD and John Hull, PhD
Mobility, Sustainable Environment and Wine Landscapes in Agricultural Economies: The Calgary Diaspora to Wine Landscapes in the Okanagan
The process that links wine lands to wine and culinary tourism and amenity migration is an evolving contemporary field of research. Wine and food tourism in wine regions, such as the Okanagan Valley, have deployed lifestyle identities derived from wine production and the identification of terroir into great advantage. McNichol discussed a two-year interdisciplinary and team project that targets mobility, environmental sustainability and transitioning agricultural landscapes as these impact wine and food tourism. Results from this research add to the literature about rural and agricultural landscapes in the Okanagan, as these are indicative of attractive amenity landscapes and second home migrants.
Holly Kinas (Miistakis Institute)
Community Conserve - Pooling Municipal Resources to Address Environmental Issues
Community Conserve is a website and a research team, explained Kinas. On the website, municipal personnel submit their environmental and conservation concerns and ideas as individuals, and then prioritize them as a community of municipalities. The research team then proposes project plans to address the top issues/ideas, and facilitates the process of crowd-funding those projects. Project results are made available to all municipalities.
Amanda Williams, PhD (Faculty of Business and Communication Studies)
Youth Entrepreneurship in Canada According to GEM: What Do We Know and Where Should We Go Next?
Williams presented some of the key findings of the first ever report released on youth entrepreneurship in Canada released using Global Entrepreneurship Monitoring data in November 2018. The Global Entrepreneurship Monitor project is widely recognized as the most comprehensive longitudinal study of entrepreneurship in the world. Canada, Williams said, is seen as a leader in youth entrepreneurship, but young entrepreneurs tend to build a business and then sell it.
April 11, 2019 ― Peter Glenn
Media request contact information.
Have a story idea? Please fill out this form.