Mount Royal's musical legacy leads to high note
Alberta's Lieutenant Governor Lois Mitchell announced as honorary patron of the Conservatory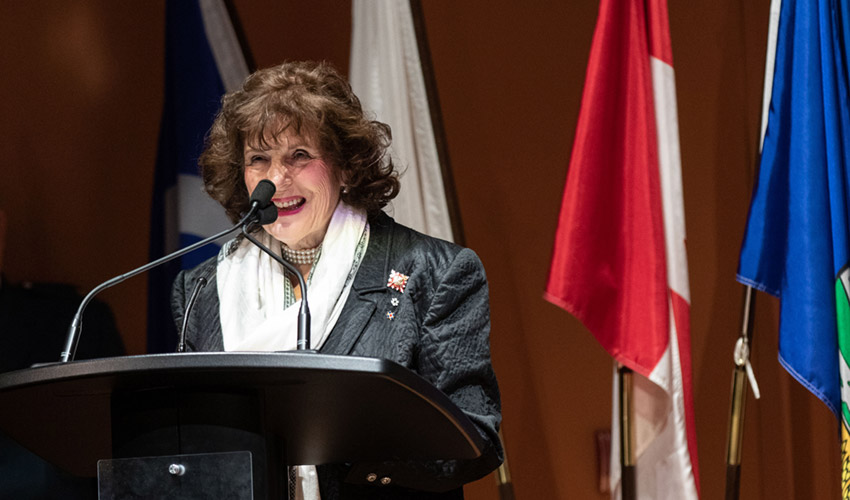 The Lieutenant Governor of Alberta, Her Honour, Lois Mitchell was announced as an Honorary Patron of the Mount Royal University Conservatory at the Wyatt Series Artists-in-Residence concert on March 3 at the Bella Concert Hall.

This acceptance from the Queen's representative in Alberta is in recognition of the high calibre of diverse music and speech arts education opportunities offered by the Conservatory to the local community.

"This is a remarkable distinction for our Conservatory, and for our entire University," said Brad Mahon, PhD, director of the MRU Conservatory.
The announcement took place at a concert event featuring the Kolsimcha Quintet (current artists-in-residence) and the Calgary Youth Orchestra, one of the Conservatory's flagship ensembles. It is the latest accolade bestowed on the Conservatory, now in its second century of providing exceptional instruction in music and the arts.

"It's my great pleasure to serve as honorary patron of the Mount Royal University Conservatory and to welcome everyone who takes part in its wonderful range of programs and concerts," Mitchell said. "The Conservatory is truly a place for everyone, with diverse offerings that reach out to music lovers of all ages, abilities, interests and walks of life."

Mitchell is an accomplished businesswoman and a proud, longstanding community volunteer. She began her duties as the 18th Lieutenant Governor of Alberta in June 2015 and has chosen to make education a focus during her tenure in office. Among her many honours, in 2012 Mitchell was named a Member of the Order of Canada and received the Queen Elizabeth II Diamond Jubilee Medal. She was also endorsed as Calgary Citizen of the Year for 2008 and awarded the Alberta Centennial Medal in 2005. In 1998 she received the Calgary Women of Distinction Award in the category of Arts and Culture.
The Mount Royal University Conservatory has played a key role in Calgary's performing arts scene since 1911, inspiring 10,000 registrants each year through a wide variety of programming, concerts and events.

"The Conservatory has been helping Albertans celebrate the joy of music since it first opened its doors, and that proud tradition continues today," Mitchell said. "I invite you to explore all that it has to offer, whether you're interested in embarking on a musical journey as a concert-goer at the spectacular Taylor Centre for the Performing Arts or would like to experience the fun and excitement of making music for yourself. Music is for us all to enjoy and it lives here at the Mount Royal University Conservatory."

Mahon said the Conservatory teaches the arts, but gives students much more.

"Our Conservatory has, and continues, to set an international standard, promote the well-rounded artist, and perhaps most importantly also develops well-rounded people who are curious, creative and compassionate. They learn to work independently, develop time-management skills and self-discipline, and learn to take direction and feedback. It builds their self-confidence through a feeling of accomplishment, and they develop a lifelong love for the performing arts, regardless of their career path - whether or not they plan to pursue a professional arts career, or choose another field altogether."
Immerse yourself in the sights and sounds of the Taylor Centre's Concert Season.
March 4, 2019 ― Peter Glenn

Media request contact information.
Have a story idea? Please fill out this form.