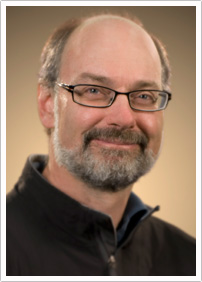 Concerns have been raised about student use of Web 2.0 applications such as Facebook and Twitter - but a Mount Royal research project is demonstrating that these tools can actually be used to improve the quality of learning.
By researching how the use of a range of interactive technologies impacts seven first-year courses, instructor Norman Vaughan, PhD - along with Jim Zimmer, the dean of the Faculty of Teaching & Learning and Fiona Villamar, a Bachelor of Arts student - is discovering ways social networking tools can improve grades.
"This study is important to me personally, because it's demonstrating that it's not all about the tools (such as Facebook, wikis, blogs, virtual worlds). It's about faculty trying to create a more enriching and engaging learning environment for their students," says Vaughan, an education instructor in the Faculty of Teaching & Learning.
"Rather than the students sitting back and being passive, with these tools they are active and involved in their learning experiences at Mount Royal."
Early results
"Our preliminary research indicates there is a moderate and positive correlation between student use of tools such as Blackboard … and final grades. What this suggests is that students who use Blackboard more often and perceive a greater sense of active and collaborative learning, usually have higher final grades," says Vaughan, referring to the Student Engagement and Interactive Learning Technologies: What's the Connection? project.
The added engagement the technology provides students also results in improved problem-solving skills.
"Students are used to learning to take a test by memorizing a lot of content, and then forgetting it in an hour," says Vaughan. "Faculty are now using a variety of learning technologies to help students develop an inquiry-based approach to learning ... asking and solving their own questions."
Social networking tools are not necessarily changing assignments given to students, but rather how work is assigned, completed and submitted. For example:
Facebook
Vaughan uses Facebook extensively in his own classroom. It allows students to engage in online discussions with MR alumni who are now teaching. Student moderators then co-create and post online summaries of the discussions using the Shared Experience wiki developed by Alex Bruton, PhD, an instructor in the Bissett School of Business.
"What is really cool is how tools such as Facebook and Twitter are helping students to create a network of support in and outside our class," explains Vaughan. "It is also an easy way for them to stay connected with myself and their peers after they leave Mount Royal."
Second Life
"Boy, has that ever become huge," says Vaughan, who used a similar tool to conduct a virtual class while he was in Finland recently to present his work from another research project about blended online learning design.
Textbook publishers have particularly gotten on board with virtual learning environments, offering shared expertise to students. Institutions such as NASA also offer online tutors and learning opportunities in Second Life.
"Students can even do virtual experiments in science classes and you don't have the risk of blowing things up."
Blogging
"Blogging is a relatively new application, but if you think about it, a lot of us have been asking students to journal for a long time," says Vaughan. "What's interesting about blogs is that they allow students to go 'public' with their learning. For example, in one of the courses that we're studying, students are posting critiques of academic articles to their blogs. The authors of these articles are then replying to the student blog critiques - a great example of connected and meaningful learning."
Virtual improvement
"I think that part of the reason I'm involved in this study is because I barely passed first-year university. It scared me," says Vaughan. "It turned me off university because of courses that only had high stakes summative assessments such as midterms and a final.
"If you blew that first midterm and you blew the second one, you were up the creek. What's happening with many first-year courses now is very exciting - they've been completely redesigned."
As well, the use of new social media tools allows for more assessment opportunities - student to teacher, teacher to student, peer to peer.
Now rather than a final exam grade being a student's only way of knowing if they are "getting it," they can get feedback throughout a course.
Vaughan - who is also working on an assessment practices research study in the Department of Education & Schooling - says teachers can also benefit from the feedback of their own students.
"I can ask online what students did not understand about a reading and then cover it in my class."
Vaughan, Zimmer and Villamar have presented the preliminary results of their study in Ottawa at the Canadian Network for Innovation in Education (CNIE) and Canadian Society for Studies in Education (CSSE) conferences. Further information about this study can be found on Vaughan's personal website.
- Candace DeFreitas
May 22, 2009
Links
Faculty of Teaching and Learning
Bachelor of Education - University Transfer
Too Fast - Free Assessment Summary Tool (developed by a Mount Royal team)