Tim Rahilly, PhD, installed as Mount Royal's tenth president and first vice-chancellor at Spring 2019 Convocation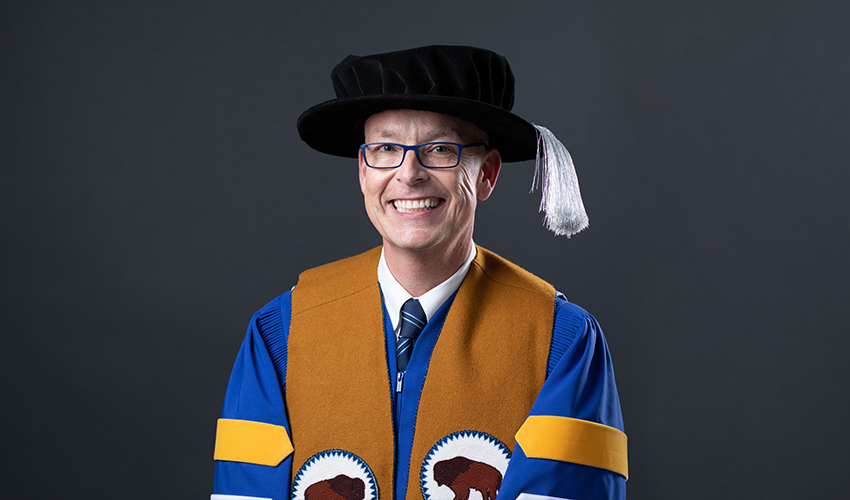 As well as celebrating the achievements of new graduates, Mount Royal's 2019 Spring Convocation ceremonies are incorporating a special element with the installation of Mount Royal's tenth president and first vice-chancellor, Tim Rahilly, PhD.
An installation is the official ceremony where a university's incoming president and vice-chancellor is formally endowed with the power and responsibilities of the office. The ceremony consists of two parts: the Oath of Office and the Investing of Robes of Office.
Rahilly took the Oath of Office with Her Honour, the Honourable Lois Mitchell, lieutenant-governor of Alberta on the afternoon of June 5 during the Bachelor of Arts Convocation ceremony. During the Oath of Office, the chair of Mount Royal's Board of Governors, Sue Mallon, requested that the installation proceed on behalf of Board of Governors, followed by Lesley Brown, provost and vice-president, Academic, requesting the same on behalf of the General Faculties Council.
Then during Investing of Robe of Office, Rahilly divested of his current scarlet academic regalia from McGill University and was invested with the robes of the presidential office, which have four chevrons on the sleeves instead of the usual three.
Rahilly's robe is also adorned with the colours of the Indigenous medicine wheel, which represent each of the four directions (east, south, north and west) at the bottom of the sleeves and the hem. The robe is topped with a leather stole designed by Moonstone Creation featuring two beaded buffalos facing each other.
For the next two days of Convocation, there will be a ceremonial installation at each event.
Assisting with the Investing of the Robes of Office on June 6 and June 7 are Mallon, Brown, Phil Warsaba, secretary of the General Faculties Council, representatives of the Mount Royal Faculty Association, Mount Royal Staff Association and Students' Association of Mount Royal University and the Honourable Demetrios Nicolaides, minister of Advanced Education and MLA for Calgary-Bow.
Rahilly's remarks speak to the timing of his installation, with him beginning his tenure at Mount Royal while the crowd of soon-to-be alumni are finishing theirs.
He says, "On the surface it may seem that you (the graduates) and I are at different points in our relationship with Mount Royal - for me at the beginning and for you at the close. But what I would like to say today is that we are not so different."
Rahilly explains that the similarities between graduates and himself include investing in learning; appreciating those who came before and those who provided support; choosing Mount Royal for its student-focus; and, having a bright future.
He also reminisced that at his own undergraduate convocation he was moved at how meaningful it was for him to see the pride in his parents' eyes.
Media request contact information.
Have a story idea? Please fill out this form.