Even a map needs a starting point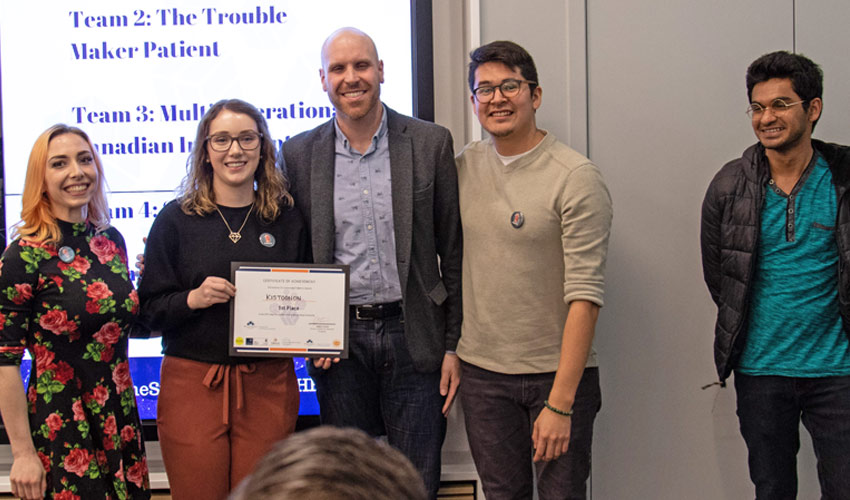 2019 MRU Map the System Challenge results
Moving on ...
Mount Royal's Map the System winners Team Kistoonan were chosen as one of the top three teams from a field of 15 from across Canada at the competition's national finals, held May 4 at Ryerson University. They will be headed to the global finals at the Saïd Business School at the University of Oxford in June. Their presentation focuses on the epidemic of missing and murdered Indigenous women in Canada and is titled "Systemic Violence Against Indigenous Women in Canada." The team members are Payton Glagau (information design), Ravinka Gunawardane (anthropology), Joseph Plant (anthropology/business), Sierra Shade (education) and Hannah Sweet (health sciences).
This is the third year in a row Mount Royal students have made it to the finals.
A friendly face-off against the University of Calgary
Mount Royal's Map the System Challenge took place on April 5.

Xander Jensen presented on water use in the Colorado River system, and who is a business student with a major in management, won Audience Favourite. Sociology student Maya Pajevic, whose project "Who's the real expert?" was based upon a study of the troublemaker patient, placed third.
Pajevic says that the final was the culmination of months of hard work, planning and practicing.
"Everyone from fellow competitors to faculty were so supportive and wanted to ensure it was a positive event. And even though it was a competition, it was a collective event, and it was inspiring to hear everyone present their findings and have fun with it.

"Even though there could only be one winner, I think everyone( especially those in the challenge) walked away with a new set of skills and a different way of thinking, something that is transferable to other complex and 'wicked' problems. Systems thinking and the Map the System Challenge forced me to stay with the problem longer instead of jumping to solutions right away. Something that I would likely do prior."
The judges were Assistant Professor Sean Carleton of the Department of General Education, Ivan Sierralta from Vibrant Communities Calgary, Cathy Glover, MRU's changemaker-in-residence and Roisin Dillon, who was last year's MRU and global champion.

Mount Royal staff co-create student guide for Map the System Challenge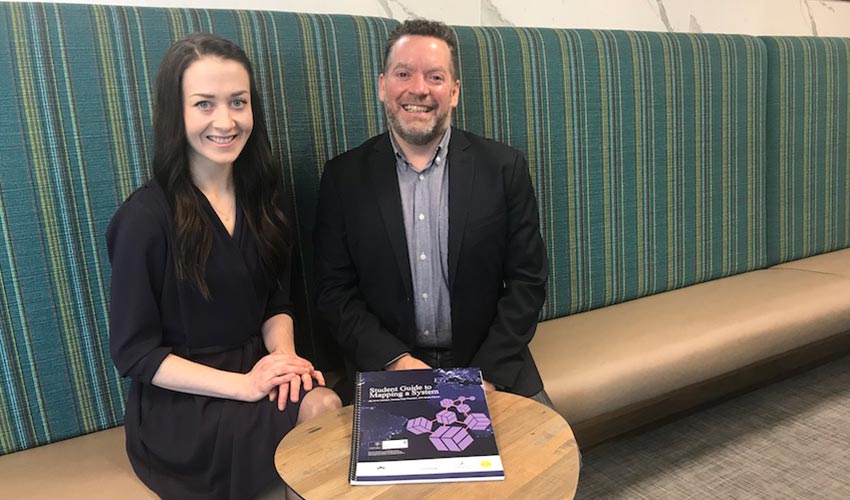 The international competition Map the System is all about taking deep dives into complex issues through the lens of social and environmental change. But where do you even start in the face of an overwhelming avalanche of information?
That's where The Student Guide to Mapping a System comes in. James Stauch (director) and Anna Johnson (community engagement strategist) of the Institute for Community Prosperity at Mount Royal University co-created the document with Daniela Papi-Thornton, who is the former deputy director of the Skoll Centre for Social Entrepreneurship at Saïd Business School, University of Oxford, which puts on the competition in partnership with educational institutions.
"A lot of schools don't have the kinds of supports that we offer at Mount Royal. Students are left to flounder a bit and really struggle with the competition," Stauch says. "With a guide, students will have something to refer back to, and also a bit of a way forward. There are tools in there that will be useful for them, and some not so useful, depending on the topic they are exploring. We're hoping students will navigate which of the combinations will work for them."
The 100-page guide, available as a free download, acts as a toolbox, Stauch says. The guide doesn't have to be read cover to cover (although it can be, with information cleanly presented in digestible chunks). Rather, users can pick and choose from a "toolbox" of theories, tips, matrices, gap identifiers and more, all organized into 12 steps.
As the guide explains, "Mapping a system provides an opportunity to think about the context surrounding a challenge and the many interacting factors that contribute to its development - whether they are economic forces, political movements or global trends.
Last year, Mount Royal nursing alumna Roisin Dillon won the Challenge with her project on Canada's opioid crisis.
For example, Mount Royal's Maya Pajevic wants a "deeper grasp on why patient experience is difficult to deliver to those requiring care." The first-year sociology student used the guide while developing her project on the patient experience through the patient lens. Referencing it helped Pajevic structure her work, as well as giving her research and preparation options. She also took into account its recommendations on what the competition judges look for.
"I'm in the tail end of the Challenge and making final edits before submission. The guide allows me to double check that I haven't forgotten an aspect of the Challenge," Pajevic says. "It also provides useful tips and tricks to ensure that my system map is as detailed and easily understood as possible. It helps me distinguish what is information and what is noise when it comes to my system."
She credits the MRU support network for their quick and non-judgmental responses. Pajevic is so inspired by her professors and her growing interest in social innovation that she's switching majors and will start towards her Bachelor of Communication ― Information Design in the fall. Information design is a natural fit with systems thinking, Stauch says, and Mount Royal is building a reputation in both fields.
"Information design has the ability to talk about a real-life human system and graphically illustrate it. Info design students are naturally systems thinkers," Stauch explains. "People like (professor) Kelsey McColgan, (former chair) Ben Kunz, chair Brian Traynor and their colleagues are unique in Canada. There are very few programs like that."
Guide co-creator Johnson runs the Canada-wide Map the System Challenge, working with educators and students from 15 higher education institutions across Canada to implement the event on their campuses. Colleague Latasha Calf Robe oversees Mount Royal's final. The latter takes place on Friday, April 5 from 1 to 4 p.m. in the Ideas Lounge of the Riddell Library and Learning Centre.
The Challenge is different than traditional competitions that tend to be solutions focused. Rather, Map the System is about digging into the nature of the problem and learning how a system works. With that more robust understanding comes the ability to target opportunities for change. And the Challenge is also about presenting complex knowledge in a way that people can understand and share.
"This is a really good introductory step for people who want to create meaningful change in their communities," Johnson says. "Seeing the broader system helps us to make more informed choices and respond to root causes of problems versus reacting to symptoms of problems. It is a powerful thinking tool for those wishing to address some of society's toughest challenges."
Although the guide was created for students to use for the Challenge, the knowledge it contains can be applied outside of academia. The three authors are talking about repurposing the content for a wider audience. And Johnson and Stauch are conducting workshops for the Calgary Basic Income Network in April.
Mount Royal's emphasis on general education is also a natural fit with systems thinking, Stauch says, as equipping students to navigate complexity, diversity and change are key components of liberal arts education. Being able to have a systems perspective will serve students well long after they leave the University, he says.
"It's a skill that's going to be more and more important in the 21st century because people won't be entering vocations that will stay static for a long time. They need to be nimble. They need to be able to shift. And they need to understand the broader picture," Stauch says.
The Guide helps them think through their career and life journey, while honing a "sociological imagination," understanding the connections between themselves and the wider systems in which they live, work and navigate, he adds.
Stauch and Johnson will present their work on The Student Guide to Mapping a System at the International Social Innovation Research Conference in Glasgow in September. Before that, though, comes some friendly rivalry with the University of Calgary. The top three teams from each school's Map the System Challenge competition will face off April 23 in a Student Showcase at the Central Library. The Canadian final then takes place May 3 and 4 in Toronto, with the Map the System Global Final held at the University of Oxford June 7 through 9.
Read about how alumna Roisin Dillon topped the crowd at last year's Map the System finals.
April 1, 2019 — Ruth Myles
Media request contact information.
Have a story idea? Please fill out this form.