Crucial role for universities to play in helping students access news
Professor emeritus' study shows academics provide trusted figures for information dissemination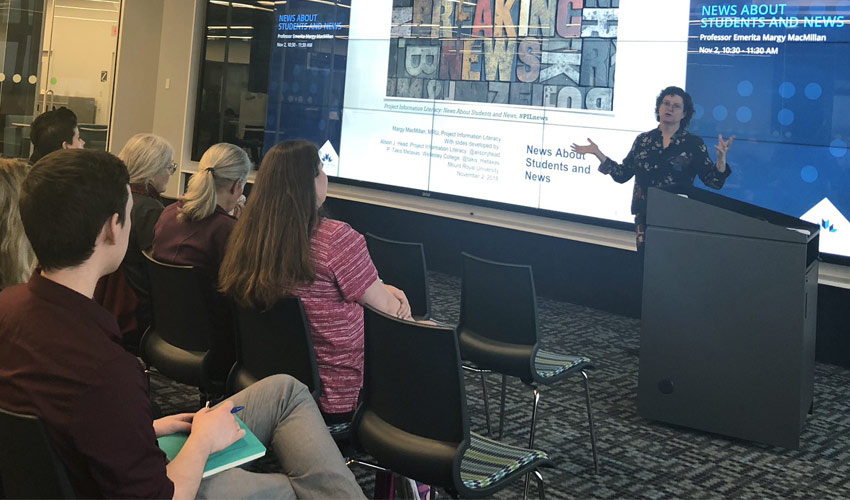 Nathan Woolridge, a third-year Mount Royal University journalism student and news editor of The Reflector student newspaper, depends on stories shared on Twitter (often by journalists who love the platform) for much of his news, lately gravitating to The Sprawl and Canadaland podcasts. He'll tune in to TV on an election night or during another big event, but that's an exception.
"For the most part, I don't get a lot of my news from television. I love newspapers, but I typically won't pick them up unless they're free and there's something interesting on the cover that catches my attention," Woolridge says.
It turns out that Woolridge is reflective of many young people who, contrary to conventional wisdom, do follow news and care about its role in a democracy.
A new study co-authored by Mount Royal University professor emeritus Margy MacMillan, who was a professor/librarian at MRU for 27 years, shines a light on the ways students do that and how educators can help them.
"How Students Engage With News" looked at how U.S. college-age students are accessing and consuming news at a time when they are glued to their phones, but see TV and the newspaper as something their parents and grandparents turn to.
It also comes a time when news and the journalists who deliver it are under fire from a U.S. President who hurls the moniker "fake news" like a grenade at the press corps.
Bombarded as they are by media of all kinds, it's a challenge for students to tell what news is, what is true. But they do care, the researchers discovered, even if they define news differently than their parents did, and they believe in its importance to democracy.
"Students, contrary to popular opinion, are not 'newsless,' " says MacMillan while on a break during a presentation of the study's results at the Riddell Library and Learning Centre on the day she was named professor emeritus at the 2018 Fall Convocation ceremony. This prestigious designation is presented to educators who have stopped teaching but who left behind a legacy of impactful learning and distinguished service.
"Students are accessing news all the time and many of them are using a lot of strategies to do that in a very deliberate, thoughtful and effective way," MacMillan says.
The findings come from an online survey of students at a mix of 11 colleges and universities across the U.S. conducted by Project Information Literacy, a non-profit research institute conducting scholarly studies about students and how they find, evaluate, and select information for use in their courses and for solving information problems in everyday life.
The researchers found young adults use social media to access and share news, but also dip into traditional news websites and depend on discussions with peers.
It also found that news consumed through social media is rapid-fire. It can be hard to discern what's real and what's fake. Students don't necessarily assign authority to the platforms that an older generation would trust automatically, for better or worse. Sharing news on social media provides many of them with an opportunity to share with their community, but it is in the context of a "confusing, overwhelming and often misleading online environment."
The role of the academic
The study's recommendations underline a crucial role for academics to play in presenting news to students. Professors are trusted figures in their lives.
"Professors can be a very powerful vector for helping students learn how to be good news engagers," MacMillan says. "They were powerful in the study. Seventy per cent of our students says they got news from a professor in the previous week."
And while politics and economics seem to dominate the news, there is a place for sharing news with students in many more areas, such as science and technology.
"I think there's a real place for news in those classrooms because one of the things we worked at when I was working at Mount Royal was bridging the science classes with everyday life and what's in the students' lives," MacMillan says.
"Unless we provide opportunities for them to practice transferring the information skills they get in academic life and provide them with models of how to do that in their personal life, it's not going to happen. Those skills don't just grow like yeast."
Archie McLean, a journalism professor in the Bachelor of Communication - Journalism program at MRU, says he's also found students are receiving their news from a variety of sources including social media, albeit more from Instagram and less from Facebook.
"They're much less likely to go to a home page, or read a newspaper or watch the six o'clock news. Instead, they're getting news all day long through their social media channels. It requires a bit more hunting on their part to find credible sources of news."
First-year business student Kaylee Toth says she doesn't read or watch much news at present, but believes she should (in part because her grandmother tells her she should as part of the next generation of decision-makers.) She has, however, noticed that professors use current events and news in the classroom to add relevance to lectures.
Making news more accessible to young people is part of the media's job, says McLean.
"I think news media have an obligation to reach their audience wherever they are. That requires deep thinking about where, when and how people get their news. Finding quality news and information should be easy, not an exhausting hunt through the internet. We have to make it as easy as possible for people to access information about their communities."
Find out how journalism alumnus Jeremy Klaszus is turning traditional news-making on its ear in Calgary.
Nov. 19, 2018 ― Peter Glenn
Media request contact information.
Have a story idea? Please fill out this form.