Convocation recognizes dedication to discovery, commitment to communication
Mary Anne Moser receives Honorary Doctor of Laws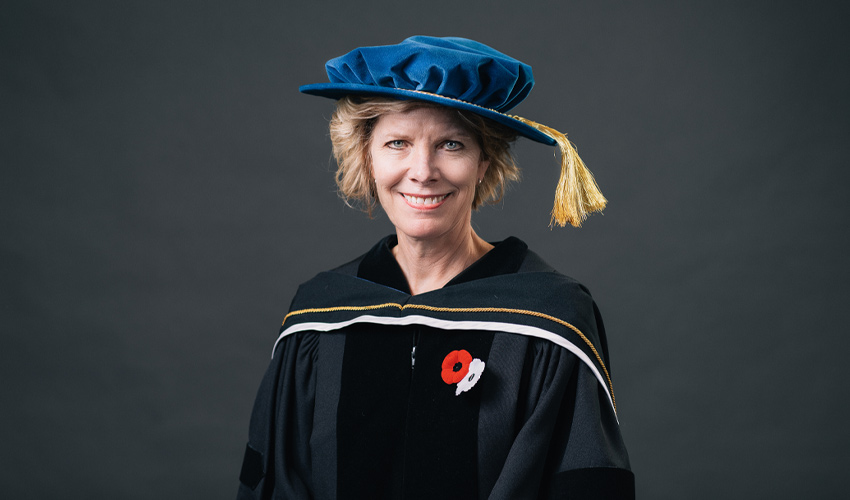 Mary Anne Moser, PhD, has proven the power of collaboration over the last eight years by mixing art and science with her highly acclaimed made-in-Calgary creation, Beakerhead.
Launched in 2012, this September Beakerhead concluded yet another successful "smash-up" of art, science, workshops, events and performances the general public can wander past and marvel at for seven full days. The renowned local festival was created by Moser and her partner ― scientist, author and television host Jay Ingram. The annual spectacle has received widespread positive reviews from those near and far.
Also the president and CEO of Telus Spark, Moser's dedication to discovery led her to being chosen to receive an Honorary Doctor of Laws from Mount Royal University at this year's Fall Convocation ceremony.
A seed of an idea cultivated carefully
Mount Royal University is proud to have begun its partnership with Moser and Beakerhead in the fall of 2011, when a diverse cross-section of faculty acted as a think tank, brainstorming ideas with the Beakerhead team. Since then, Mount Royal has been part of Beakerhead each year. Various faculty members have participated during its popular run, including Associate Professor Patti Derbyshire, Professor Todd Nickle, Associate Professor Manuel Diaz-Avila, Associate Professor Trevor Day and Associate Professor Sarah Hewitt.
Mount Royal's Beakerhead participation includes the 2015 session called Building Your Child's Brain, put on by the former Centre for Child Well-Being, and the 2017 Science of Cats and Dogs. Last year, MRU hosted Have You Ever Wondered?, which was a pop-up science event celebrating MRU's new chemistry degree. In 2018 as well, What's So Special About a Weasel's Head? took place in the Riddell Library and Learning Centre's Immersion Studio.
Through this process, Moser has developed strong allies in science communications with MRU faculty members over the years — Day and Hewitt in particular.
"Communicating science, like teaching science, is a very different skill than doing science, so I really appreciate this skill set among these scientists. They have played clear and visible roles in building capacity in Calgary for delightful forms of science in mainstream culture," Moser said.
"Partial" to Mount Royal
Since its inception, Moser has been instrumental in growing Beakerhead, engaging more than 200 participating organizations and seeing yearly attendance reach more than 150,000. For Moser, Beakerhead's relationship with Mount Royal has been more than advantageous.
"Even though I did my communications degree elsewhere, I have always been partial to the graduates from Mount Royal after hiring a rather stellar one (Jasmine Palardy, 2004) in the early days of Beakerhead," says Moser. "So that relationship basically helped get Beakerhead off the ground. That was extremely beneficial."
As Moser is officially welcomed to the Mount Royal alumni community with this honorary distinction, she finds great importance in the recognition for a number of reasons.
"This award is important to me because I have a lot of respect for both MRU faculty members and the graduates that I have gotten to know. If these are the types of people who teach and learn here, then I am honoured to be recognized by such an institution."
Moser had the opportunity to address the over 200 graduates, the Chancellor's party and the rest of the audience the afternoon of Friday, Nov. 1. Her message to the recently named MRU alumni focused on the desire that most grads have to find work in their field, and that maybe a better focus for new grads is not their discipline, but their self-discipline. She suggested that new graduates might want to think about indiscriminately going after new skills, and going deep into a few areas that may or may not be related to their degree.
"It is amazing what the rearview mirror will tell you about that first decade after graduation. You will see how important the sharpening of certain skills is to what doors open for you."
The University last awarded an honorary degree to a recipient from the field of science in the fall of 2010. Since that time, Mount Royal's Faculty of Science and Technology has grown, evolved and captured the attention of students choosing a post-secondary education in these reputable disciplines. Recently, Mount Royal has two new degrees approved ―a Bachelor of Science ― Biology and a Bachelor of Science ― Computer Science.
"The awarding of an honorary doctorate to Mary Anne Moser will represent a wonderful connection for the University, and for the Faculty of Science and Technology," said Jonathan Withey, DPhil, dean of the Faculty of Science and Technology.
"For an individual who has impacted science communication, students, academics and women, not just broadly, but in a very specific and intimate way in Calgary and the surrounding area, I cannot think of a more worthy recipient."
Being part of the Mount Royal alumni community comes with several perks. Find out how to use your education to your advantage.
Nov. 1, 2019 ― Jonathan Anderson
Media request contact information.
Have a story idea? Please fill out this form.