Meet the SAMRU 2017 executive
Getting out the vote, personalized learning, diversity and government relations on the priority list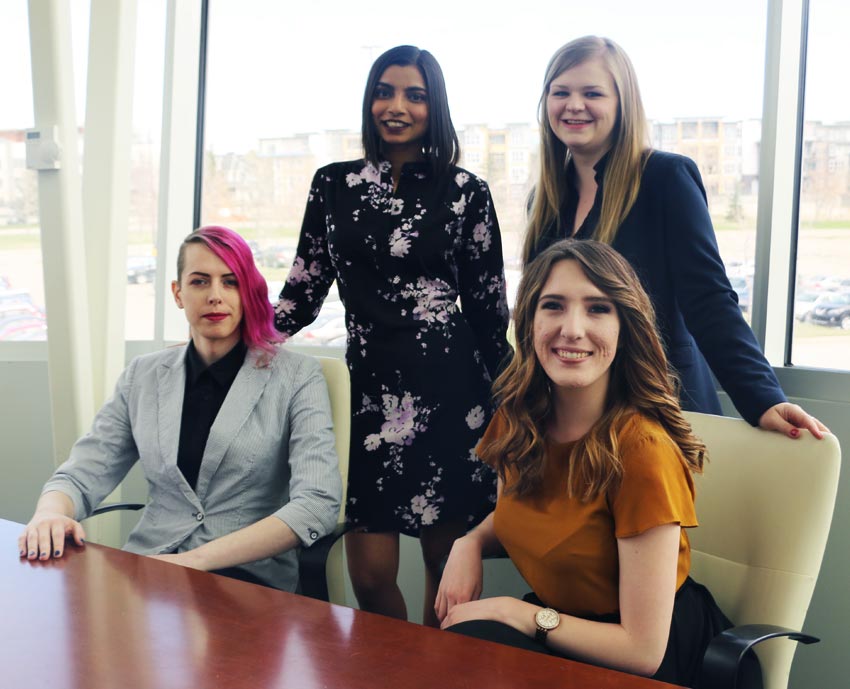 The Students' Association of Mount Royal University's (SAMRU) 2017 election welcomed three new representatives to be the voice of the University's student body. Aria Burrell, Madelaine McCracken and Cordelia Snowdon take the place of outgoing execs Dexter Bruneau, Valerie Caden-Baptiste and Robbie Nelson, with President Shifrah Gadamsetti heading into her second term.
Aria Burrell - Vice-President External
Known on campus as a civic-minded community activist, SAMRU's Vice-President External Aria Burrell is pursuing a degree in policy studies with a minor in women's and gender studies. She says she is largely concerned with democratic engagement, and would like to see more students take an interest in government and the electoral process. She has spearheaded and participated in multiple nonpartisan efforts to reduce barriers to voting for marginalized groups in both federal and municipal elections, and plans to bring that experience to MRU.
"I will be committing efforts to getting out the vote in anticipation of the municipal election in October, and I want to increase awareness of student government and the work we do," she says.
Passionate about improving student well-being, Burrell will continue work towards more affordable tuition and sustainable mental health funding. She has also been a determined advocate on behalf of the transgender community, sitting from 2015 to 2016 as secretary of the Board of the Trans Equality Society of Alberta (TESA), and says that experience led to her interest in policy studies.
"I saw first-hand the difficulty and importance of accounting for marginalized communities in policy research, writing and implementation," she says.
Madelaine McCracken - Vice-President Student Life
Third-year Bachelor of Education ― Elementary student and new Vice-President ― Student Life Madelaine McCracken first began taking on leadership roles at Mount Royal through joining numerous clubs, including AgenC , the Residence Activities Council (becoming a resident advisor in her second year), and the Education Undergraduate Society, of which she was president. She says she has known she wanted to be a teacher since she was very young, and she has recently discovered an interest in large-scale event planning. Her successful campaign emphasized the importance of face-to-face interactions, saying they are the sort that can change someone's life.
One of McCracken goals for the year is to focus on cross-campus collaboration, ensuring students know what is happening at all times, and about the resources available to them. Identifying as Métis, McCracken used the Medicine Wheel as a symbol during her campaign, which to her means, "strength, balance, interconnectedness within the community, and connectedness within oneself."
McCracken continues to expand her knowledge of Indigenous teachings and ceremonies, and celebrates conversations about her heritage.
"Through this further education in self-exploration, I want students to experience (the same thing). There should be more conversations that pertain to the individual needs and diversity of every student that deserves to be celebrated and discussed."
Cordelia Snowdon - Vice-President Academic
Passionate about advocacy and improving the undergraduate experience, Cordelia Snowdon says the role of SAMRU's vice-president academic (VPA) provides a unique opportunity to advocate on behalf of the student population. After volunteering with the Vice-President Academic Advisory Committee for three years, Snowdon thought it was time to use the skills she had developed, spurring her to run for the role of VPA. Her additional volunteer roles have included acting as governor of the Student Governing Board, president of the Students' Distress Centre Club and member of the Peer to Peer Mental Health Program.
Snowdon's goals for her first term include making education more affordable by supporting the adoption of more open educational resources and reducing the use of mandatory supplementary fees.
"I will also continue to advocate for keeping small class sizes and a personalized learning environment, while ensuring initiatives and policies support student mental health," she says.
As she pursues a degree in policy studies with a minor in social innovation and nonprofit management, Snowdon says student government provides the chance to learn more about the intricacies of policy development and change. She plans to provide more transparency about student government by providing monthly updates on the status of key issues on campus.
Shifrah Gadamsetti - President
The veteran of the SAMRU executive, Shifrah Gadamsetti's first term in office was notable for her strong voice in support of diversity and inclusion on campus.
"One of the proudest things I was a part of in the last year was championing our sexual violence policy and supports on campus," she says.
Gadamsetti completed her Bachelor of Nursing in 2014, and returned for a Bachelor of Arts ― Sociology. As well as being SAMRU's president, she was also recently elected as chair of the Canadian Alliance of Student Associations. She says she ran for a second term because she felt like her work wasn't finished yet, and was motivated to see new and already-implemented projects through to fruition, established with a strong foundation.
Working closely with our provincial and federal government is also of utmost importance to Gadamsetti over the next year.
"Being a member of the MRU Board of Governors, and having a delegate position within our provincial and federal advocacy organizations, allows me to balance a uniquely informed position when working to prioritize students' interests," Gadamsetti says.
"We're on the cusp of seeing some significantly impactful legislation come forward from our governments, and I hope to continue advocating for students internally and externally."


Learn more about SAMRU, the student voice on campus.

June 12, 2017 — Michelle Bodnar

Media request contact information.
Have a story idea? Please fill out this form.