Harry G. Schaefer Mentorship Program comes full circle
Mentees become mentors

It's becoming a chilly tradition.
On Jan. 10, Mount Royal University kicked off another year of the Harry G. Schaefer Mentorship Program as temperatures continue to plummet early into 2018.
With the temperature on the decline, the program itself continues to be on the rise. Now in its sixth year of existence, local business icon and mentor to many Harry G. Schaefer's legacy is living on through 130 mentors, 86 of which are Mount Royal alumni.
The Harry G. Schaefer Mentorship Program is part of Mount Royal's Student Learning Services, and is sponsored by ATB Financial.

"Today, the word mentor has evolved to mean trusted advisor, friend, teacher and wise person. Mentoring is a fundamental form of human development, where one person invests time, energy and personal know-how in assisting the growth and ability of another person," says Eleanor Finger, director of Alumni Relations at Mount Royal, who concluded her introductory remarks with gratitude and a request.
"I want to thank each and every one of the mentors who have chosen to make that connection with a Mount Royal student. And to the students here today, I encourage you to make the most of this wonderful opportunity. You are our future alumni, and we hope, as you make your way in the world in the coming years, that you consider paying it forward someday to another student just like yourself."
Many of the program's 130 mentors are former student mentees turned alumni who, since graduating have chosen to pay it forward, such as Catharine Smart and Adrian Serban, who took part in the program's inaugural year as students. Smart, a 2013 graduate who left campus with a Bachelor of Business Administration has since traded in her role as mentee and is sharing the knowledge she gained while in the program now as a mentor.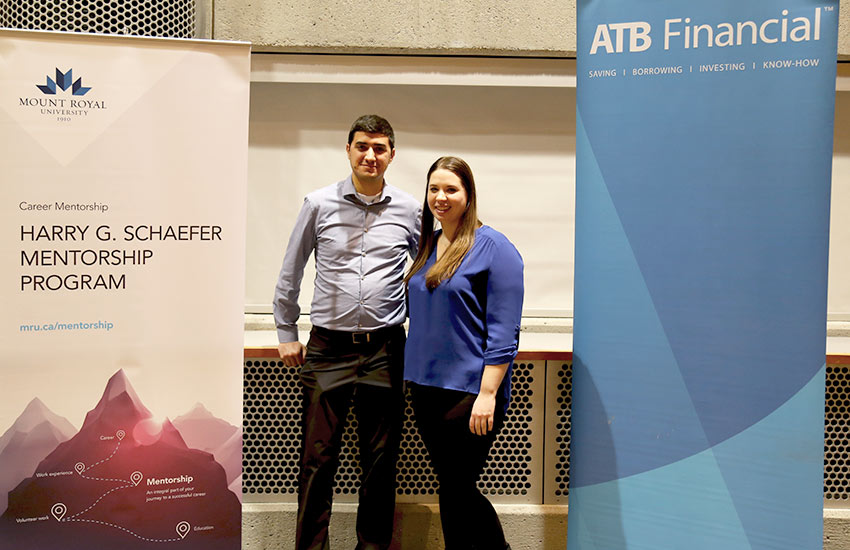 Today she works with the Calgary Flames as an executive suites coordinator in the hockey club's Sales and Service Department. Daily, Smart looks after clients, helping with additional tickets, hossting and taking care of any issues that might arise for the organization's clients. For her, it's an exciting position with challenges that make each day different and interesting.
Smart's biggest takeaway while being a mentee was to be continuously networking while making a point to interact with different departments and specialty areas as much as possible.
"Part of that it came from my mentor, Michelle, encouraging me to get out and talk to people. She has a marketing background but always encouraged me to meet as many people from as many different sectors as possible," says Smart, who is now in her third year as a mentee-turned-mentor.
"I really like connecting back to MRU. It made sense to continue on," says Smart. During her time as a student she was involved in alumni groups, Enactus and even served as a student advisor on the Harry G. Schaefer program's committee when it started originally.
Now with her third mentee, she hopes to build a strong connection with this year's protégé.
"I hope I can help her accomplish some of her goals before she graduates next semester with a marketing major."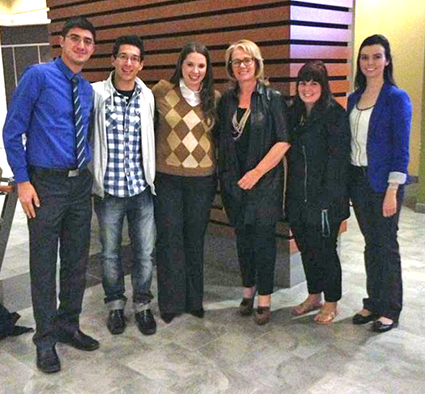 Similar to Smart, Adrian Serban is no stranger to Mount Royal's campus. His continued affiliation with the University comes as no surprise. He completed his academic obligations in 2014, leaving Mount Royal with a double major in Accounting and General Management, having previously completed the Aviation diploma.
Like Smart, he joined the Harry G. Schaefer Mentorship Program as a mentor following graduation. This year's mentee has common ground with Serban, hoping to leave Mount Royal with an accounting major.
"I just want to share my knowledge and help my mentee get into the work force," says Serban, who after his initial meeting with this year's learner had one piece of advice.
"Network, network and network. My mentor was a part of the CMA (Certified Management Accountant) program. He connected me with a partner of an accounting company and was great at helping me plan out my career."
Serban got his Chartered Professional Accountant designation after graduating, and quickly found employment at a public practice. Today he works as a project accountant with Atco.
Serban recalls many chats with his mentor who constantly asked what he wanted to achieve? Where he wanted to be in ten years? How he wanted to do it and what where the intermediate steps? He hopes to pass on this same advice to his current mentee and many more.
"I love it, I'm going to do it for the next couple years and I'm encouraging lots of others to join this great program."
The evening's kick-off meet and greet event wrapped up with a panel discussion that included Kimberlea Kozachenko of ATB Financial, Mount Royal instructor and Market Grade strategist Kris Hans and Jill Andres, Director, Trico Changemaker Studio. The trio shared their thoughts while discussing the importance of mentorship, setting goals and conquering challenges.
Join the Harry G. Schaefer Mentorship Programand take advantage of the opportunity to take control of your future.
Jan. 12, 2018 ― Jonathan Anderson
Media request contact information.
Have a story idea? Please fill out this form.