$75,000 handed out to Mount Royal entrepreneurs
Main recipient is providing a way to simplify starting a nonprofit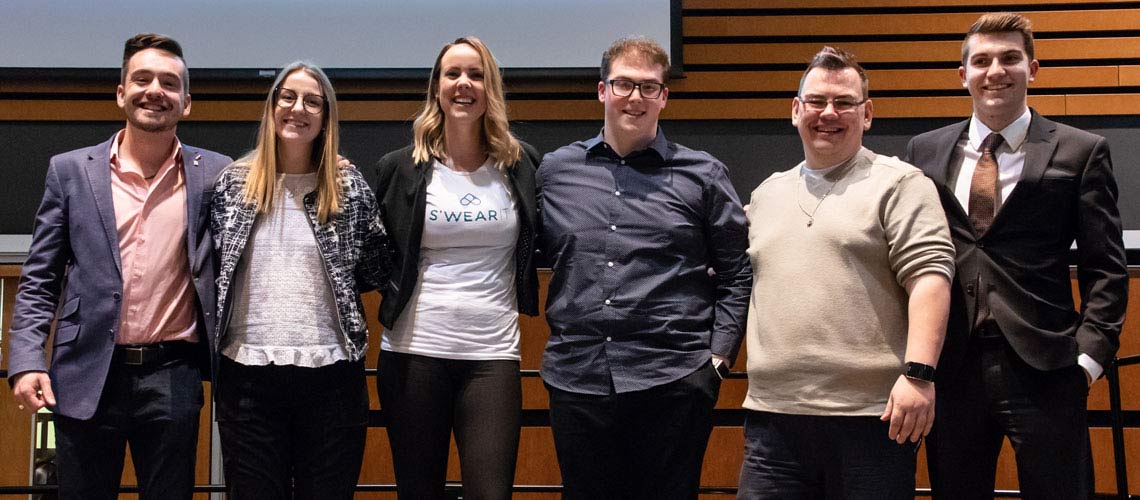 The sixth installment of Mount Royal's JMH LaunchPad competition, held on April 5 and hosted by the Institute for Innovation and Entrepreneurship, saw four Mount Royal University entrepreneurs walking away with their share of $75,000.
Originally the contest was slated to have competitors challenge for $70,000 in cash and services, but with the stakes high and the students raising the bar, an impressed Busy Foundation elected to award an extra $5,000, which brought their total contribution to $15,000.
The evening's big beneficiary ended up being Will Conner, a fourth-year student who is finishing with a Bachelor of Computer Information Systems (CIS), complemented by a minor in business. Conner was awarded $10,000 from JMH & Co., $7,500 from the Busy Foundation and $10,000 in legal advice from Labarge Weinstein.
Conner and his Community Kit endeavor impressed a panel of esteemed judges with a cloud-based platform aimed at helping nonprofits get their vision off the ground. Community Kit is designed to take the majority of the labour out of building a nonprofit for Calgary's changemakers.
"It allows you to create the documentation to get started, you still have to file things with the government, ratify things with your board and perhaps seek outside legal counsel, but what we're aiming to do is take 70 to 80% of the legwork, which is largely repetitive, and move it into the cloud," says Conner, who has been an entrepreneur since he was 17 years old. His most recent experience lasted 15 years, with him running My Computer Hero, his own IT services provider.
During his five-minute pitch, Conner painted the scenario of Community Kit, asking the judges to imagine the impetus behind starting a nonprofit organization.
"Whatever (the reason) is, you're very passionate and you are really focused on delivering that service to your community members. There are, however, legal requirements you have to go through in order to protect yourself and your volunteers, as well as be able to raise money, create assets and meet accountability requirements," says Conner. That all can be daunting, and may even mean people give up altogether.
"The end result (of Community Kit) will be paying $300 to get everything done in an evening."
Conner maintains he arrived at the idea of providing a service that simplifies the complicated processes involved in setting up a nonprofit through the development of a step-by-step cloud-based platform after serving on numerous nonprofit boards.
"The current board that I'm serving on right now went into the bylaw development process, and we wanted to use bylaws from similar organizations in different cities as a starting off point.
"When we reached out to those organizations, they didn't have them."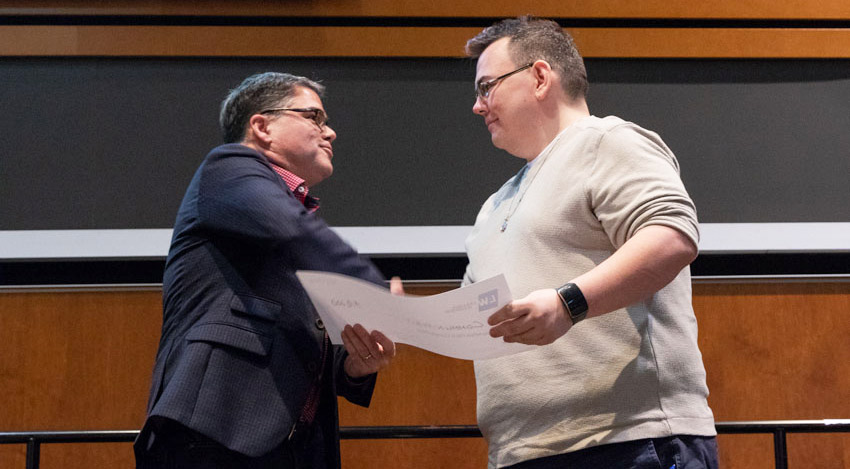 Eventually he began documenting everything as well as developed policy and procedures, and released those findings to other organizations. As Conner's work assisted these organizations in their growth and stability, naturally it made sense to develop his idea as a service, on a much larger scale.
With that, Community Kit was born.
Community Kit and Conner caught the eye of Ray DePaul, director of the Institute for Innovation and Entrepreneurship at Mount Royal.
"Community Kit is impressive because it solves a very real problem that anyone who has served on a nonprofit board has experienced. It's especially exciting because Will has not only experienced the problem, but has the skills to solve it," says DePaul, who served as a judge at this year's JMH LaunchPad.
As a veteran entrepreneur DePaul sees Community Kit's dedication to simplifying positive change as a golden user-friendly initiative.
"Will is doing all the right things. He has three nonprofits already committed to helping him design a solution that is perfect for his target audience. This is critical to ensure you provide a user experience that delights your customers. He has the support of CIS and business faculties, so he will get a lot of good advice."
In total the judges were treated to six incredible pitches by talented Mount Royal student entrepreneurs. The event continues to grow thanks to its quality reputation and was sold out, with 300 attendees now sharing stories about the incredible students at Mount Royal University.
Others recipients include:
Lobo Developments
$10,000 cash from JMH & Co.

$7,500 cash from the Busy Foundations
Connors Car Wash
$10,000 in Cash from JMH & Co.
Learn more about Mount Royal's Institute for Innovation and Entrepreneurship.
April 10, 2018 ― Jonathan Anderson
Media request contact information.
Have a story idea? Please fill out this form.