Mount Royal flies its colours at Pride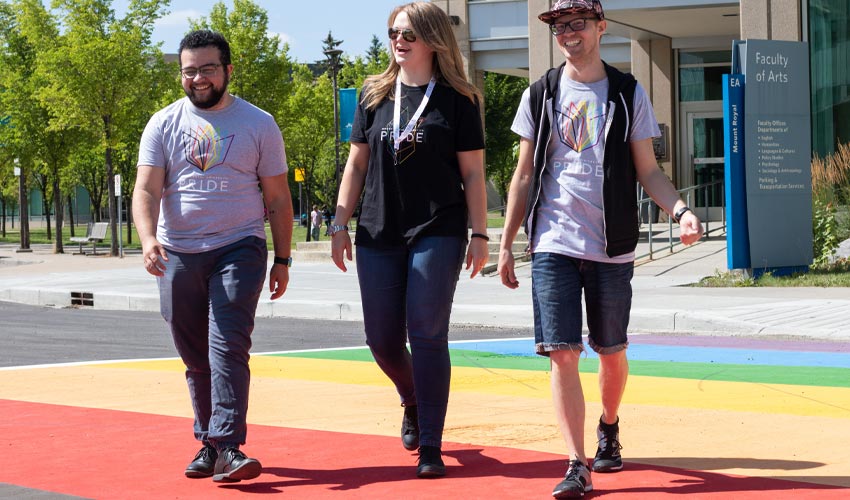 Taking part in the annual Calgary Pride Parade sends an important message about the core values of Mount Royal University.
President and Vice-Chancellor Tim Rahilly, PhD, says events like Pride provide an opportunity to showcase the University's diverse community, which includes LGBTQ+ people.
"Everyone needs to feel that MRU is a welcoming and inclusive place. As much as we all celebrate Pride - and even though the world has changed - I recognize that there remain people who are struggling with their identity," Rahilly says. "A positive representation of this community and campus is very important, especially for people of the age of our students."
Participating in the parade demonstrates - particularly to incoming students, young people and potential future colleagues - that a welcoming and inclusive learning and working community exists on campus. This year's parade on Sept. 1 marks Mount Royal's seventh consecutive year of participation. MRU is once again a proud Bronze Sponsor.
"Come join me. It's a chance to come out and be happy to walk with others from the MRU community while having a good time," Rahilly says. "This will be my first Calgary and Alberta parade and I'm certainly excited to meet members of the LGBTQ+ community and its allies."
Mount Royal was the first post-secondary institution to participate in the annual event. The University initially entered the parade as part of its Positive Space Initiative, a grassroots awareness and advocacy campus movement that has grown and evolved over the past 15 years to provide more formalized advocacy, awareness and education to the MRU campus community.
Mount Royal University is proud to participate in the 2019 Calgary Pride Parade.

Sunday September 1st, 11 a.m.

Join us! #MRU #YYCPridehttps://t.co/jZWCWOq5x0 pic.twitter.com/wYoQxblkqs

- Mount Royal U (@mountroyal4u) August 14, 2019
The University's participation is organized through Campus Inclusion and Meaningful Inclusion (CEMI). Faculty, staff, students, administrators, family and friends of multiple and intersecting identities are invited to walk together in solidarity. Fourth-year policy studies student and former students' association VP Academic Cordelia Snowdon will be there for her third consecutive year.
"My past experiences were amazing. It's great to get out there and see the community rallying and supporting the LGBTQ+ community. It's so awesome to see so many people attend," Snowdon says.
Like Rahilly, Snowdon hopes to see as many members of the MRU community at the parade as possible.

"I think it's really important that we show our support and that people come out and make it as much of a vibrant and lively event as possible, especially with a lot of the unfortunate things we've seen in the news recently," she says.

Calgary Pride Parade 2019

Sunday, Sept. 1 - please arrive at the MRU staging location for 10:30 a.m. (parade starts at 11 a.m.) Block R - #9 - located on Riverfront Avenue S.W., block between Macleod Trail and 3rd Street S.E.

Parking will not be available near the parade route or staging location. Participants are encouraged to use Calgary Transit. Parade is rain or shine (or even snow)! Please dress accordingly (remember to wear walking shoes), bring your own water and prepare to have fun!
For more information, check mru.ca/MRUPride.
Show your pride!
The Cougar Campus Store is selling 2019 MRU Pride shirts, at cost, for only $12.95. MRU Pride lanyards are also available for $2.95.
Aug. 20, 2019 — Jonathan Anderson
Media request contact information.
Have a story idea? Please fill out this form