Join the Mount Royal Pride Parade contingent Sunday, Sept. 2
Celebrating progress made, marching for what's left to do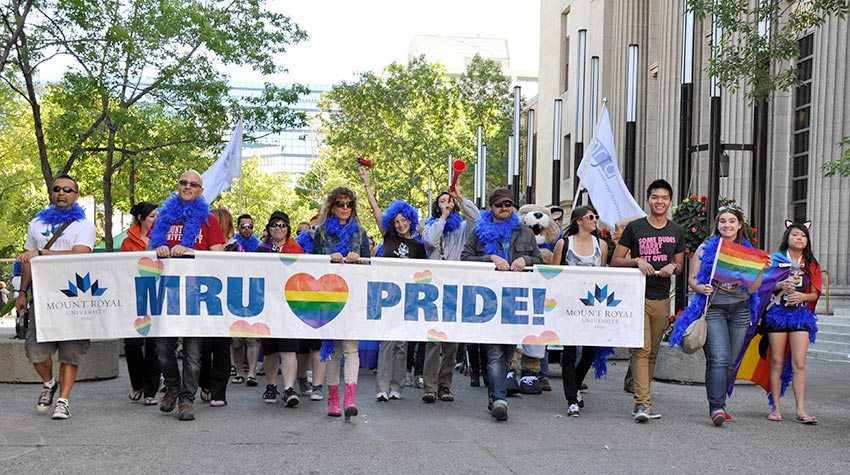 All the colours of the rainbow are set to fly as Mount Royal University readies to participate in its sixth-annual Calgary Pride Parade. Last year, over 200 people from the MRU community took part, and this year organizers are hoping for even more.
Calgary's Pride Parade draws over 60,000 spectators into the downtown core to celebrate acceptance, inclusion and community spirit each year. The University's initiative is being led by Mount Royal's department of Campus Equity and Meaningful Inclusion.
Attending his third Pride Parade on behalf of MRU is Eduardo Ramirez Padilla who came to Canada via Mexico five years ago. He has been employed with Accessibility Services as an administrative assistant for the past two-plus years, and originally began participating as a way of showing his dedication to equality.
"Not being from Calgary, it was important to me to be able to come to work as I am," Padilla says. "I decided to join the parade because everyone at Accessibility Services had been supportive so far and I wanted to meet more like-minded people on campus."
For Padilla the experience at his first Pride Parade was overwhelmingly positive. Seeing staff and students buoy each other up during a day of festivities was immensely meaningful. Padilla says many of the people he met that day have become some of his best friends.
Eager to march for the third consecutive year, Padilla says all are welcome.
"Definitely come say hi!" Padilla says. "Everyone is very friendly and welcoming, so come walk with us."
#MRU show your pride! Register to walk with us in this year's Pride Parade Sept 2 and get your tshirt #yycpride #MRUpride #inclusivecampus #youbelonghere https://t.co/izQWAfhClI https://t.co/4UQKKPlFnF

- Mount Royal U (@mountroyal4u) August 12, 2018
Another ally for the cause is Ray Hansen, who is returning to campus this fall for their third year of nursing studies. Hansen believes participation is both a privilege and a platform for all.
"It is an immense privilege to live in a country where I can publicly celebrate my identity and protest the injustices the LGBTQIA2S+ community has faced," Hansen says. "The first time I went to Calgary's Pride Parade I wasn't 'out' yet, but it was one of the best days of my life. Being surrounded by people who were like me, understood me, and celebrated who I am gave me a sense of freedom I hadn't known before."
Since then, the celebration of Pride has meant a great deal to Hansen, who sees support for their community as a common trend on campus. Hansen believes great strides have been made but there is more work yet to do.
"I am very proud to know that my university supports the queer community and provides a platform for its queer students. MRU has done good things ― raising the Pride flag was so important; however, there is still work to be done and I hope to see changes continue to happen."
Not exclusively limited to any single group or cause, Hansen hopes the parade will be a recognition of all those needing to be heard.
"Make space for the people that are not cisgender, able bodied, or neurotypical, and for everyone who is a person of colour, or wearing religious attire, or a sex worker. Whichever way people choose to present themselves and their appearance needs to be celebrated and respected."
On Aug. 28, Mount Royal's official Pride crosswalk will be unveiled, permanently painted in the Pride colours. All are invited to head over to the crosswalk between the Faculty of Arts building and the Riddell Library and Learning Centre on the east side of campus at 11:30 a.m.

This celebration of diversity and inclusion takes place during Calgary Pride, which runs from Aug. 24 to Sept. 3. The painting of the crosswalk was done and donated by Zoom.

It will be a great day, starting with the Fall Address, the unveiling of the sidewalk and finally guests can visit the food trucks and check out the Riddell Library and Learning Centre's Open House.
Aug. 20, 2018 ― Jonathan Anderson
Media request contact information.
Have a story idea? Please fill out this form.