Aviation program calibre recognized with high-flying opportunity
Sunwing Airlines signs partnership agreement with MRU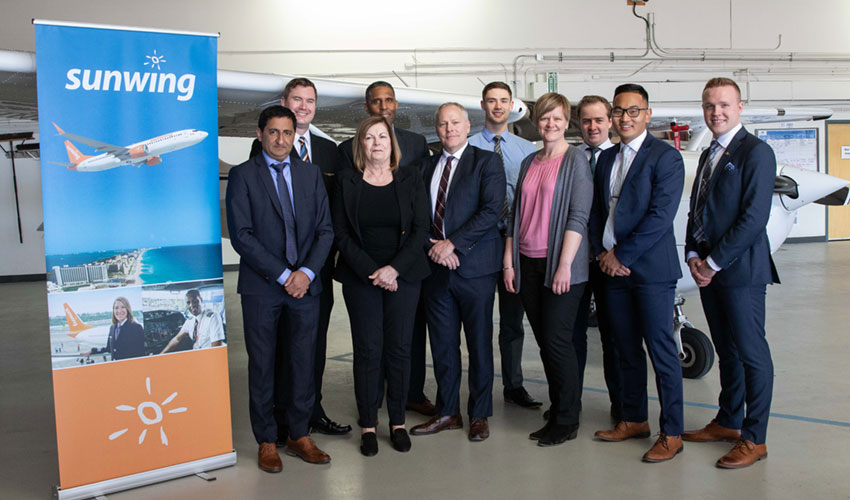 A March 21 announcement of a new partnership between Sunwing Airlines and Mount Royal University's aviation program will allow students' careers to take of in the right direction. The first graduates will be hired this summer.
Mount Royal is the latest university that the airline has partnered with, and the first in Alberta, as part of its direct entry cadet program.
"With today's signing, we are ensuring we keep this talent here by providing graduates with meaningful employment in Canada," said Elizabeth Evans, PhD, dean of Mount Royal University's Faculty of Business and Communication Studies, which includes the aviation program. "Up to two of our graduates are only weeks away from the tremendous opportunity of joining Sunwing's cadet program. This is a testament to the strength of Mount Royal's aviation program. Sunwing believes graduates have the right skills, knowledge and attitude to become first officers."
Sunwing already has agreements in place with both the University of Waterloo and Seneca College in Ontario and has hired 24 graduates since the program was established in 2016.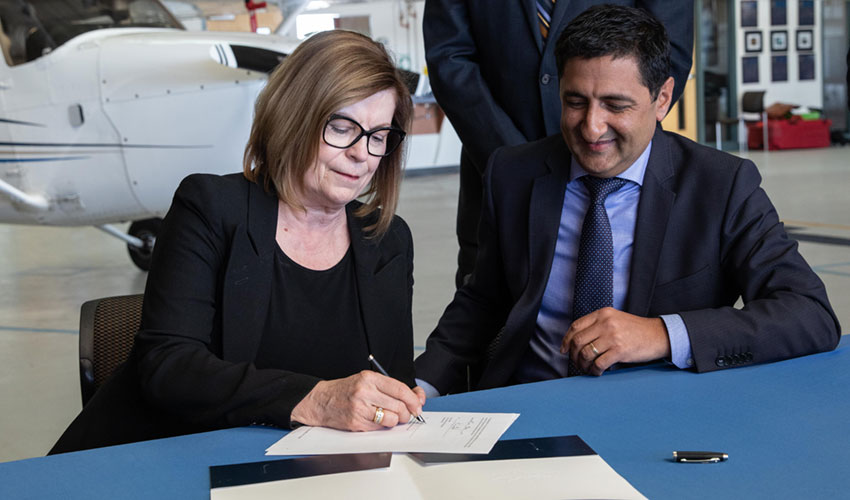 "The decision to incorporate Mount Royal into our growing cadet program is a reflection on both their strong track record within the field of aviation education and the calibre of their graduates," said Piyush Gandhi, vice-president of Flight Operations for Sunwing. "We have had an extremely positive experience with the pilots that we have hired already through our cadet program and we have no doubt that this new partnership - also the first to be established outside of Ontario where our airline is based - will be a strong success."
The Mount Royal Aviation Diploma stands out as it offers students the opportunity to graduate with both the academic qualifications and the in-flight training needed to become a commercial airline pilot. Alumni have an average employment rate of 98 per cent. Once licensed to fly commercial jet aircraft, the new hires will follow Sunwing Airlines' continuous program of line indoctrination and receive mentoring to ensure that they achieve their career goals. Overall, the airline plans to hire between eight and ten new first officers from its cadet program this coming year.
Aviation alumnus (2002) and Sunwing pilot Jeff Binks told students he loves his job and the opportunities it affords him to travel. Sunwing pilots can even deploy to Europe in the summer as the airline shifts its focus to European travel. This year, Binks, who has been with Sunwing for 10 years, will be based out of Dublin, Ireland for four and a half months
During a ceremony at the Mount Royal University campus at the Springbank Airport, Binks was credited with pushing for Sunwing to include MRU in its cadet program
"I was a graduate of the program in 2002, and the one thing I've always loved even as a student was it was a large school with the heart of a smaller one. I became quite close to my fellow students and developed a great relationship with the faculty and the school. As I went into my career, that always stayed with me as an alumni," Binks said
"I was very vocal in encouraging them to look into Mount Royal and see the talent that we have in Calgary and Western Canada. It was an easy sales job because the reputation of the Mount Royal aviation program proceeds it. They were able to look into what the program offers and the calibre of the students and jump on board pretty easily."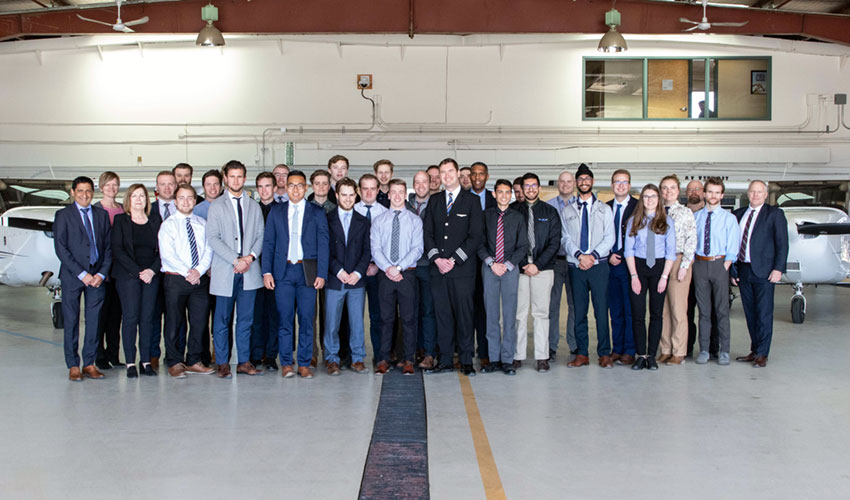 Aviation student Koji Seki said the partnership offers a great chance for students to get a jump on their career, especially with the opportunity to move directly to a commercial jet.
"Personally it's extremely exciting, the opportunity Sunwing presents, the opportunity to travel as well, it's really appealing," Seki said. "This would be number one for me. All the scholarships we have are great but to have a wider spectrum depending what kind of flying you want to do is really nice."
The largest integrated travel company in North America, Sunwing has more flights to the south than any other leisure carrier, with convenient direct service from over 33 airports across Canada to over 45 popular sun destinations.
Find out how the Aviation Diploma can help your career take off.
Find out more about career opportunities with Sunwing Airlines.
March 21, 2019 ― Peter Glenn
Media request contact information.
Have a story idea? Please fill out this form.