Life-saving naloxone kits available at Wyckham Pharmacy
Push for kits to be in the hands of users, plus friends and family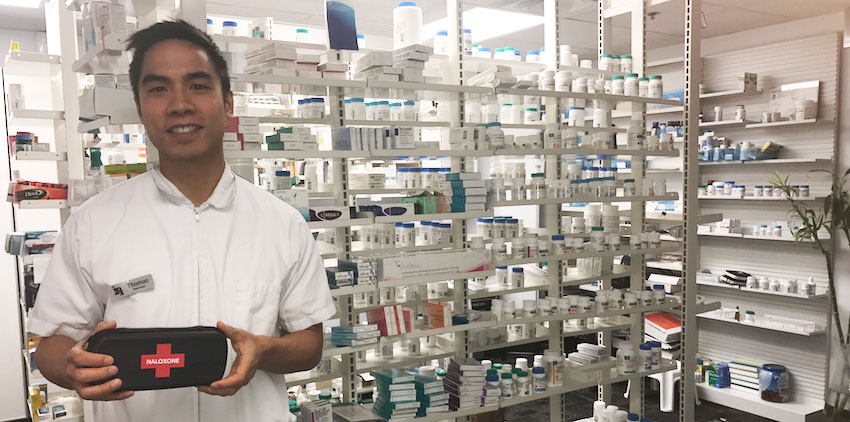 The statistics are grim: every day, 11 Albertans are taken to emergency rooms due to opioid overdoses. And the fastest growing group in that population is people aged 15 to 24.

As a post-secondary institution, Mount Royal University is home to "naïve users" of opioids, mainly people aged 18 to 24 who aren't aware of the dangers and inherent risks of using the street drugs, says Francesca Simon, Wellness Services administrator. As part of the harm-reduction strategy on campus, naloxone kits are available free of charge at Wyckham Pharmacy for anyone who wants one.

"Drug use in our communities is truly a crisis. Fentanyl is a grain of salt that can kill you. This is the age when young people experiment with all kinds of things," Simon says. "These are our brothers, our sisters, our children, our grandchildren. These are people that are just experimenting and naïve users of drugs. They may not know that they are at high risk for using a drug that may have been laced with an opioid, like Fentanyl."

Since December 2016, 70 naloxone kits have been distributed at MRU by Wyckham Pharmacy. While Alberta Health Services initially made the kits available to self-identified users, the push is now on to get them into the hands of colleagues, and friends and family of users. Each kit contains three doses of the drug that counteract the effects of an opioid overdose, says pharmacist Thomas Yeung, the owner/operator of Wyckham Pharmacy on the lower level of Wyckham House.

"I'm seeing the whole spectrum: people who are active users to people who want to have it just in case, but don't know much about it," Yeung says. "It is really straightforward. You just have to be comfortable with it. I think people like to know the steps involved."

When someone requests a kit, Yeung takes down their information. He points out that since naloxone is a controlled substance, records do need to be maintained.

"But it's not meant to track who it's given to, it's more that it is given," he explains. "And there is a procedure if someone doesn't want to give their name, too, which makes them anonymous in the system."

Then, Yeung explains what is in the kit and how to use it. The zip-up case contains three doses of naloxone, three syringes, gloves, a facemask and some alcohol wipes. There's also a pamphlet with instructions. The whole process takes about five to 10 minutes, Yeung says, depending on the person's knowledge level.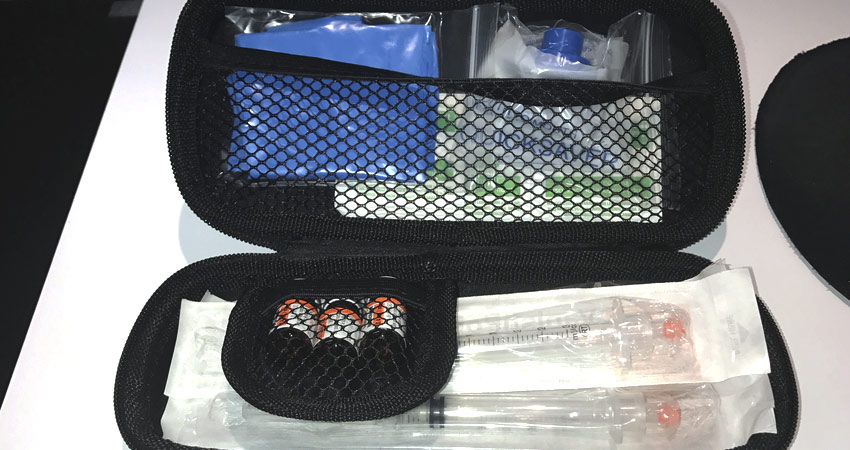 At least 2,458 people died from opioid overdoses in Canada last year, according to the federal government. In the first three months of 2017, there were 51 deaths due to fentanyl overdoses in the Calgary region alone. Alberta, which has a higher-than-average death rate, saw 363 deaths due to fentanyl in 2016.

Raising awareness on the dangers of illegal drugs and the availability of naloxone kits are key steps in battling those statistics. "Get it, carry it, use it" posters around campus promote the free naloxone kits, Simon says. During the recent New Student Orientation, student guides pointed out the pharmacy and the availability of the kits during campus tours. And there are plans to train those who work with students - such as resident advisors and resident life coordinators - in how to administer the life-saving treatment.

"It's unlikely that someone is going to overdose during the day. It's more likely that they are going to overdoes in the evening when they're partying or on the weekend," Simon says. "It was very important that our security officers had it on themselves when responding to calls."

Approximately 15 members of MRU's security department are trained in how to administer naloxone (or NARCAN, the nasal-spray equivalent) and carry kits with them on duty. The Students' Association of Mount Royal University (SAMRU) supports the efforts to keep students safe.

"I am fully in favour of the kits being available and people being trained on their use," says Marcy Fogel, executive director at SAMRU. "Like it or not, drug users are a part of our society and with overdoses becoming more prevalent, at least some of our front-line employees should be prepared in the event they come across someone who has overdosed."

Find out about Wellness Services on campus.
Sept. 19, 2017 ― Ruth Myles
Media request contact information.
Have a story idea? Please fill out this form.