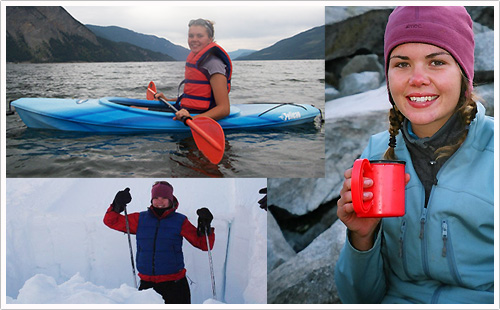 Mount Royal's 2009 valedictorian, Meghan Stalker, has set the bar high for future students with her exceptional commitment to her studies and her dedication to bettering the community around her and impacting future generations of Albertans and Canadians.
"It's certainly a humbling experience," says Stalker on learning she was named valedictorian. "My time at Mount Royal gave me direction, taught me how to be a good leader and helped me discover my personal strengths."
The journey that brought her to Convocation began on the other side of the world. As a free-spirited 19-year-old, Stalker embarked on "the most unplanned travelling trip ever." Her spontaneous nature took her to exotic spots like Thailand, Australia and New Zealand. By the end of her year-long adventure, Stalker had discovered her passion for the outdoors and a desire to teach.
"I started to see the world and I definitely went on a lot of guided tours led by knowledgeable individuals and thought: 'Hey, I could be that person,'" says Stalker.
Well-rounded student
The 24-year-old St. Albert native was accepted into Mount Royal's Bachelor of Applied Ecotourism and Outdoor Leadership (ETOL) program in 2006, where she excelled both in and outside the classroom.
"Meghan is truly a top-notch individual," says ETOL Program Coordinator, Allan Derbyshire.
"In addition to her outstanding academic achievements, what sets her apart is her compassionate spirit and willingness to take on new challenges, whether it's participating in physically demanding wilderness expeditions or leading volunteer initiatives."
Stalker says that her experience at Mount Royal was so much more than just the classes.
"In the ETOL program we had a million opportunities to volunteer our time or work on special projects in the community." Special projects like volunteering at Vincent Massey Junior High School, which Stalker has done for the last three years.
Setting a good example
During her time at the junior high school Stalker helped develop outdoor education classroom programs and led students on a backpacking trip to the west coast of BC. She also found time to help Scouts Canada develop a survival program, volunteered to help engage adults with disabilities in outdoor pursuit programs with Prospect Calgary, and even worked with a group of Grade 9 students to organize a sustainable living workshop that was presented at Mount Royal's annual Youth Conference for Sustainability.
Stalker also serves as secretary on Mount Royal's ETOL Alumni chapter - and that's just listing a few of her extracurricular efforts. Stalker plans on returning to Mount Royal to pursue her studies with an eye on education.
"Ideally I would like to work with youth and teach them to become stewards of our environment and educate others how to appreciate nature and love the outdoors as much as I do."
- Jondrea De Ruyter
June 1, 2009
Links
Bachelor of Applied Ecotourism and Outdoor Leadership
Faculty of Health and Community Studies
Bachelor of Education - University Transfer
Mount Royal Climbing Wall
Coverage of the June Convocation ceremony