Nursing student learns from experience
Simulation Learning Centre provides the necessary confidence and skills for difficult situations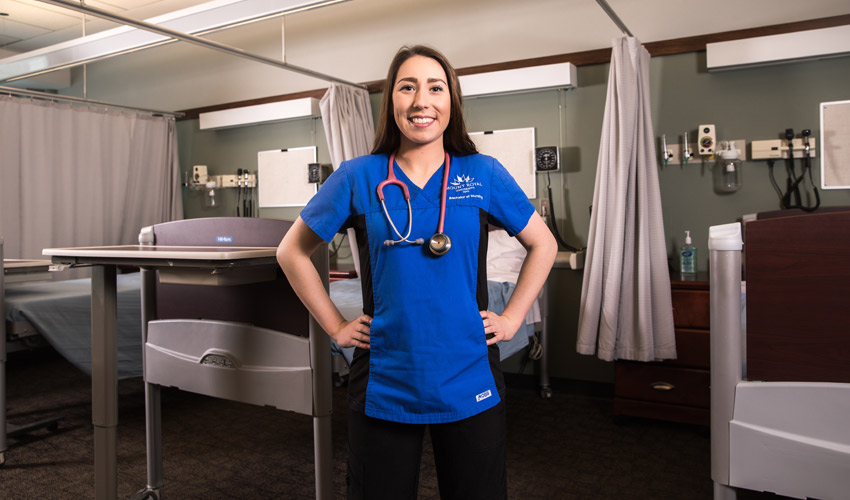 She remembers it well. In fact, she's positive she won't ever forget it.
In June 2015, Mount Royal University nursing student Erika Koch witnessed a horrific hit and run leading to the eventual tragic passing of Maryam Rashidi.
It was Rashidi's third day on the job as a Centex gas station attendant in the city's northwest. The mother of a then six-year-old, she had taken the position when laid off from her engineering position in Calgary's oil and gas industry. After witnessing a gas-and-dash she bravely attempted to stop the driver, but was cruelly run over, and died of her injuries two days later.
In 2017, her killer was sentenced to 11 years in prison.
At the time, Koch was between her second and third years of her Bachelor of Nursing. She has now completed her fourth year and her final focus. She had found summer employment at the 16 Avenue Home Depot garden centre nearby, and says, "I vividly remember hearing the individual getting hit by a car, and the sound of high-pitched shrieks.
"And then viewing a perfectly still body lying in the middle of a busy street."
Immediately, Koch ran from the Home Depot parking lot towards the motionless victim. She had completed a refresher CPR course one month prior, where her and other nursing students went through emergency life-saving scenarios together.
"I remember talking about the fight, flight, or freeze phenomenon."
In this real-life scenario Koch was compelled to act. She saw a woman lying face down, with cars rushing by, some beginning to swerve around her to view the scene. Quickly she tried to gather a million spinning thoughts. "Okay, Erika, what do we do in this situation? What comes first?" she thought.
With her mind racing, Koch analyzed the situation, "Do I start CPR? But she's lying on her stomach, in practice they're always lying on their back, do I flip her over? But she has blood coming out of her mouth, will I make it worse if I touch her? Why is there so much blood?"
As her heart beat rapidly, she looked down at the body, quickly scanning the chest for any signs of movement to indicate breathing. A man approached to help, placing the woman's head in his lap. Koch bent down over Rashidi to check her radial artery. Nervously, she announced her title.
"I'm a nursing student, what should we do? I don't think there's a pulse."
A woman stopped and identified herself as a doctor. An ambulance arrived, and in the ensuing commotion Koch left the scene.
Understandably overwhelmed at the time, Koch feels that the courses she has taken since that terrible day have further prepared her to be more confident in her ability to respond. She believes that the practical experience she gained over the final two years of her nursing degree set her up to react differently.
"I have the knowledge, tools and confidence to act appropriately in a situation like this should it happen in the future. That being said, I still believe that the response to a scenario like that is hard to predict and prepare for."
Koch left the scene of the crime feeling concerned, confused and helpless. Since then, theoretical knowledge and practical experience gained via clinical rotations and work in the nursing department's Simulation Learning Centre has assisted in her understanding why she responded the way she did.
The Simulation Learning Centre is designed to prepare students for real-world circumstances in a safe environment. The immersive and controlled learning experience allows students the ability to repeat, speed up, or slow down the simulated situation.
The "Sim Lab," as it is called, also offers students the ability to train in independent decision-making, enabling them to begin to embody the role of the practitioner. After each session there is a debrief, allowing for a fulsome and non-judgmental review of the students' performances.
"When learning in simulation, there is the ability for students to practise with their peers on the same patient case, which provides the opportunity to learn from multiple perspectives. Each student can bring different opinions, personal and professional experiences into the scenario and share them with their peers," says Shelley Jeske manager, Simulation Learning Centre School of Nursing and Midwifery.
"Students learn through observer roles as well as the active student role, and bringing those perspectives together provides for a richer understanding."
Students participate in Simulated Clinical Experiences (SCEs), which are realistic scenarios or cases that they would encounter in the clinical setting. "These engaging scenarios bring together the knowledge and theory learned from lectures with the technical skills learned in their labs alongside the attributes and behaviours necessary for their professional roles," Jeske says.
Currently Koch is placed on Unit 49, a medical cardiology inpatient unit at the Peter Lougheed Centre. To date, she has witnessed multiple "codes," or cardiac arrests. Expanded and alternate experiences in the SIM lab have given her confidence and knowledge of what to do when a patient is unresponsive, but still has a pulse.
"I know from clinical experience, and experience in the SIM lab, what to expect now. From experience in SIM lab, I also know to record everything so that we were able to report to the code team and tell them about the situation."
Preparation, experience and confidence is something Paula Price, PhD and interim director for the School of Nursing and Midwifery says benefits Mount Royal grads when they enter the work force.
"Through simulation, learners are engaged in the realities and complexities of the health care system enabling the ability to practise skills, work on genuine clinical problems, make real time clinical decisions, synthesize information and reflect on practise in a safe learning environment," says Price.
"We prepare our nursing graduates to be knowledgeable, competent, ethical, caring nurses who are ready to work as practitioners in variety of health care settings across the life span."
Student-centred learning is the mandate of Mount Royal's School of Nursing and Midwifery.
April 9, 2018 ― Jonathan Anderson
Media request contact information.
Have a story idea? Please fill out this form.