Off-campus commitment creates lasting bond
Bachelor of Education teacher candidates exchange knowledge with Nakoda Elementary School students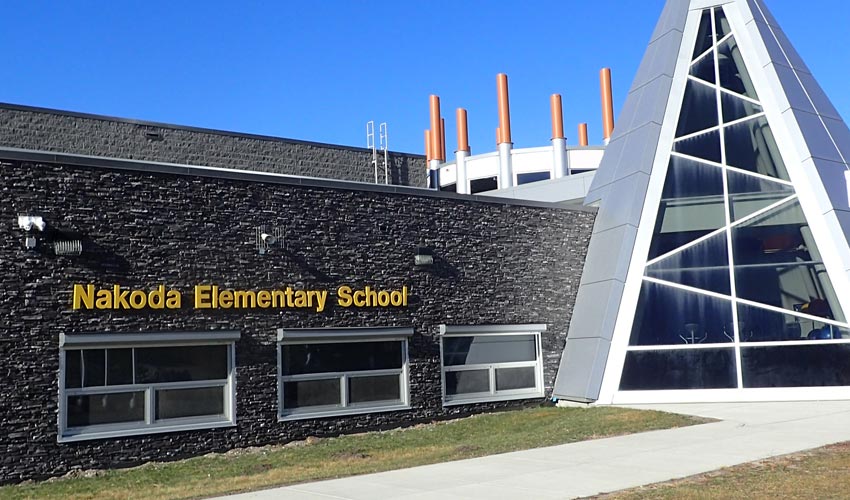 Earlier this semester, 79 third-year Mount Royal University teacher candidates hit the road for some off-campus, in-classroom practical learning experiences. The Bachelor of Education — Elementary (B.Ed.) students spent a day facilitating science, technology and math lessons at the Nakoda Elementary School (NES) in Morley, with 160 elementary students from Grades 2 through 5 interacting with Mount Royal's soon-to-be elementary educators.
The initial concept for the day-trip was developed by Professors Gladys Sterenberg, PhD, integrated curriculum director for the Department of Education, and Norm Vaughan, PhD, an educational technology professor also with the Department.
In recognition of Mount Royal's dedication to reconciliation and relationship-building, the day's activities proved to be meaningful as well as informative. Students and MRU faculty worked directly with NES representatives on all pre- and post-planning for the experience, which included a debrief session with NES students, staff and elders the following day on the Mount Royal campus.
"From my perspective, this was an example of a true partnership where everyone had an opportunity to learn from each other," Vaughan says.
The day began with an acknowledgement from the Stoney Nakoda Education Elder Duane Mark. Throughout the morning, teacher candidates worked with students in STEAM disciplines (science, technology, engineering, the arts and math), connecting theory with practice in an actual K-to-6 classroom setting. Together they constructed devices that could be used to keep an ice cube cold, and built other structures that would warm up a brick.
The BEd students are now currently in their five-week practicums, but many plan to maintain their connection to NES as a regular commitment. They also plan to continually question their own frames of reference to ensure they are always cognizant of potentially passing on outdated ideologies.
The following day's debrief at MRU saw Elder Duane Mark focusing heavily on the importance of the Stoney Nakoda language and the need for people who are working in the community to learn it and try to incorporate it into daily lessons as much as possible. Another important issue discussed in the debrief is that educators may need to rethink what they know about Canadian history from a First Nations perspective rather than the Eurocentric view that has been taught in outdated educational settings.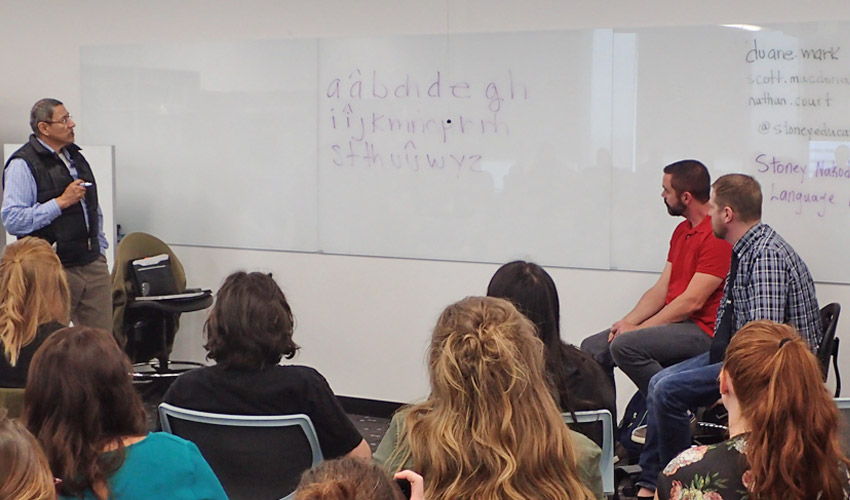 "This was the most enlightening teaching experience I have had," says teacher candidate, Ashley Williamson.
"The school was absolutely beautiful because of the hearts and trust that it is filled with. It was so powerful to see how this school is a home and safe place to many of the students because of the amazing staff that has formed those student-teacher relationships. This opportunity to teach at Stoney Nakoda was unbelievably inspirational."
BEd teacher candidate Tanya Gabel, who also took part, says, "The experiences that I have had over the past two days had a huge, positive impact on me. I am feeling energized and so thankful to be where I am, and to have had the opportunity to experience this with those students."
The day was not only positive, but beneficial to students who don't normally get to interact with so many teachers at one time. Scott MacDonald, a Grade 3 teacher at NES, says many of his students who are usually shy in large group situations displayed more confidence within the personalized learning setting. He also praised the teacher candidates for their organization and great planned activities. But for him, the ongoing relationship between Mount Royal and his school is the most important outcome.
"NES is very happy to provide an opportunity for the students at MRU to come to a First Nations community and to see firsthand how amazing our school is. We feel it is important for student teachers to understand that there are career opportunities in First Nations communities across Canada, and they can provide some amazing life experiences for people who are open to them," he says.
But the main impact of the day seems to have come through the community itself, which Mark says he feels privileged to be a part of. "My experiences in working in a small community have been very powerful for me personally. It is a true honour to be welcomed into the community."
The Bachelor of Education ― Elementary program at Mount Royal University places students in classrooms their very first year.
Dec. 4, 2018 ― Jonathan Anderson
Media request contact information.
Have a story idea? Please fill out this form.