Olympic symposium frames debate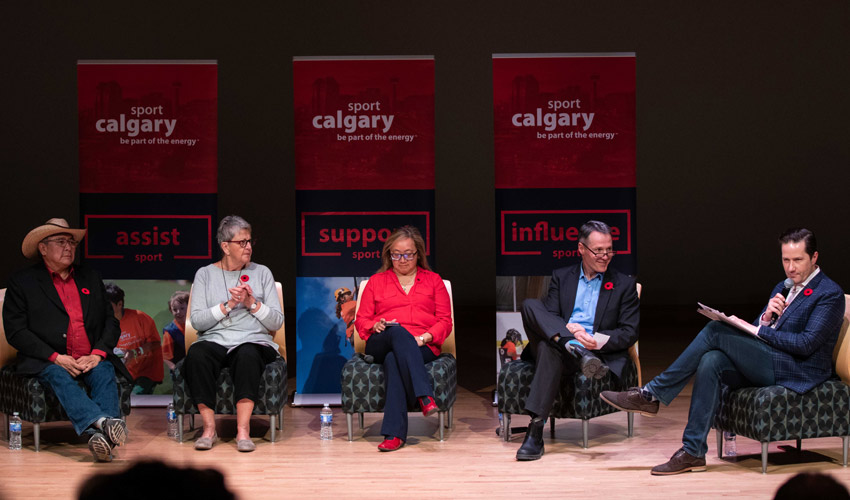 Making an informed decision when it comes time to vote on bidding for the 2026 Olympic Winter Games was the focus of a public forum hosted at Mount Royal University on Nov. 1.
Proponents of the "yes" and "no" sides, as well as at least one fence sitter, presented their thoughts at the 2026 Olympic and Paralympic Symposium, the morning after Calgary's city council moved forward with a plebiscite on hosting the Olympic Games.
"The Olympics are a means to an end. We need to have a clearly defined goal of what we want Calgary to look like in 2040," said Professor David Legg, PhD, chair of the Department of Health and Physical Education at Mount Royal, in the opening remarks. He and marketing Professor David Finch, PhD, organized the event with "yeoman" support from students Stefan Wright and Brody Norton, and alumni Ethan Green.
The event at the Leacock Theatre featured three panels with speakers discussing a vision of Calgary with and without the Games; the economic costs and benefits of hosting; and the positive and negative impacts of hosting in 2026. Each speaker had four minutes to address their topic and the floor was then opened for questions from the audience.
While there was discussion around the financial pluses and minuses of hosting the Games - and how reports can be tweaked to accomplish a desired answer - much was made of the intangible benefits that could accompany a winning bid: civic pride, increased awareness of Calgary on the world stage, more visibility for disabled athletes and the promotion of sport.
"I feel that we are struggling to figure out who we are. We are a city with an empty downtown. A city that gets frustrated because we seem to always be battling," said former Olympian and Calgary Bid Exploration Committee member Catriona Le May Doan. "Let's get together and talk about things … It takes a bit of work to inform ourselves, but that is what's needed."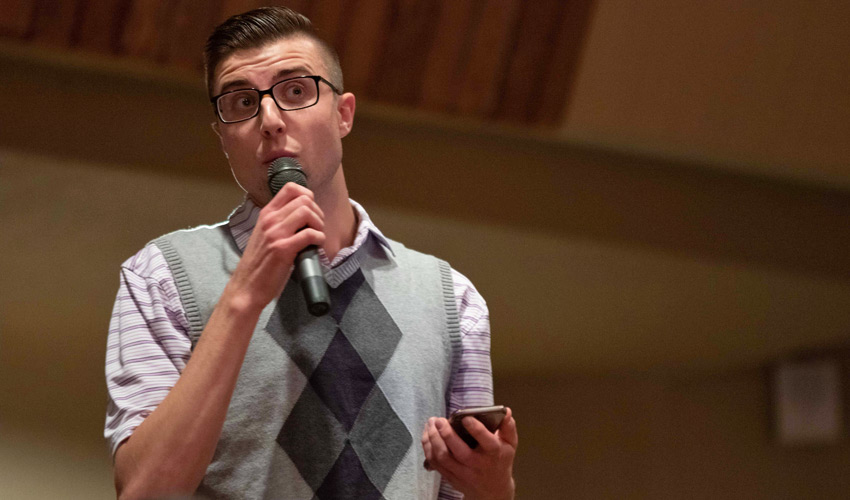 However, some, including Lois Appleby, CEO of the 2000 Sydney Paralympics Organising Committee, cautioned against investing too heavily in things that can't be measured. She cited phrases that have been part of the "yes" side's pitch.
" 'Immense possibility.' 'Best chance for economic revitalization.' 'Nation-building.' Really? Do we really think that people understand that?" Appleby said. "With a mega-event, there is the opportunity for the needs of the groups that don't have the presence or the polish to be forgotten … It can be a bit of a vacuum and collect all of our energy, our public dollars."
That's one of the major sticking points for Erin Waite, organizer of No Olympics Calgary.
"What is it that we aren't doing if we are pursuing being a host city?" Waite said. Referencing then Premier Peter Lougheed's move in the 1970s to bring together public and private money to create innovation in the energy sector, Waite said, "It would take time. It would be a risk. But it (investment in innovation) would truly benefit our city long-term. That gives a reason for our kids to stay. It would go so far beyond a single event."
A longtime community builder in Calgary isn't daunted by the prospect of the city biting off more than it can chew. Terry Rock, president and CEO of Calgary Technologies, Inc., said that being able to tout Calgary's Olympic status (once again) would be a big selling point when he is trying to get international start-ups to set up shop here.
"The costs (of the Games) are challenging, but I would like to be a city that is not a great city, but a city where great things happen," Rock said.
Rock also said that a winning Olympic bid could mean a big boost to the long-term health of the tourism industry, as well as a "huge opportunity" to position Calgary as the international hub for winter sport technology.
Professor Julie Booke, PhD, who coordinates the sport and recreation management program, sat in the audience along with students from her project planning course, other faculty, staff and members of the public.
"I think it's important for students to be informed about such a massive decision. To have this here on campus is really beneficial," Booke said.
Rebekah Pritchard and Sonja Larison, students in the sport and recreation management program, volunteered at the event, gaining insight into the behind-the-scenes planning and work required to stage the symposium. They were also able to take in the information presented.
"It's interesting to see how these events are put together," Larison said. "We've heard about this for weeks. It's important to give us a voice in this decision."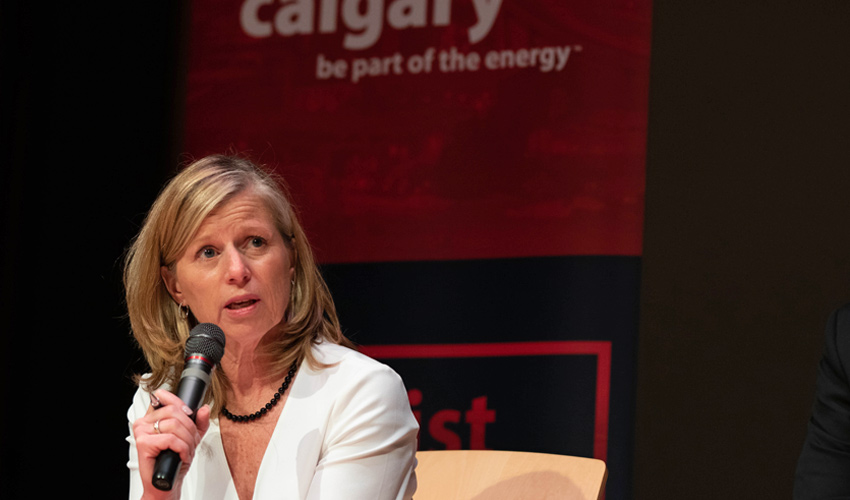 Something that people should consider in making that decision has been largely missing from the dialogue, said Patti Pon. In her two and a half years as a member of the Calgary Bid Exploration Committee, Pon said it was mostly radio silence on culture and education, two of the three pillars of the Olympic Games.
"That was discouraging to me because those are the things that we remember," said Pon, president and CEO of Calgary Arts Development. "You can't tell me who won the biathlon in '88 but you can tell me about Eddie the Eagle. You can tell me about that song by David Foster, about the coats designed by Sunice."
Citing our position as the third most ethnically diverse city in Canada, she also called on everyone to make sure all residents are part of "a renewed identity for Calgary."
"I play a game when I go to public events where I count the number of people who are visible minorities, like me. Usually, it's me and the mayor," Pon said. "I usually can't get past two hands and I can't get past two hands here … Diversity is our greatest strength, not our weakness. We haven't done a good enough job promoting that."
The Paralympic Games presents a unique opportunity to increase accessibility, said Legg, past-president of the Canadian Paralympic Committee.
"Potential benefits could be an increase dramatically for both mobility and psychological factors. In Tokyo (which is hosting the 2020 Summer Games), they've mandated that more hotel rooms need to be accessible," Legg said. "A second advantage is increased media coverage of those with disabilities so they become part of the narrative … and you could also see an increase in inclusion for things like hiring."
Building relationships with the wider community is one of the factors that led Treaty 7 First Nations to endorse a bid, said Chief Lee Crowchild of the Tsuut'ina Nation.
"We thought about, 'What is the outcome?' It is the progression of dialogue between the City of Calgary and all the Treaty 7 and beyond. We need to do that," Crowchild said. "We need to think on the global level of the impact of what we are doing, rather than who is on what side."
Advance polls for the Calgary 2026 plebiscite will be held on the second floor of Wyckham House Nov. 6 from 11 a.m. to 5 p.m.
Nov. 1, 2018 — Ruth Myles
Media request contact information.
Have a story idea? Please fill out this form.