Mount Royal launches new, technology-rich identification cards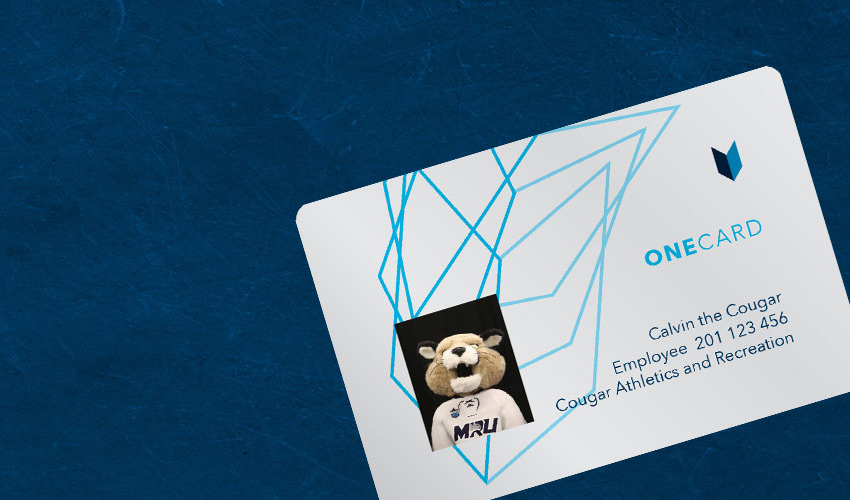 Mount Royal University students and staff are getting new identification cards that provide increased flexibility and functionality.
The OneCard comes with added features that expand the capabilities of an ID card, says Neil Wedin, director, Retail Services.
"I call it an 'amped-up ID card' because it can do so many things. For example, labs will be secured and you will need your OneCard to access them," Wedin says. "The OneCard allows us to fully integrate MRU and allow users more access to services, including on-campus purchases and door access."
The OneCard - which replaces the previous MRU ID card - is your official Mount Royal identification. It has a magnetic swipe barcode and a contact-free (tap) function. The swipe is used for Cougars Athletics and Recreation access and at the Library. With a validation sticker, it serves as students' UPass on Calgary Transit. The contactless chip lets users tap and go at point-of-sale readers at locations such as the Cougars Campus Store and The Table. By the end of fall, many University food services outlets (excluding Wyckham House) will accept OneCards. More locations are coming soon.
How to get your OneCard
Your OneCard pickup location is at the Cougars Campus Store. Check the Cougars Campus Store website for the most up-to-date hours. Bring your old campus card to swap out for the new one. If you don't have your campus card, bring government-issued ID.
New students
Go to

mru.ca/photo.

and click on "Sign In"


Choose your mtroyal.ca account

Go to "Profile" at the top of the page

Click on "Click to Submit a New Photo"

Take or upload your photo

Click "Submit for Approval"

Check your MRU email to make sure the photo was approved. (This could take up to one business day.)

Please ensure that your photo meets the requirements. More information can be found on the

FAQ page.



Three business days after submitting your photo, your OneCard will be available for pick up at G100.


Go to the Returning Students line. Have your MRU ID number and one piece of government-issued photo ID that is in English.
Returning staff and faculty
OneCards were delivered to offices across campus in August. Administrative assistants and point people distributed cards.

If you do not have your OneCard, please pick it up at the Security office at West Gate.

If you have questions or problems with access, call Security Services at 403.440.6897.

Casual employees need to have their cards replaced in the temporary OneCard office in G100. Please follow the process outlined for new students above.

Cards will be processed in G100 until Sept. 13. As this is a new system, there might be some hiccups during implementation, Wedin says, asking for patience during the transition period. Starting Sept. 14, the OneCard office will be located in the Cougars Campus Store.
How to load your OneCard
The OneCard - which is yours for life - displays your name, staff/student identification number and photo. You can load funds onto your OneCard and check your balance by:

logging into your myMRU account. See the OneCard button in the top right-hand corner


visiting

mru.ca/FlexDollars



going to the OneCard office: G100 through Sept. 13, and in the Cougars Campus Store starting Sept. 14

Treat your OneCard like a credit card and freeze your account if you misplace it. This can be done online via the OneCard portal on myMRU.ca, through Security or at the OneCard office. Information stored on the OneCard is encrypted using standard MIFARE Classic encryption. In addition, the data blocks of the contactless chip are encrypted using AES-256 encryption using a separate security key from the one used to encrypt the card itself.

"Eventually, we hope that the OneCard will integrate parking, events, classroom attendance and more, possibly on a phone-based app," Wedin says.
OneCard replacing PCounter stations
OneCard will be the one form of payment at all print stations that utilize a Pcounter. All previous Pcounter totals will be transferred onto your new OneCard. The Library is keeping the cash stations for now, as to avoid any service interruptions. The goal is to remove them by November.
Visit the FAQ page for more information on the OneCard program.
Aug. 27, 2019 — Ruth Myles
Media request contact information.
Have a story idea? Please fill out this form.