Online learning at Mount Royal a 'life-changing' experience
Flexibility, convenience allowed continuing education student to fill skills gap on her resume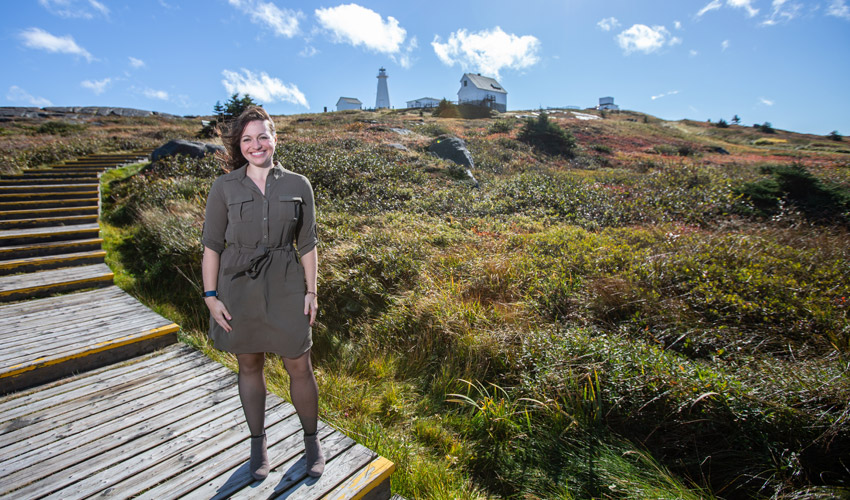 Jennifer Kelly couldn't find work in the field she was passionate about, despite having two degrees.
Kelly, a resident of St. John's, Nfld., talked with her father about trying to break into curriculum development and instructional design.
"My dad owned his own business and he had also completed a practical lab science program. He said, 'Maybe you need something more hands-on with practical application to complement your degrees and then maybe things could break for you,' " Kelly says. "And he was right."
While in the midst of completing her Curriculum Development and Instructional Design Extension Certificate at Mount Royal University via online learning, Kelly applied for a job in her chosen field. She'd applied for the same position two years before, but didn't get an interview. This time, she did.
"I had knowledge and insight and experience just from completing the first four courses. I could handle myself competently in answering the questions. I got the job," she says. "It all traces back to the program. It's impressive-looking on the resume, but it gave me the perspective and knowledge I would not have had without it."
Kelly enrolled in the Continuing Education program at Calgary-based Mount Royal after extensive research, despite it being more than 6,100 kilometres from her home. The Curriculum Development and Instructional Design Extension Certificate is one of more than 30 certificates and diplomas offered entirely online by the university. Initially, the 38-year-old wasn't sold on the idea of online learning. Her experience at Mount Royal changed that.
"When you are looking out into the black hole of online learning, the personal interaction is critical. And Mount Royal really delivers with that. Whether it was the instructor or admin, they were always professional and always engaging. They cater to the learner. This, by far, is the best program I have ever done," says Kelly, who now works as a curriculum developer for the Royal Newfoundland Constabulary.
"I literally owe my career to Mount Royal University. From start to finish, the experience was exceptional."
The relationships students build in their online learning are a valuable part of their Mount Royal experience, says Dimitra Fotopoulos, program director with the Faculty of Continuing Education and Extension at Mount Royal University.
"Continuing education allows people to start their next journey, and our community really embodies that, whether you're learning online or in a classroom," Fotopoulos says. "We're committed to providing high-quality, engaging, interactive learning opportunities that meet the needs of our students. Being able to further your career development with the convenience of online learning is included in that commitment."
From neonatal nursing to project management, social media to business analysis, the online course materials are tailored to the demands of industry. Relevant skills and practical knowledge are rounded out with a variety of online tools, including group discussion boards and other virtual interaction opportunities.
"I literally owe my career to Mount Royal University. From start to finish, the experience was exceptional."
Like Kelly, online learners come from a variety of backgrounds and prior learning experiences, creating a vibrant virtual community focused on similar goals, Fotopoulos says. Online learning is attractive for a variety of reasons, from the convenience factor - being able to access studies any time, anywhere - to eliminating travel time and costs, to achieving a more balanced work-life-study mix.
Kelly says the built-in flexibility of online learning really met her needs during a challenging time. She continued to work during her studies, in addition to looking after her father, who had cancer. She put her studies on hold when she needed to, and picked them back up when she was ready.
"I was able to continue my courses while caring for my Dad. It allowed me to move forward and gave me a purpose," she says. The ability to complete her work on her own schedule and where it was convenient was crucial. "None of that would be possible with traditional, classroom-based learning."
Visit mru.ca/online for more information on Mount Royal's online learning opportunities.
Nov. 9, 2018 — Ruth Myles
Media request contact information.
Have a story idea? Please fill out this form.