Proud to be Canadian and a Cougar
Soccer player Orest Ndabaneze's remarkable journey will leave a long legacy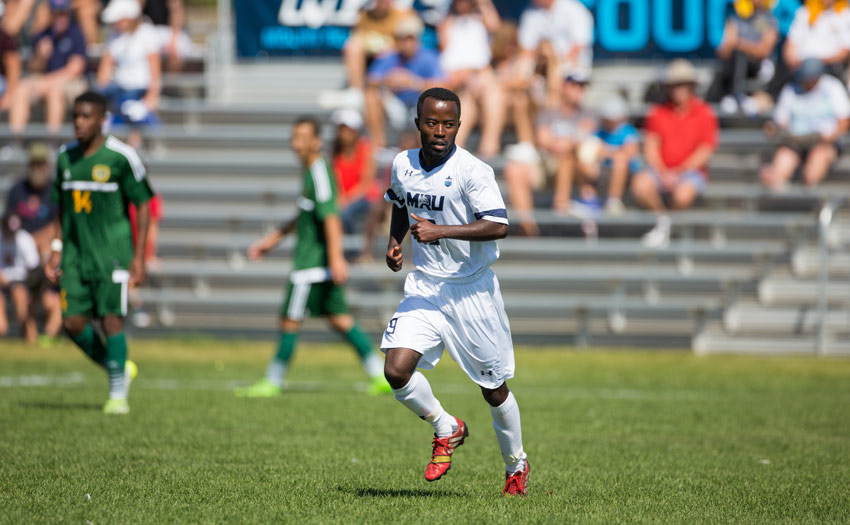 Cougars men's soccer winger Orest Ndabaneze can't think of a better country to call home.
Born in the Democratic Republic of the Congo, Ndabaneze's father was murdered before he was born. His mother fled with his six siblings from the terror and corruption in that country to neighbouring Burundi, into a central East African nation experiencing constant civil war.
"It was endless. My family would move from one country to another, and then another war would start. We never had peace," says Ndabaneze.
They stuck together, though, until their lives were forever changed by unimaginable horror. On September 8, 2003, domestic soldiers entered his family home and took his mother. At the time he and his siblings were hiding in a spare bedroom.
"Two soldiers came in the room looking for us and a miracle happened. They looked under the bed where we were hiding and could not find us."
One of Ndabaneze's sisters, Florence, refused to let their mother be taken alone. Florence accompanied the family's anchor while the rest of the siblings obeyed their mom's wishes by remaining silent and hidden.
"The next day my sister came back. Two hours later we were told our mother was murdered," says Ndabaneze. "Honestly, I'm just learning how to share my story."
Ndabaneze's mother did everything she could for her family. Her financial resources had allowed her to make sure her own brothers and sisters were able to be educated and better themselves. When she was killed, Ndabaneze's uncle Cyprien felt it was his obligation to take care of his now-motherless nieces and nephews.
"We stayed with him in Burundi, then a different aunt in Rwanda, and then back with uncle Cyprien, this time in Kenya. That's where we started the process to come to Canada," says Ndabaneze. "I thank my uncle every day."
Eventually Cyprien and his family made it to Moncton, New Brunswick. From there they relocated to Edmonton. In 2006, Cyprien, his wife and his children were safely joined by Orest, now seven years old, and the rest of his siblings.
Eventually, the seven Ndabaneze children moved in with Gerry and Sandra Simard, who already had four children of their own. But they didn't hesitate to help raise seven more. Altogether, the couple raised 11 kids, insisting on keeping them all busy.
"Like my uncle Cyprien, I thank Gerry and Sandra every day. They wanted to get us out and into sports. We played soccer constantly. They made sure we were always their focal point."
Soon enough, one his sisters (Rachel) got married and moved to Calgary. Because of their close bond, Orest and the rest of the kids packed up and moved the three hours south to live with their newly married sibling. He's been in the Stampede city for 10 years now.
Five-foot-five and ultra-speedy, Ndabaneze played minor soccer with the now-defunct National Sport Development club. He then took his talents to Calgary's South West United league, where he met Cougars assistant coach, Ramon Mifflin.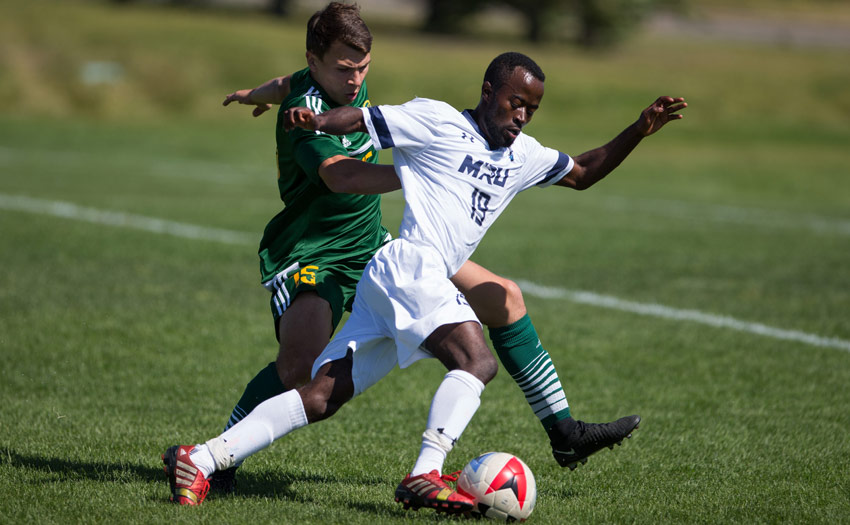 The process to become a Canadian citizen was challenging but one Ndabaneze is extremely grateful he saw through to the end.
"It was a long process. Not having parents, I had to wait until I was 18. My youth team would go to England and Europe: I never got to go because I couldn't leave the country. Now, just having that Canadian passport, I'm accepted all over the world," says Ndabaneze with a smile. "It's amazing how far we have come. To be able to breathe and say 'I'm Canadian.' This is my adopted country that has done so much for me and protected my family. Canada goes deep in my heart. Knowing I am Canadian is a good feeling."
After playing with Team Alberta at the Canadian National Championships for four consecutive years, the Bishop McNally grad had scholarship offers from Canada West powerhouse Trinity Western and the University of Calgary, as well as Mount Royal University.
For him, the comfort level and already established relationships with Mifflin and bench boss, Ryan Gyaki, made choosing Cougar blue an easy decision. In his first campaign with the Cougars, Ndabaneze tallied three goals, one of which was a game-winner. He also chipped in an assist.
"His work rate and work ethic is unbelievable. He has a desire to win and bring the program further," says head coach Gyaki, pointing out Ndabaneze's journey to Canada is more than amazing and that without question his presence will benefit the Cougars program for years to come.
"It's nice to see guys who love playing as much as he does. He's a smaller guy physically but he and Jake Vickers led our team last season in opportunities created. It's hard to defend him because he's creative with his movements and dynamic when he runs. It's art. It's not the same boring run all the time."
For Gyaki, he's just excited to see where a player like Ndabaneze can take his game for years to come. He also has the highest grade point average among his teammates.
"He's a guy whenever I see him train I think how hard it will be to defend him in his fourth or fifth year."
Before Ndabaneze settled into a summer of full-time, off-season training, he performed some good-will work in South America. The freshly appointed Canadian citizen and Bachelor of Arts - Sociology student who is on track to graduate well ahead of schedule travelled to Peru with the Power to Change mission.
After he finishes his first program Ndabaneze hopes to complete a social work degree as well.
"I like to learn fast. I will be graduating in the next year and a half or two," he says "After that I want to start my social work degree, which will be perfect because I still have three years of U Sports eligibility."
Read more about the Cougars Athletics recruiting process, and how players like Ndabaneze get to Mount Royal in Summit.
July 5, 2018 ― Jonathan Anderson
Media request contact information.
Have a story idea? Please fill out this form.