MRU opens Calgary's first permanent Pride crosswalk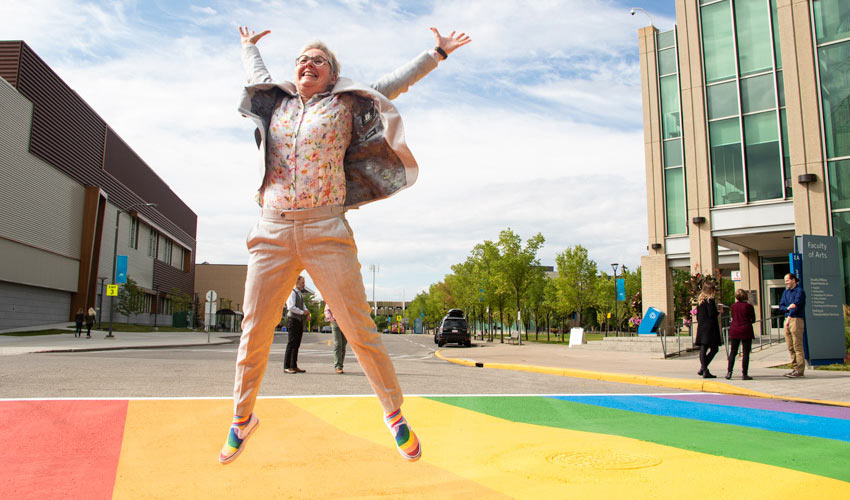 Mount Royal University students, staff and faculty stood together today at the official opening of the city's first permanent Pride crosswalk. The campus crossing is a sign that Mount Royal is committed to creating a respectful and inclusive campus for everyone.
"All of the colours combine to represent our pride," said Mount Royal University Provost Lesley Brown, who delivered remarks at the official opening along with Annalise Van Ham, Vice-President Finance and Administration, and Mount Royal student and member of the Pride Planning Committee Eddy Robinson.
"The pride flag also represents some big words: Bravery. Courage. And the strength that it takes to 'come out' - whoever you are and whatever 'coming out' means to you," said Brown.
Zoom Painting, a local Calgary business, generously donated the cost of installation of the crosswalk and will refresh it annually free of charge for five years - a contribution valued at $17,500.
"We are so proud to donate Calgary's first permanent Pride crosswalk," said Kyle Friedman, CEO Zoom Painting. "It's unbelievable what effect you can make with a little bit of paint."
The Pride flag is an all-inclusive symbol of pride for the LGBTQ2+ community. In 2017, the Pride flag was revised to include black and brown stripes to represent queer people of colour.
Robinson said, "I'm really glad the University took the steps to make this a permanent fixture at MRU. The community often only sees this display of solidarity around the time of Pride week, so a permanent Pride flag crosswalk gives me hope for a University committed to my community in the long run."
Earlier, MRU President David Docherty spoke on the importance of the Pride flag to the MRU community.
"The Pride flag is a powerful symbol that shows support for LGBTQ2+ communities," Docherty said. "With this crosswalk Mount Royal is showing its commitment to diversity and inclusion on campus. We want all students, faculty, staff and community members to know that everyone is welcome at MRU and everyone belongs here."
The Students' Association of Mount Royal University's (SAMRU) Pride Centre is a queer-positive, all gender-inclusive, celebratory and welcoming space in which students explore gender and sexual identity.
Mount Royal will participate in the Calgary Pride Parade on Sept. 2. The University's Office of Campus Equity & Meaningful Inclusion, part of a campus-wide Pride committee that organized Pride Parade participation, provides inclusive education and programs, a positive space initiative, peer social justice educators and human rights advising.
MRU's Pride Scholarship offers financial assistance to a full-time second- or third-year student based on academic achievement and positive contributions to the LGBTQ2+ community.
Aug. 28, 2018 ― Peter Glenn
Media request contact information.
Have a story idea? Please fill out this form.