New co-gen unit revs up way to energy independence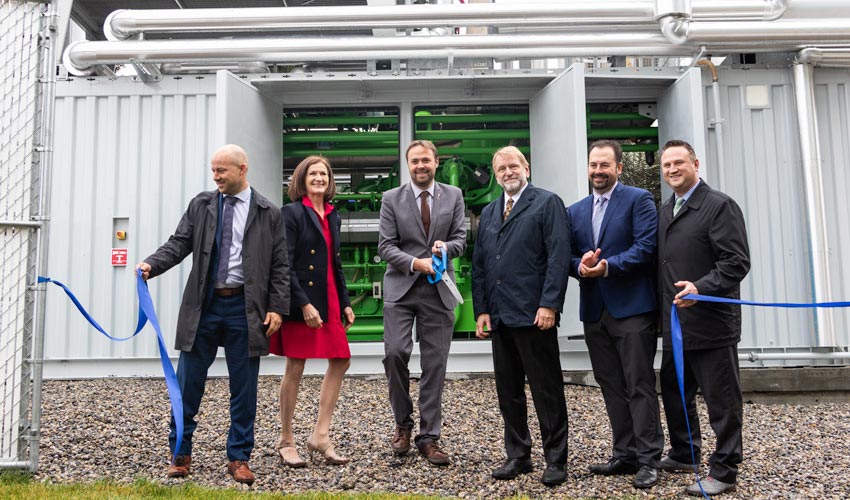 On Thursday, Mount Royal University unveilled a combined heating and power (CHP) unit that will decrease the University's greenhouse gas emissions by 2,000 tonnes (equivalent to taking 425 vehicles off the road for a year) and, when combined with central plant upgrades, save $700,000 a year.
ATCO and MRU partnered on the $2.4 million project, with funding of $800,000 from Emissions Reduction Alberta, and additional provincial grants totalling a further $800,000. The balance was funded by the University. ATCO began construction in November 2017, with commissioning of the unit done in June 2018.
Annalise Van Ham, vice-president, Finance and Administration at Mount Royal, said for environmental and financial reasons, the project was the right thing to do. "As a publicly funded institution we have a duty to manage our resources responsibly. Our campus is aging, but still growing, and we are serving more students every year.
"Mount Royal's Strategic Plan and the community at large compel us to operate in an environmentally sustainable, responsible and respectful manner, on this land and for this land," she added.
The CHP unit will save Mount Royal $400,000 a year. Upgrades to the University's central plant, which were required to capture the full benefits of the CHP, will save an additional $300,000 per year, for a total annual savings of $700,000.
Graham Sucha, MLA for Calgary-Shaw, congratulated Mount Royal for showing leadership in sustainable energy.
"This energy-efficiency unit is a great example of Alberta's ingenuity and commitment to cutting costs and cutting carbon. It is truly thanks to the innovative partnership between MRU, ATCO and the ERA. It's the largest of four similar projects supporting on-site sustainability, energy generation and emissions reduction. It will lead the way for our larger facilities and institutions to follow suit," Sucha said.
"ATCO is proud to partner with Mount Royal University on their sustainability efforts and the significant reduction of greenhouse gas emissions as part of this industry-leading project," said Craig Hawryschuk, director, Business Development and Sales, with ATCO's Pipelines and Liquids Global Business Unit.
"For the first time ever Mount Royal will be producing its own power on campus, and this achievement is extraordinary," Sucha added.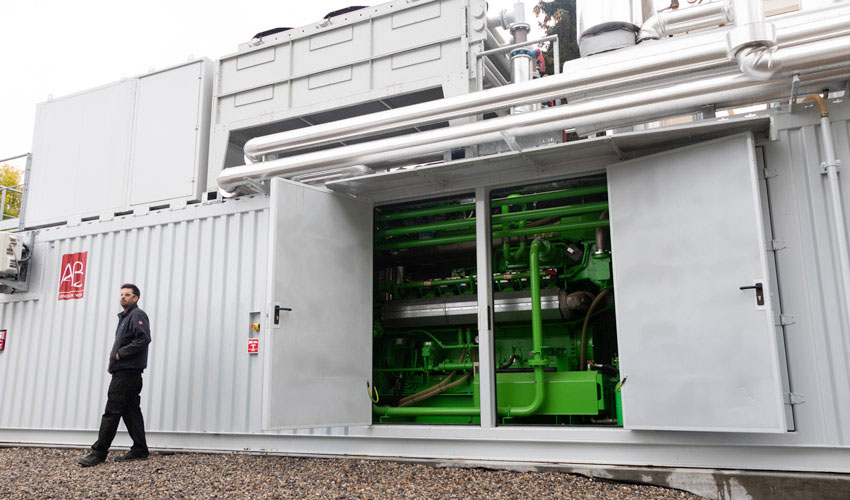 The unit powers MRU's central plant and provides up to 26 per cent of the University's electricity. One per cent now comes from recently installed solar panels on the E-Wing roof. Mount Royal is working towards a time when it is fully off the grid and generates 100 per cent of its electricity on site with CHP and solar-power units. In addition to cost savings and emissions reductions, Mount Royal will be better able to continue to operate in the event of a major power outage in the city, explained Owen Zarazun, director of Building Operations at Mount Royal.
"Business continuity is a key benefit. If we lost a boiler in our central plant, the CHP would provide heat and hot water. The CHP also lets us continue to operate in the event of a major power outage. Previously, the only source of backup power was an emergency diesel generator," he said.
Zarazun said Building Operations staff and contractors worked hard over many months to complete construction. "To make sure there were no disruptions to the campus, it involved lots of weekend and after-hours work. And I'm pleased to say that there wasn't a single safety incident," Zarazun noted.
CHP is 30 per cent more energy efficient than conventional electricity production because it uses natural gas to produce both heat and electricity. Natural gas is considered to have the smallest carbon footprint of all the fossil fuels. The 'waste heat' that is produced as a result of the generation of electricity is captured and routed into the central HVAC system to provide heat and hot water throughout campus.
"With the engineering behind it and configuring the integration between the CHP and the central plant, we're leading the way in 'smart' buildings and how all systems work together, both with solar power and now co-generation," said Grant Sommerfeld, associate vice-president, Facilities Management at Mount Royal.
"We started with solar power and one CHP to gain experience with the expectation that we would grow the program. Ultimately we'd like to strategically incorporate more co-gen units across campus to produce 100 per cent of our own electricity."
Find out more about the future of MRU in the Campus Master Plan.
Sept. 28, 2018 ― Melissa Rolfe
Media request contact information.
Have a story idea? Please fill out this form.