Read Up! Program supports early literacy
Bachelor of Education helping children level up in their reading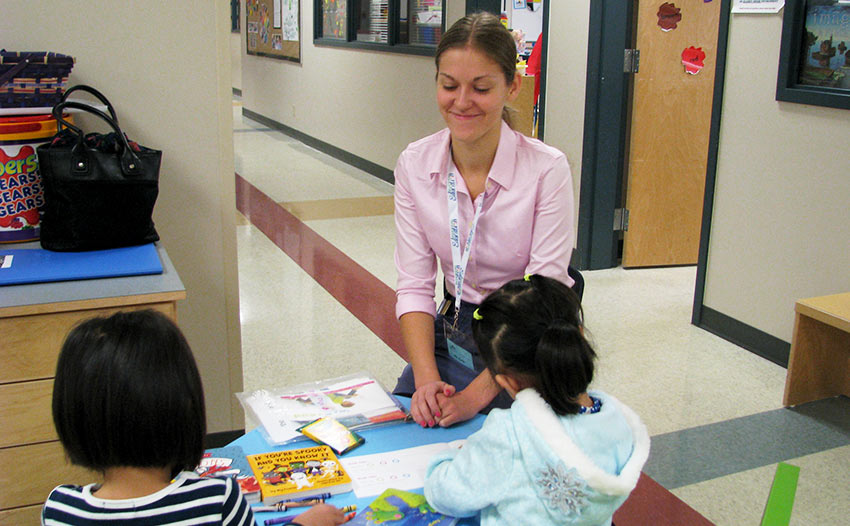 During the 2016/17 academic year, 18 Bachelor of Education students took part in an intensive opportunity to start kids on the path to lifelong learning.
The Read Up! Program ― provided in partnership with Calgary Reads ― is specifically targeted towards helping children in Grades 1 and 2 who are having difficulty learning to read. All second-year education students are required to spend 10 half-days of the fall semester and 10 full days of the winter semester in an assigned school as a teacher candidate (TC) working with a mentor teacher. Those who joined the Read Up! Program made an additional 15 visits to their schools to tutor one child in what may be life's most valuable skill.
"They made a much larger commitment," says Jodi Nickel, chair of Mount Royal's Department of Education, of those who signed on. The TCs also earned credits towards a Community Service Learning citation on their degree.
The TCs taught using well-researched early intervention principles. "It's one of those tried-and-true early intervention programs for struggling readers to try and give them intensive one-on-one support to get them up to their grade level in those early years. It's really important, otherwise they fall further and further behind," says Nickel.
Nickel and fellow education professor and researcher Scott Hughes, held focus groups at the midpoint and end of the program to gather and collate data. Their resulting document, Analyzing Growth in Teacher Candidates and Young Readers: Community Service Learning Applying One-to-One Reading Instruction, was subsequently presented at a gathering for The Canadian Society for the Study of Education at Ryerson University in May and is currently being prepared for publication. The research was carried out through Mount Royal's Institute for Scholarship of Teaching and Learning, and funded through the Marshall Family Foundation.
The findings were impressive. The average reading level increase for Read Up! students was four to five levels, with some even going up as much as seven instructional levels. The TCs reported that tutees grew in motivation and learned specific strategies such as tracking, engaging in book walks to interpret pictures and decoding skills. TCs also reported on their own learning including the importance of planning and preparedness, assessing, posing effective questions, encouraging strategy use, and responding to the learner's needs.
"(Throughout the program) our students talked about the big ideas," says Nickel. "'How do I assess? How do I choose the best strategies?' In addition, building a relationship with the child helped them to teaching responsively: 'I know this child now. I know what they're going to like, and what they're not going to like,' and so they had to kind of play it by ear and be a responsive teacher, which I think is really important."
TCs participated anonymously in the study, and in the focus groups made comments about the powerful impact of the program on the children and themselves. For example, one participant said, "… seeing that student go from a D to a J is an amazing experience, knowing that you were the reason and you helped them. It is very rewarding. It is one of the reasons why I became a teacher, so you can see that growth."
Another student said, "To see the child excel and bring them up to grade level again is … I can't even explain it. It's something I never thought was possible."
Steacy Collyer, CEO of Calgary Reads, says that the TCs who have chosen to participate in the Read Up! Program gain a lasting and meaningful experience that will prepare them for their future teacher role. They are learning about formative reading assessment strategies used by teachers to make instructional decisions about the next best steps for their student.
"When a student is matched with a child they come to know a little person… their hopes and dreams, their strengths and interests and the 'coming to reading' challenges they have. It is not often that a teacher is given the gift of regularly working one-on-one with a developing reader. The TCs also are trained in early literacy strategies that they will have in their teacher toolkit when they enter into their own classrooms," Collyer says.
By supporting one student the TC's confidence builds, Collyer says. "They are better prepared to juggle the needs of students in small guided reading groups and whole class instruction."
Our CEO Steacy had a great chat with @IAmJodiHughes about The Children's Reading Place on @globalcalgary this morning. Watch the video here: https://t.co/wvvfUOYuzK

- Calgary Reads (@CalgaryReads) May 14, 2018
Starting the fall of 2018, a slightly different variation of Read Up! will be in place, where students will provide tutoring while at their teaching placements for the standard 20 days. The additional 15 days necessary in 2016/17 prevented many TCs from joining, so a modified approach seemed like the best way to make sure many children are getting the assistance they need and more TCs learn from the tutoring experience. TCs will be paired with the same child in both the fall and winter and all 95 of the second-year students will take part. That means nearly 100 early readers will benefit.
"The TCs get a chance to practise what they are learning in our classes in the real world, and when it's not working they return with a need to know. They come back to class saying, 'What can I do?' So it's really powerful learning," says Nickel.
Calgary Reads and Mount Royal
Since 2012 Mount Royal's education students have been working with Calgary Reads to help improve children's literacy in Calgary. Integrated with the course requirements for the Language Development and Literacy course, the experience supports both theoretical and practical understanding.
"We love our MRU partnership because the TC roles are embedded in the education courses," says Collyer. "We work with other post-secondary institutions across the province, but MRU is extra special because the community service learning opportunity is not an 'add-on' that students must find extra time to volunteer for.'
"We are always excited when a Calgary Reads partner works with us to co-create or customize opportunities and with MRU we keep dreaming up new ideas and other ways to work together to ensure 'a thriving community where all children read with confidence and joy.'"
May 18, 2018 ― Michelle Bodnar
Media request contact information.
Have a story idea? Please fill out this form.