Report finds residents unaware of flood risk
Findings part of new study by the Centre for Community Disaster Research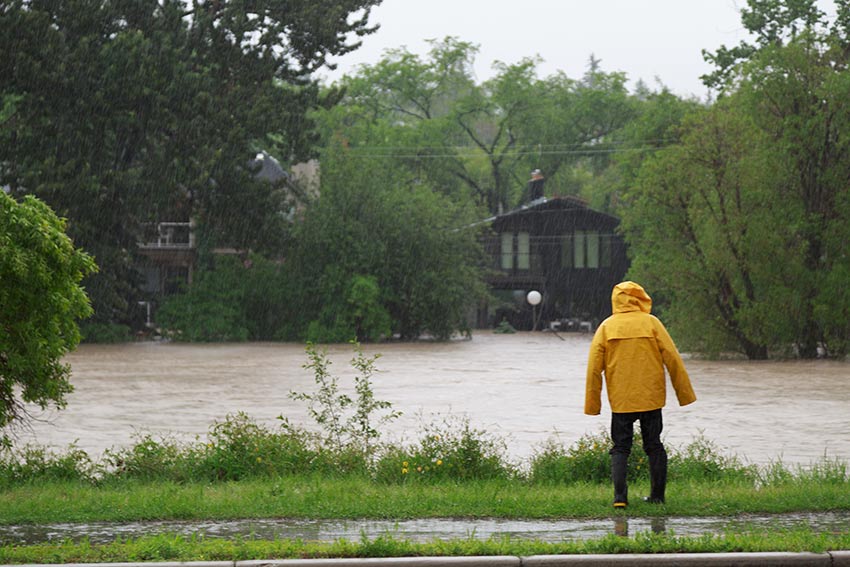 The waters rose and evacuation orders went out, but many Calgarians didn't even know their neighbourhoods were at risk of flooding in 2013, others didn't hear the order to leave, while a third heard but ignored it.
In a new report titled Rising Waters, Difficult Decisions, Findings and Recommendations from the Calgary Flood Project, sociology professor and director of Mount Royal's Centre for Community Disaster Research (CCDR) Tim Haney, PhD, presents some surprising findings about residents' awareness of flood risk, their decisions to evacuate, compensation, disruptions to relationships, their decisions to remain and plans for the future.
The report, based on a random, representative sample of 407 Calgary residents drawn from the 26 communities that were evacuated, says 67 per cent of them did not know their homes and neighbourhoods were at risk of flooding prior to the disaster. Even among those whose homes flooded, more than half (50.54 per cent) were not aware of their risk beforehand.
"I think I was most surprised by how many residents living in flood-affected neighbourhoods were unaware, prior to the flood, of their own flood risk," Haney says. "I suspect this finding occurred because, first, the flood caught many people off-guard and exceeded their expectations for a worse-case scenario. Second, there is clearly an information piece missing, whereby many residents living in floodway or flood-fringe areas are simply not aware of their home's flood risk."
The report says 35 per cent of residents did not know they were under evacuation order "until a public official knocked on their door." Many didn't hear the evacuation order at all, while many (33 per cent) who did hear it still didn't follow it.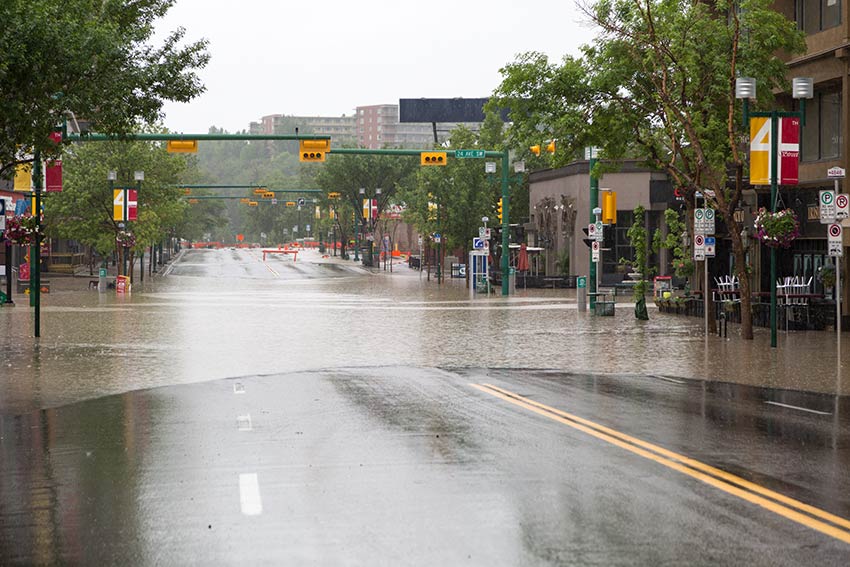 Reasons for not evacuating included needing to gather belongings, concern for family members, wanting to see how bad things would get, and not trusting the warnings. Comments written into the most-commonly selected "other reasons" for not evacuating category included : "I never believed it could be so bad"; "I didn't realize how critical it was"; "I lived on an upper floor"; "The power wasn't out"; "(I) enjoyed seeing the community preparing and evacuating" or stating that they were just "chillin(g)".
Haney says these challenges aren't unique to Calgary, however, and that "all municipalities struggle with this, in disasters of all types."
While social media is increasingly thought of as a transformative method to communicate with people during a disaster, the report suggests otherwise.
"Our participants told us that, by and large, they did not learn about the evacuation order from social media," Haney says. "This was a perplexing finding, but I would suggest that many of these people did in fact follow the flood on social media, and probably did understand that evacuations were taking place. But, they may not have fully understood the seriousness nor grasped that the evacuation order applied to them.
"While following a local disaster on social media is certainly better than receiving no information, I'm not yet convinced that it's a useful tool for encouraging residents to evacuate."
Other report highlights include:
Nearly all residents stayed with family and friends in Calgary during the evacuation.

Few affected residents had their losses covered by insurance or by the provincial Disaster Recovery Program. The average uninsured losses were $78,866 among those who flooded.

One year after the flood, most evacuated and flooded residents had returned to their pre-flood homes to live, and the flood has had little impact on their attachment to their communities.

Many affected residents reported a disruption to their marital or romantic relationships, and to their feelings of security and stability of their surroundings.

Most flood-affected residents intend to stay in their pre-flood neighbourhoods, in both the short and long term. However, the fear of future flooding features prominently in a sizable minority's intent to find housing elsewhere.

Experiencing the flood has affected the environmental views of a sizable minority of residents, and women more often than men. Nevertheless, most of the affected residents believe that disasters like the 2013 flood will not become more common in the future.
Haney urges emergency managers and university partners to better educate the public about flood risk, increasing disaster frequency and the importance of evacuating when told to. The report also recommends more complete disclosure of flood risks to new home buyers; making residents better aware of the financial help available to them after a disaster; making more mental health programs available to residents after a disaster; and providing more education about the links between disaster frequency and severity and climate change and higher density in risky areas.
The report stems from the Calgary Flood Project under which Haney used funding from the Social Sciences and Humanities Research Council (SSHRC) of Canada to examine the risk awareness, evacuation experiences and recovery plans of Calgarians affected by the event.
Haney, with a team of research assistants from Mount Royal, drew a random sample of 1,500 households from all 26 evacuated neighbourhoods in Calgary. Data collection ended in fall of 2014 with 407 completed surveys.
Oct. 2, 2017 ― Peter Glenn
Media request contact information.
Have a story idea? Please fill out this form.